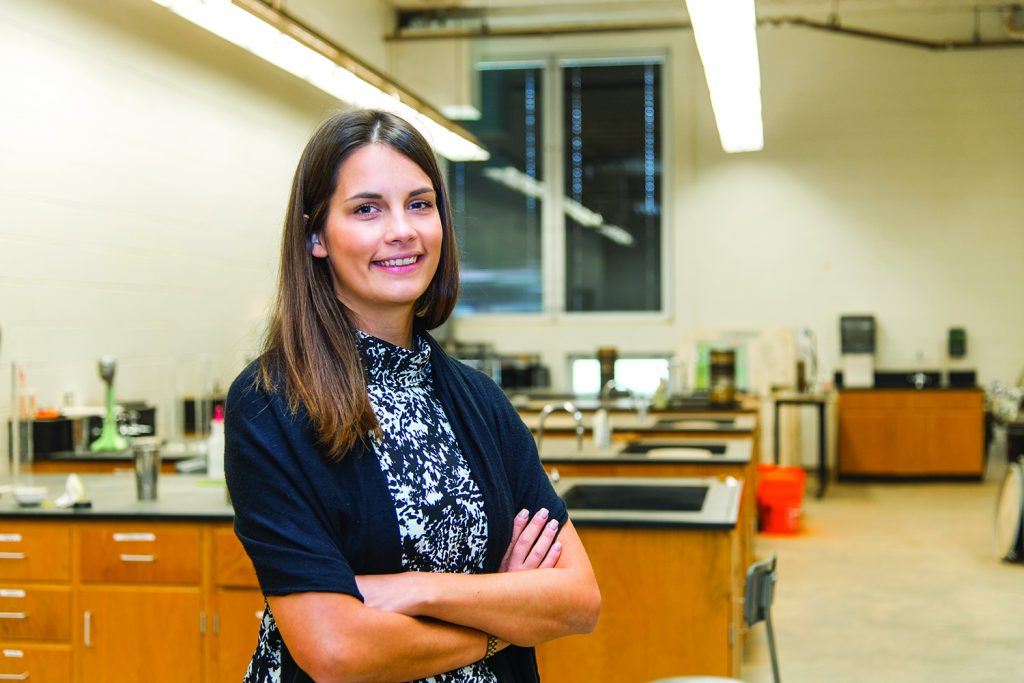 Growing up in Zagreb, Croatia, Marta Miletić had an affinity for numbers at an early age.
Matter of fact, it runs in the family.
Miletić, assistant professor in the Department of Civil Engineering, is the daughter of a math teacher, and the sister of an engineer.
"I have been surrounded with numbers all of my life. My mom, Jadranka, and sister, Mladena, both excelled at math, so I have grown up with crazy mathematician ladies," she said with a laugh.
Miletić, naturally, was interested in math in growing up, and knew she wanted to do something where she put her skills and passion in both math and science to work. Toward the end of her high school years, a teacher gave her a piece of sage advice.
"She told me there's no money in studying math, so I tried to look into something where I could apply my knowledge in math and physics, so I ultimately decided engineering was the perfect fit," she said.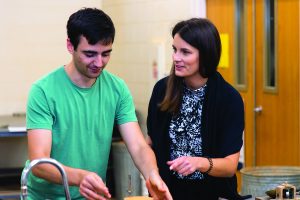 She began her engineering education at her home university in Zagreb, earning her bachelor's and master's degrees in civil engineering. From there, she earned her doctorate, also in civil engineering, through a dual program between Kansas State University and the University of New South Wales in Sydney, Australia.
"I have been fortunate to study on three continents," Miletić said. "Each has its pros and cons, but they also have their similarities."
While the main culture shock to Miletić of the American university experience was the popularity of collegiate sports, especially football, and the Greek culture that she had only seen in movies, she was most impressed by the unique student-centered approach to engineering education, especially at Auburn.
"Here, the student experience is everything. Students are valued more, the professors interact with students one-on-one much, much more. There are more hands-on activities, there's more emphasis on practical work and internships," Miletić said.
PAVING THE WAY
While Miletić grew up emulating strong women in STEM within her own household, she gained several others during her time in graduate school. During her time in Zagreb and Manhattan, Kansas, Miletić's advisors were both women. Vlasta Szavits-Nossan at the University of Zagreb and Dunja Peric at KSU both provided an inspirational example for Miletić to follow.
"After seeing them and how successful they were, I was encouraged to pursue the same path they did," Miletić said.
Now the professor, Miletić is dedicated to mentoring young women in engineering. She is active with the college's 100+ Women Strong program and worked with the Kansas State mentoring program through the Office for the Advancement of Women in Science and Engineering. She, along with other members in the department, are currently working to establish a campus Women in Civil Engineering group.
"It is vitally important to support other women in engineering, to let them know they're not alone and to help prepare them to succeed in whatever career they choose," she said.
While she knows prospective future women engineers are coming to Auburn in record numbers, Miletić is focused on retaining those students in the discipline and making sure they have the resources and access necessary to succeed.
"Recruiting women in engineering is easy, but retention is crucial," she said.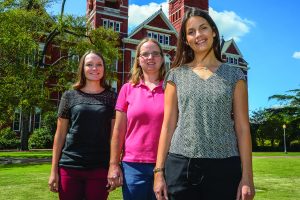 NEW KIDS ON THE BLOCK
Miletić joined the Department of Civil Engineering in January 2017, just after Lauren Beckingham and Frances O'Donnell came aboard in 2016. With the addition of the professors, the department now has the third most female faculty members in the college.
"With the addition of Dr. Miletić this year and two other outstanding new assistant professors in Dr. Beckingham and Dr. O'Donnell last year, Auburn Civil Engineering is well prepared for major contributions in timely and important areas," said Andy Nowak, Department of Civil Engineering chair.
In addition to their instruction inside the classroom, Miletić, Beckingham and O'Donnell are providing valuable research to further enhance the department's mission to equip its students, the region, state and country with the knowledge to plan, design, construct, operate and maintain facilities and systems that serve the basic needs of society.
Beckingham, assistant professor in civil engineering who earned her bachelor's from Michigan Technological University and master's and doctorate from Princeton, focuses on subsurface environmental geochemistry and engineering for energy technologies. Her research interests also include multiscale imaging and analysis of porous media, subsurface hydrology, water-rock interactions and reactive transport and geologic sequestration of carbon dioxide.
O'Donnell, assistant professor in civil engineering who earned her bachelor's from Harvard, doctorate from Princeton and served a postdoctoral appointment at Northern Arizona, is considered an expert on the world's most abundant natural resource – water. Her research centers on ecohydrology, or the relationships between vegetation and the water cycle, and examines the sustainability of water resources, particularly in water-scarce environments. She also studies how vegetation can affect the ecosystem.
Milectić's work builds on mathematical theories to improve performance of real-world systems. In particular, her teaching and research interests are mainly focused on experimental and computational modeling of the onset and growth of strain localization in pressure-sensitive materials such as soils, rocks and man-made geomaterials such as cementitious composites. Her research aims to investigate mechanisms that suppress and delay the inception of strain localization in pressure sensitive materials.
As the country's aging infrastructure is updated, her research will aim to effectively and efficiently address the materials needed in specified conditions to withstand the tests of time and heavy use.
"Our infrastructure is in terrible shape," Miletić said. "Environmental conditions aren't the same as they were 50 years ago when much of the current infrastructure was built. Through some of our research initiatives on infrastructure resilience and sustainability, we are tackling these problems head on."
Road, bridge and rail improvements are inevitable as current conditions on aging surfaces decline, and Miletić hopes her research can assist in speeding up this process.
"For good research, it takes time," she said. "I know we need something much, much quicker, but I think we are on a good path of solving some of these issues."
Just as it has taken time to begin to solve the issue of an aging infrastructure, it has also taken time to close the gap in faculty gender representation, but that is changing.
"Obviously there is an issue with female engineering faculty representation across the nation, but we are moving in the right direction. Female faculty members can bring in a new perspective and contribute in many new ways. The more diversity, the better," she said.
Miletić sees the same need to support female faculty members as she does the students she mentors.
"Just like with students, recruiting female faculty in engineering is easy, but retention is crucial," she said. "There is still a lot of work that needs to be done, but I like where we're headed."