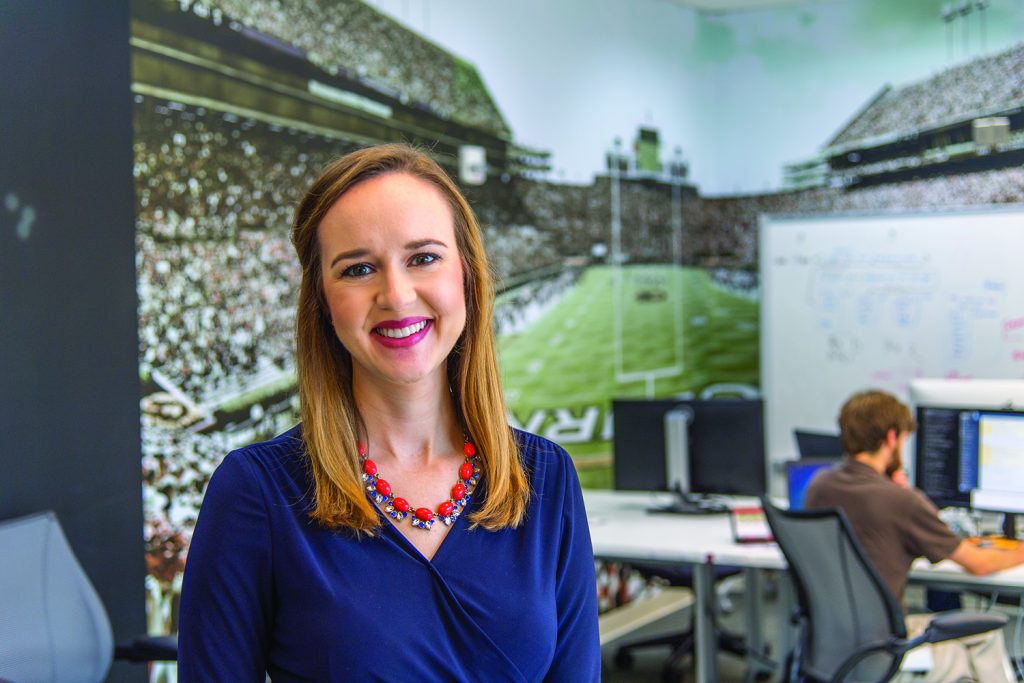 As a student, any time Emily Wood Traylor questioned her future in engineering, she was lucky enough to have the support of another strong female engineering role model: her mother, Julia Cheape Wood '82 industrial engineering.
"She was there to support me and to explain all the benefits of sticking with my major," Traylor said. "In many of my classes, I was the only female. In one of my previous jobs, I was the only female in the entire office, but I have come to learn that my gender really doesn't affect my ability to work hard and solve problems."
Traylor, '10 wireless engineering, is a third generation Auburn engineer – her grandfathers, both parents and two uncles all are engineers.
That, however, did not make her automatically choose Auburn. Even though Auburn is in her blood, she wanted to make her own decision. She researched engineering programs around the country and chose Auburn because of "its exceptional value, its exceptional engineering program and the overall family feel."
"Wireless engineering was fairly new when I came to Auburn in 2006, and it impressed me that Auburn had the first accredited program in the nation," she said. "I had always loved computers, technology and problem-solving, so I knew that a career in engineering was probably what I wanted to do. I was fortunate enough to receive a scholarship from Vodafone, so that was kind of my impetus to study wireless engineering. The program really allowed me to become a well-rounded engineer because I was able to study both the hardware and software components of engineering, but it also allowed me the flexibility to specialize in wireless software engineering. Throughout my career, I've kind of progressed to the software track. I haven't done as much in the hardware area in my work, but I do feel that my degree made me very well-rounded."
As a student, Traylor served as an ambassador for the Honors College and a Cupola Engineering Ambassador. She enjoyed having the opportunity to show prospective students the benefits of choosing Auburn Engineering and everything Auburn has to offer.
"My favorite engineering experience was my involvement in Cupola," Traylor said. "That gave me such great insight into the decision-making process of high school students and what it takes to help lead them to Auburn Engineering."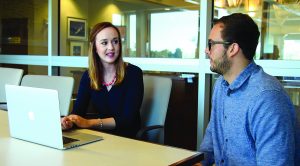 Her ambassador role and love for Auburn led her to remain close to the university, as well as the college after graduation, in particular as a member of the college's 100+ Women Strong program, the Engineering Young Alumni Council and the Wireless Engineering Alumni Council. She now serves as the automation engineering team lead and deputy director for the Auburn Technology Center for Equifax, and she said she is happy to have the unique opportunity to combine her passion for technology, engineering and Auburn.
"I think it's important to give back because you're able to help shape the future of Auburn engineers, from an industry and personal perspective," she said. "As an alumna, I'm passionate about Auburn Engineering, and I think a lot of other alumni also are passionate, and they want to see the college continue to thrive. Getting involved allows you to play a part in that. I try to stay as involved as I can, and I enjoy showing students all that Auburn has to offer."
In the spring, Traylor established the Clyde H. Wood and Dudley W. Cheape Jr. Family Endowed Scholarship for students in the college. The endowment is named for her grandfathers – Wood, '60 electrical engineering, and Cheape, '44 chemical engineering.
"When my grandfathers entered into engineering at Auburn University, they could not have known the impact and legacy they would have on future generations, and no one could have predicted just how many Auburn engineers would come from their families," Traylor said. "As a recipient of engineering scholarships myself, I want to pay it forward and share where it all began in my family, with Clyde and Dudley. My hope is that this scholarship will help others in creating their own Auburn Engineering legacy."
Traylor's university relations work also gives her opportunities to work with Auburn Engineering students at mock interview events and panel discussions, as well as through sponsorship of senior design projects for computer science and software engineering students.
"My senior design class was one of my favorites because it gave me a real-world look into what my life as an engineer would be outside of school," she said. "The fact that I'm sponsoring that project now has just made it come full circle for me."
Traylor also serves on the retention committee for the 100+ Women Strong program and will co-chair the group's upcoming leadership and development conference, an event she said gives female students the opportunity to work with industry role models on real-world engineering issues, from a woman's perspective.
"I attended Auburn University before 100+ Women Strong was formed, but I had that strong role model in my mother," she said. "We want to make sure that the young women we recruit into engineering will also stay in engineering. I hear stories of young women switching majors after making their first B or realizing they are the only woman in their classes. They have mostly male classmates, mostly male professors and see mostly male industry leaders. This sometimes leads to them not being able to envision themselves as engineers. We want to change that."
Through 100+ Women Strong, Traylor and other women in engineering industries serve as mentors to students to help them see what their futures could look like. They offer advice and encouragement in students' classes, tell them what to look for when finding their first job and show them how to handle work-life balance.
"One phrase mentioned a lot in 100+ Women Strong is, 'if they can see it, they can be it,'" Traylor said. "Students having a relatable role model, who also is from Auburn, is one of our main goals for retention."
When Traylor speaks with students now, she encourages them to stick with engineering, especially if they have a passion for problem-solving.
"The career possibilities are endless for engineers, no matter which direction you choose to pursue, whether it is in industry or academia. Having an engineering degree is a great foundation," Traylor said. "Having more women in STEM, and specifically, engineering, is essential for all industries to promote a good balance between women and men and to help encourage diversity of thought within an organization."