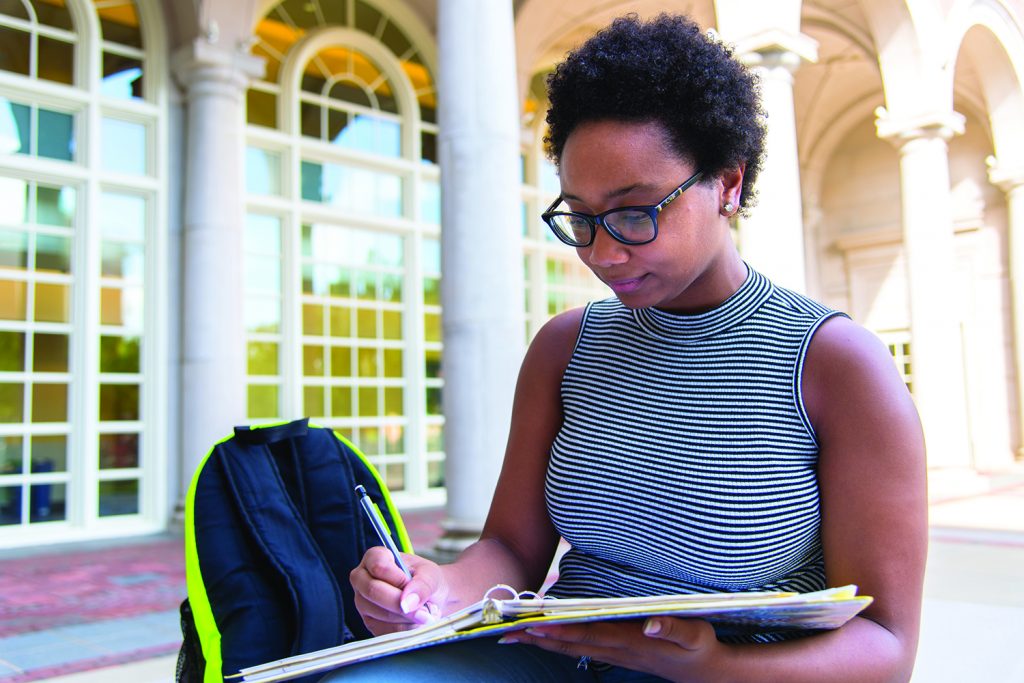 Embracing the job no one wanted on her middle school robotics team is what led Amber Jackson to where she is now as a junior studying computer science at Auburn.
"I've always loved computers," she said. "When I was in eighth grade, I taught myself how to code for my robotics team. No one else was willing to take on the task of becoming the only programmer for the team, but I accepted the challenge."
Jackson spent her time poring over tutorials to grasp the basics, searching through BEST Robotics online forums and testing code on the team's robot to understand how to make it work. She became so successful at programming that another area school sought her out to assist with their robot, and when she attended a BEST training camp before high school, she thoroughly impressed the instructors with the code she produced.
In high school, Jackson continued her technological pursuits at the Alabama School of Mathematics and Science, while at the same time developing a love for the French language and culture with the help of her teacher, Muriel Hoequist.
"She played a major role in my love for French," she said.
When the time came for her to make a decision about college, Jackson knew she wanted to study an engineering-based discipline to continue to develop her programming skills, but the guidance she received from her recruiter is what brought her to Auburn.
"One of the reasons I chose Auburn is because of the support I received from my recruiter, Jessica Taylor," she said. "She would send me emails to regularly check in and offer encouraging words as I made my decision. She gave me so many great tips and introduced me to the Alabama Power Academic Excellence Program, which made me fall in love with Auburn even more."
At the urging of her French teacher, Jackson also decided to take the placement exam and scored well enough to skip the first three classes in Auburn's French curriculum. During freshman year, her advisor, Adrienne Angelo, told her she was just one course away from obtaining a minor and encouraged her to challenge herself by adding a second major in French.
The computer science and French double major is now an ambassador, facilitator and computer science and software engineering affinity group leader for the Academic Excellence Program and a Tiger Tutor for the Student-Athlete Development Center, roles in which she is able to use her skills to help other prospective and current students.
"As an ambassador, I am able to encourage middle and high school students to join the Auburn Engineering family," Jackson said. "It's especially important to me to go back to my hometown of Selma to visit and persuade students there to branch out and explore things that are beyond what they're learning in the classroom."
Jackson tutors her fellow students in math, French and computer science courses, while also volunteering to work with her peers on résumé writing, interview preparation, and applications for conferences, research opportunities and jobs in the industry.
"I simply enjoy helping people, and I want to help as many people as possible throughout my lifetime," she said.
Last summer, an internship at GE Aviation gave Jackson the opportunity to work in the industry on a project designing, from scratch, a search engine for four different websites.
"GE originally had this job outsourced, but realized they could save hundreds of thousands of dollars per year by doing the work in-house," Jackson said.
"User interface and user experience design is one of my passions in computing, so my main contributions to the team included going through the customer feedback reports in order to know what they wanted and reporting this information to my team. I implemented an autocomplete functionality with previous search history that connected to our databases in order to save cutsomers time and money, and benefit GE by encouraging them to buy parts from our websites instead of from competitors. We leveraged another in-house project that we repackaged and that can now be reused throughout GE for anything that needs a search engine. I contributed my autocomplete functionality to the team's project that we leveraged and created documentation for my code for the full-time employees working on our team's project, and they are currently putting our work into production with hopes of completion before 2018," she added.
Jackson said she traces her successes back to her faith, her family and the many women who have been role models and mentors to her, something she, in turn, hopes to be for others.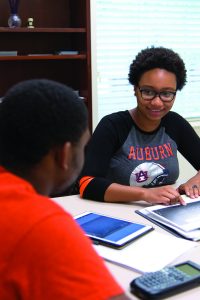 "I could not have accomplished what I have at Auburn without Dr. Cordelia Brown, who told me about GE's recruiting efforts for women in STEM," she said. "Dr. Brown has been an exemplary advisor to me. I met her at Camp War Eagle, and she encouraged me to be a part of AEP. I attended the Summer Engineering Enrichment Program, which was one of my favorite Auburn experiences, and I was a camp counselor the following year. Dr. Brown is such an advocate for her students and works to bring so many opportunities to us."
Jackson also praised Cheryl Seals, associate professor in computer science and software engineering, who she said exposed her to the world of research and user interface/user experience design, as well as Charria Campbell and Othello Dalton in AEP, whom she said have always been willing to lend an ear and give advice.
"They are amazing examples of female role models, and they have supported me every step of the way," she said.
"I simply cannot state every single occurrence of support that I have received from my Auburn Family without accidentally forgetting something," she added. "Through AEP, Engineering Services, the Department of Computer Science and Software Engineering, my professors and teaching assistants, the associate deans, the dean and my peers, I undoubtedly feel supported. Auburn is doing a fantastic job of recruiting women, and I would definitely encourage other young women to pursue STEM fields."
As for what's ahead for Jackson, she said she is passionate about so many aspects of computer science that she doesn't have a particular job in mind and that a move to France after graduation is also a possibility.
"I don't mind dabbling a bit in different fields of computer science," she said. "I may move to France after graduation because of my love for the French language and culture, and there are various software companies I'm interested in. My work at Auburn has made me well rounded. The last line of the creed, 'I believe in Auburn and love it,' is so important to me, and it's something I truly mean when I say it. I love Auburn, and coming here was definitely the best decision I could have made."