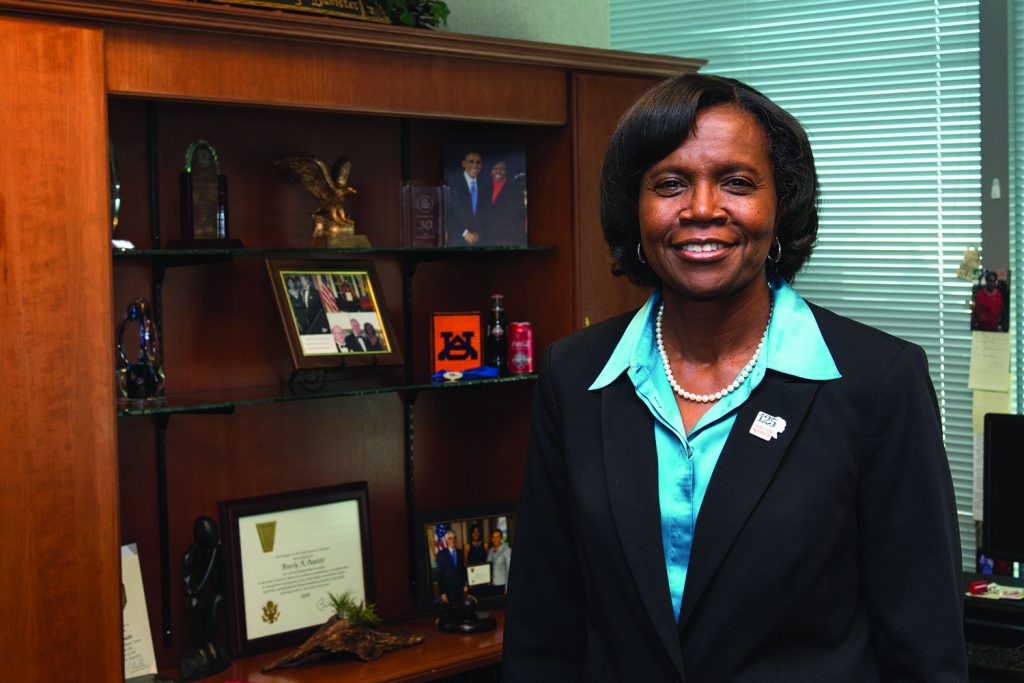 It was a beautiful spring day in 1980 when a chance visit to the Auburn University campus forever changed the course of Beverly Houston Banister's life.
As a student majoring in hospital administration at Southern Union State Community College, Banister was encouraged by a professor to attend an Auburn Engineering event since she was excelling in science and math.
"As long as I can remember, I have had a love for math and science. I've always loved solving problems. I've always loved being challenged. In math and science, there are lots of opportunities for innovation and creativity," Banister said. "And, I was just blessed to be good at it."
From the moment she stepped on campus, she knew she was home.
"That day absolutely changed my life. My world just opened up. I knew two things when I left Auburn that day: one, I wanted to go to Auburn and two, I knew I wanted to be an engineer, more importantly I knew I wanted to be a chemical engineer," Banister said.
"On that day in spring 1980, my life changed and it has never been the same since," she added.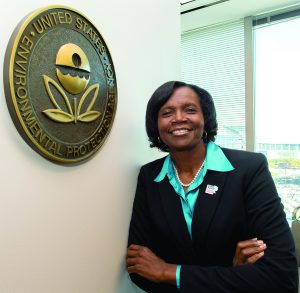 ROAD TO SUCCESS
Banister grew up in the small town of Woodland, Alabama – population 183 – in rural Randolph County in a single-parent home with four siblings. An engineer was not something many people there aspired to be, especially for an African-American woman, but she was also taught to do more and reach higher.
"Statistically, I should not have made it. In my high school, we didn't talk about engineering, for men or women. But I had a chemistry teacher, Diana Jones, who inspired me to stretch. She really piqued my interest in science, physics and chemistry."
And while Jones sparked that love for science in Banister, it was her mother who instilled in her a drive and determination to succeed.
"My role model was, and continues to be, my mom. She knew very little about engineering, but she inspires me even today that, with God, I can do anything. When I told her about the things I had learned about engineering at Auburn, she said, 'Go for it. You can do it.' That was all I needed to hear," Banister said.
Once at Auburn, Banister quickly discovered the educational expectations were far greater than what she was accustomed to in high school.
"Getting in was easy, staying in was a challenge," she said with a laugh. "The chemical engineering curriculum is a very demanding curriculum. It really doesn't matter whether you are black or white, male or female, the expectations are the same. We have very high standards for engineers at Auburn."
While the large size of some of the pre-engineering classes came as a shock to her, so, too, did the amount of information coming from her introductory engineering classes. For many, this was refresher information, but to her, it was all new.
"Several times I asked myself, 'What am I doing here? Have I bitten off more than I can chew? Is this for me? Should I go with another major?' I was scared. There were many sleepless nights and I prayed a lot, but I knew one thing – I wanted to be an engineer," she said. "I just told myself, 'I've got to figure it out,' and that's what I did."
Instead of just being a number in her large classes, Banister started making sure each professor knew her name and face. She joined study groups both large and small.
As one of only three African-Americans in her class, and the only female in the group, Banister and the others found friendship and formed a lasting bond.
"We were very tight. But I also found that you had to branch out. I found the entire chemical engineering community to be a close-knit group. I found a lot of comfort in reaching out and networking and building those relationships outside of that very small circle," she said.
As she gained confidence and familiarity with the campus, curriculum and culture, she began to spread her wings. She became involved with the chapter for Society of Women Engineers, played intramural basketball and began volunteering in the community.
"It was wonderful. I found that if you're willing to study hard, you're willing to network outside of your own comfort zone, you could build the confidence to build success," she said. "I transitioned from surviving to thriving."
A SERVANT'S HEART
Banister graduated with a bachelor's degree in chemical engineering in 1983, and the winds of change quickly lifted her from one challenging environment to another.
For the past 33 years, Banister has spent her professional career ensuring the environment we live in is one we can proudly pass down to future generations.
As director of the Air, Pesticides and Toxics Management Division for the Environmental Protection Agency in the Southeast since 2003, Banister is responsible for working with local and state governments to maintain and improve air quality through regulatory and voluntary programs.
"The goal is to deliver clean air," Banister said.
She also directs a staff dedicated to reducing potential risks of pesticides and toxic chemicals.
"I absolutely love my job. I get to utilize the engineering skills I learned from Auburn each and every day because it's all about problem-solving. I knew when I left Auburn that I could succeed at anything because I knew how to problem-solve," she said.
In addition to her professional work, Banister also dedicates much of her time giving back, supporting young women aspiring to be engineers and those who are following in her career footsteps.
"I feel it's important for Auburn women engineers to support future Auburn women in engineering because unique challenges still exist and this is still a predominantly male field," Banister said. "We all have challenges, but I would encourage women pursuing a degree in engineering to pursue it with passion and hard work and success will follow. If I could make it in the early '80s, they too can make it today. Who is better than us to come forth and support the women that are pursuing these careers? At this point in our lives, we have information, resources and time that we can share with future engineers."
As a member of the college's 100+ Women Strong program, Banister is excited for the opportunities of women in engineering at Auburn and beyond.
"The platform 100+ Women Strong provides us is a phenomenal opportunity for all of us to contribute to recruiting, retaining and rewarding those women that are pursuing engineering careers. It's an opportunity to give back. It's an opportunity to build camaraderie and show in a powerful way that we can, together, continue to help strengthen engineering programs not only at Auburn, but also across the country. I get excited just talking about it," she said with a smile.