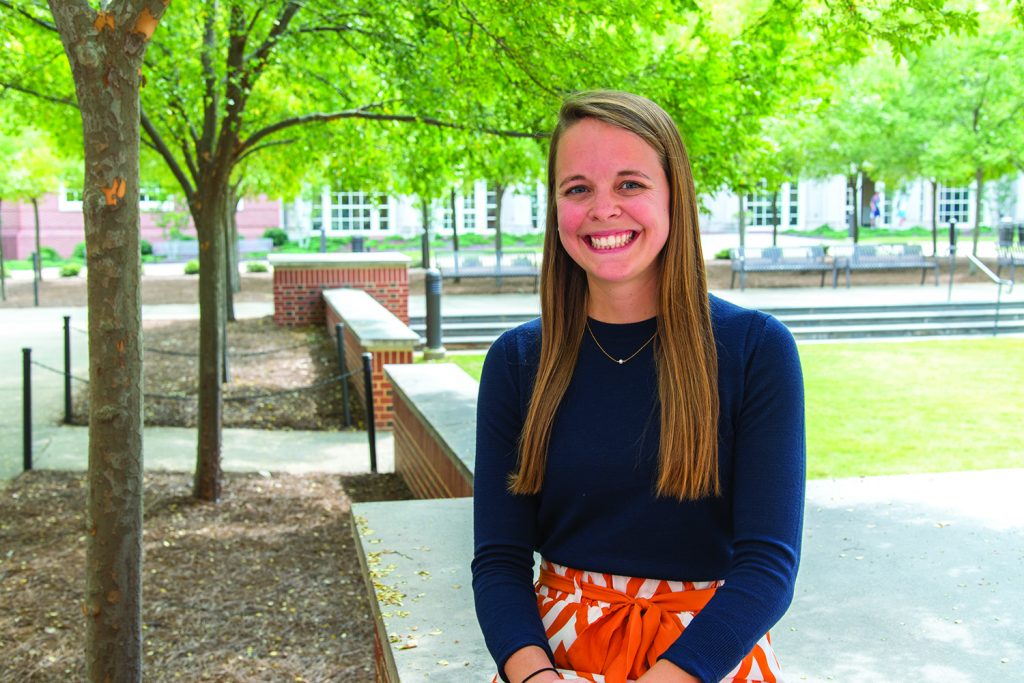 Jenna Klemkowsky first became interested in math and science when she was in elementary school in Morgantown, West Virginia, but it was during an exciting camp just two hours away at the Challenger Learning Center at Wheeling Jesuit University that she discovered her calling in life.
"My love for STEM grew when I first went to space camp in elementary school," said Klemkowsky, doctoral candidate in aerospace engineering. "Just spending that whole week immersed in the different missions and activities they involved us in with science really sparked my interest."
It was then she knew she wanted to be an aerospace engineer.
"Engineering has always been my career path mainly because it's a way to apply all of that science and math, and I like having a problem and being able to solve it using real world solutions," she said.
Klemkowsky returned to Wheeling Jesuit as an undergraduate student, was a member of the university soccer team and graduated magna cum laude with a bachelor's in physics. When it came time to decide on a graduate program, a university more than 700 miles away came calling.
"I fell in love with Auburn the minute I got here," Klemkowsky said. "They flew me down here for a visit and I immediately knew this was a family built around supporting its students."
She earned her master's in aerospace engineering in 2016 and anticipates earning her doctorate in the same discipline in 2019. Her research under the guidance of Department of Aerospace Engineering Chair Brian Thurow focuses on different flow visualization techniques using a plenoptic camera, which has the ability to record 3-D information in a single image.
"Having an advisor like Dr. Thurow pushing us in all aspects of our life, whether it's conducting research or communicating those findings, is the complete package and the perfect fit for what you want in a graduate education," Klemkowsky said.
While Thurow has been impressed with her research and everything she brings to the classroom, he is even more inspired by her intangible qualities and limitless possibilities for the future.
"In addition to her technical accomplishments, one aspect of Jenna's education that I am particularly excited about is her potential to be a leader, both in my laboratory and the overall scientific community. Jenna has the charisma, ambition and intellect to inspire and motivate those around her. Her personality is warm and friendly making those around her comfortable, but the example that she sets is one that values scholarship, hard work and persistence," Thurow said. "Based on these characteristics, I believe Jenna has the potential to be a natural leader, inspiration and role model to the next generation of students interested in STEM disciplines."
While Klemkowsky has been blessed with dedicated mentors, she has also been inspired by those who have come before her.
Catherine Johnson is a mathematician who calculated the trajectories of many early NASA missions, was the first African-American woman to attend graduate school at West Virginia University and was a central figure in the Academy Award-nominated film "Hidden Figures."
"She is an incredible woman from West Virginia, and sharing that connection piqued my interest to learn more about her," Klemkowsky said. "Having interned at NASA Langley, I feel I have a closer connection to her research and passion now. I have great admiration for her."
Sandy Magnus, former NASA astronaut, has also served as an inspiration. Like Klemkowsky, Magnus played soccer during her undergraduate years and earned a bachelor's in physics.
"Her career path is similar to mine, and I relate to her through my educational goals," Klemkowsky said. "She is an inspiration to what I want to do in the future, and I really aspire to be like her."
Klemkowsky has also found a group of mentors through the college's 100+ Women Strong program. Established in 2012, 100+ Women Strong assists the college through programs aimed at recruiting, retaining and rewarding Auburn women in engineering. She was the inaugural recipient of its fellowship in 2015.
"I am thankful there is already a core group in the college willing to support women in engineering. It's so great to have role models to learn from who have paved the way for us at Auburn University," she said. "It's a really great opportunity to make those connections with those who have been here before. It allows us to create these bonds that are so crucial for career success. It's so important for women in engineering to support other women in engineering, and it's something I know I'm going to do when I graduate."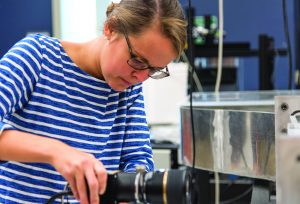 STAYING INVOLVED
In addition to her work with class, research, internships and teaching, Klemkowsky somehow finds the time to do even more.
Since 2014, she has been active with the college's Council of Engineering Graduate Students, helping to plan and market the group's annual showcase from 2015-16, serving as its vice president from 2016-17 and currently as president.
"I love CEGS because it encourages us to branch out and get out of that narrow-minded research mentality that's instilled in us because that's what graduate school is all about. It's a really great organization that promotes the quality of life for graduate students in the College of Engineering," she said. "Interacting within different departments on both the social and academic level is a really great way to build those connections and build that Auburn Family."
Outside of her work with CEGS, Klemkowsky has also been an active member of the college's Engineers Without Borders chapter. She serves as the team lead for the Rwanda group, having traveled to the village of Kabaya twice. As part of the trips, student-led teams work with locals to provide communities with sustainable water resources for the most basic human needs.
In addition to developing the engineering concepts to produce clean drinking water, these service-learning groups help build irrigation and hydroponics systems, hand-powered washing machines and solar showers, among other things.
"EWB is a great way to merge my skills in engineering with my love for serving others. Having those two things mesh together has been a really great fit for me," Klemkowsky said. "I've always had a love for serving others."