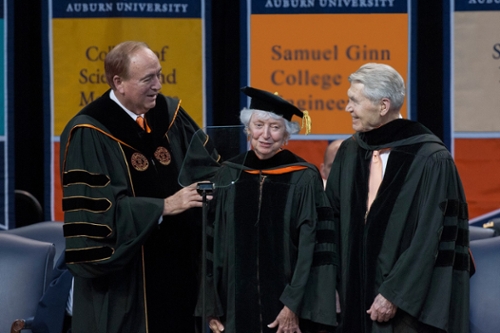 John Brown and Rosemary Kopel Brown, '57 chemical engineering and chemistry, respectively, were awarded honorary doctorates of science during spring graduation ceremonies in May.
The Browns were among 3,653 university graduates, including 580 from the Samuel Ginn College of Engineering, that were awarded degrees during the five main graduation ceremonies in the spring.
John retired from Stryker, a global-leading medical technology company, as its president, CEO and chairman of the board. There, he took the company public and increased revenue from $17 million in 1976 to more than $10 billion today. Rosemary retired as a mathematics teacher, a position she held for almost 30 years, impacting hundreds of students along the way.
Benefactors of the highly anticipated Brown-Kopel Engineering Student Achievement Center, the Browns have supported scholarships and programs within engineering, sciences and mathematics, performing arts and veterinary medicine for nearly four decades. The Browns also have endowed an eminent scholar chair in the Department of Chemical Engineering and the first endowed eminent scholar chair in the College of Sciences and Mathematics.