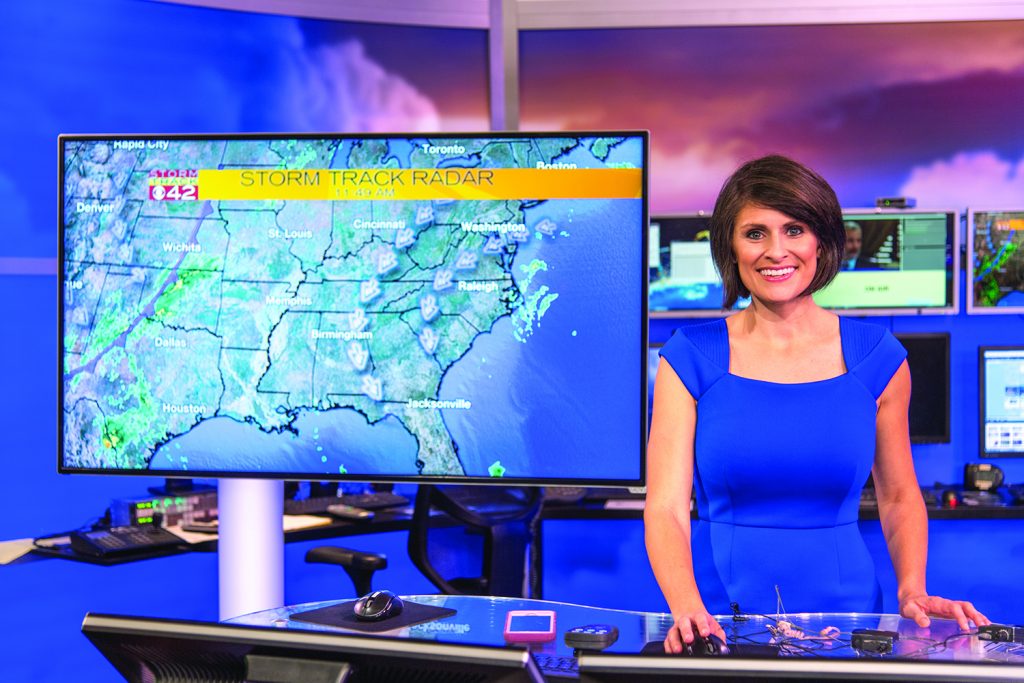 Ashley Gann, '05 aerospace engineering, is a wife, mother, meteorologist and Mrs. Alabama International 2017. Gann knew at the age of 12 that she wanted to forecast the weather and as the morning meteorologist for CBS 42 in Birmingham, she hopes to inspire the next generation of scientists by proving that all engineers aren't created equal.
CH: Can you walk me through a typical morning?
AG: It begins very early. I usually wake up at about 2:30 a.m so that I can get to work by 3:30. The first thing I do is review all of my weather models to create the best forecast I can for my viewing area. I always try to pare it down to three main points, and from there I can build a weather story. I plug in a lot of those numbers from the weather models into our computer systems and update our weather graphics. I use those like a PowerPoint presentation to help tell that story in pictures. I don't read a teleprompter since everything is unscripted, but I have a very good idea of how that weather story should flow. Our morning broadcast ends at 7:00, then we have live cut-ins until 9:00 followed by a noon newscast. I usually finish work around 1:00 in the afternoon and rinse, wash and repeat, day after day.
CH: Do you ever get nervous being on live TV?
AG: This is the only job I know – I've never done anything else. There were definitely some first-time jitters, but one of the things my job has taught me is to not take myself too seriously. I think it's given me a great attitude and outlook on life. Live TV is going to happen with or without you, so you've just got to roll with the punches. That's how life should be.
CH: Can you tell me how STEM (science, technology, engineering and math) became your passion?
AG: One of the biggest reasons STEM means so much to me isn't just because I'm a female and I'm in a STEM career – it's where the future is headed. I'm very passionate about building confidence in young girls, and I want to inspire our youth and show them that you can wear a crown on a Saturday and you can be back to work crunching numbers on a Monday. The look of a scientist is changing and we have to embrace that.
I've been working with local businesses and organizations to fund scholarships for students to go to Space Camp at the U.S. Space & Rocket Center in Huntsville, Alabama. As a Space Camp alumna myself, I've always loved supporting their mission in building the next generation of scientists. It's been a huge honor to reach out to these local students who may not otherwise be exposed to STEM programs and have access to these opportunities.
CH: What made you decide to attend Auburn?
AG: I chose Auburn because it was in my blood. My mom went there and my uncles did too, but initially I was going to go against the grain and do something else. Unfortunately Auburn doesn't have a meteorology major so I had actually applied and gotten into another school. Then I thought, what if I don't like meteorology? It's a specialized degree. I realized that I could go to Auburn and major in something else that I enjoyed and get a master's in meteorology if that's what I really wanted to do. So, I applied to Auburn, and I got in. My mom was over-the-moon excited. Even though Auburn didn't have a meteorology program, I had a master's in sight and Auburn Engineering was an amazing foundation for that long-term goal.
CH: What was your best experience as an Auburn Engineering student?
AG: I have great memories thinking about the friendships and bonds formed within our group of aerospace engineering students. We came from such different walks of life but it was aerospace that brought us all together. We became family. We'd hop across to Toomer's Corner for lunch and we used to play Frisbee on the front lawn of Samford. I still have those friendships being almost 15 years removed from the school, and it all started because we studied for hard tests together, we failed together and we succeeded together. In every sense of the word, we were the Auburn Family.
CH: What was the most valuable lesson you learned?
AG: One of the things that Auburn Engineering taught me was to dream big and not to be afraid of failure.
One semester I had a math class where I was the only female. Even though I felt a little outnumbered and a little out of place at times, I realized that I didn't have to fit a stereotype. I was a War Eagle Girl, I was involved with the Student Government Association and I was an engineering student. Auburn really gave me a fearless spirit.
CH: The tornado that devastated Tuscaloosa on April 27, 2011 changed many lives. Tell me about how that day affected you.
AG: It was single-handedly the most sobering moment of my career; it forever changed me. I was the chief meteorologist in Montgomery and I was on-air while we had a Skycam in Tuscaloosa pointing straight at the tornado. I'll never forget standing in front of that screen knowing in my mind and in my heart that people were losing their lives. That day marked the beginning of my passion for being a servant meteorologist. Every day I'm building credibility and a relationship with my viewers so that they will trust me on those big event days.
I love telling weather stories and I love that people have invited me into their home to bring them information every day. I realize now that my job is not just about the weather; it's about serving people.