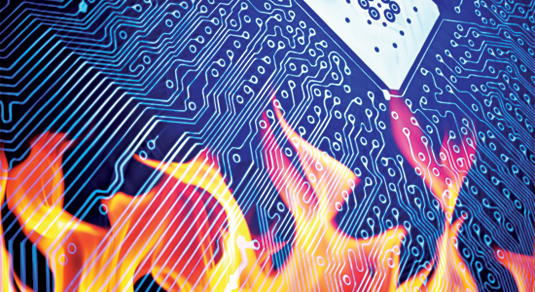 Electronics . . . we love them. In our cars, appliances and communications devices, these complex systems provide comfort, safety and entertainment. Increasingly, they are also being asked to do all of this and more under some very tough environmental conditions.
Enter CAVE3, also known as Auburn University's Center for Advanced Vehicle and Extreme Environment Electronics, a National Science Foundation (NSF) industry/university cooperative research center (I/UCRC). The I/UCRC program was launched two decades ago to encourage partnerships between industry and academia with the goal of transferring university developed ideas, research results and technology to U.S. industry to improve global competitiveness. CAVE3, one of the program's success stories, pairs Auburn with industry partners to do the pre-competitive research needed to build electronics that can handle the future . . . no matter how tough.
So what do we mean by tough? It can mean cell phone electronics that can withstand a bumpy ride down two flights of concrete stairs or a drop from a second story balcony without missing a ring. It can also mean that electronics designed to make your fuel efficient car work flawlessly despite exposure to vibration, moisture, salt and temperatures that can vary from minus 40ºC to plus 125ºC. Then, of course, there are the electronics that enable us to explore space or search for oil deep below the surface of the earth where temperatures fluctuate from minus 120ºC to plus 225ºC.
Sharing the Risk
"Research to advance the durability of electronics in harsh environments is expensive, often requiring high up-front technological risk," explains Pradeep Lall, CAVE3 director. "The center brings competitors together in a university research center environment to do the work needed to advance technology in this discipline. We focus on precompetitive fundamentals which industries can then use to develop their own innovative solutions for the marketplace."
Lall is proud of the fact that the Auburn center recently received an NSF Phase III grant, a nod to its long-term effectiveness. The 25 industry/agency members include heavy hitters such as NASA, U.S. Army, John Deere Electronic Systems (JDES) and Lockheed Martin.
For every dollar invested in CAVE3 research and development, there is a direct value created of $56. When you consider the opportunity to direct money these firms would have spent on research into ventures with less risk and more immediate returns, you get a solid return of $148 for each dollar invested. According to Lall, these firms sign on because they recognize the value of working together.
"The Advanced Technology Group at JDES believes that CAVE3 at Auburn has provided significant value to our organization during our six-year association, and we look forward to continued collaboration," says Paul Nystuen, advanced technology manager with JDES.