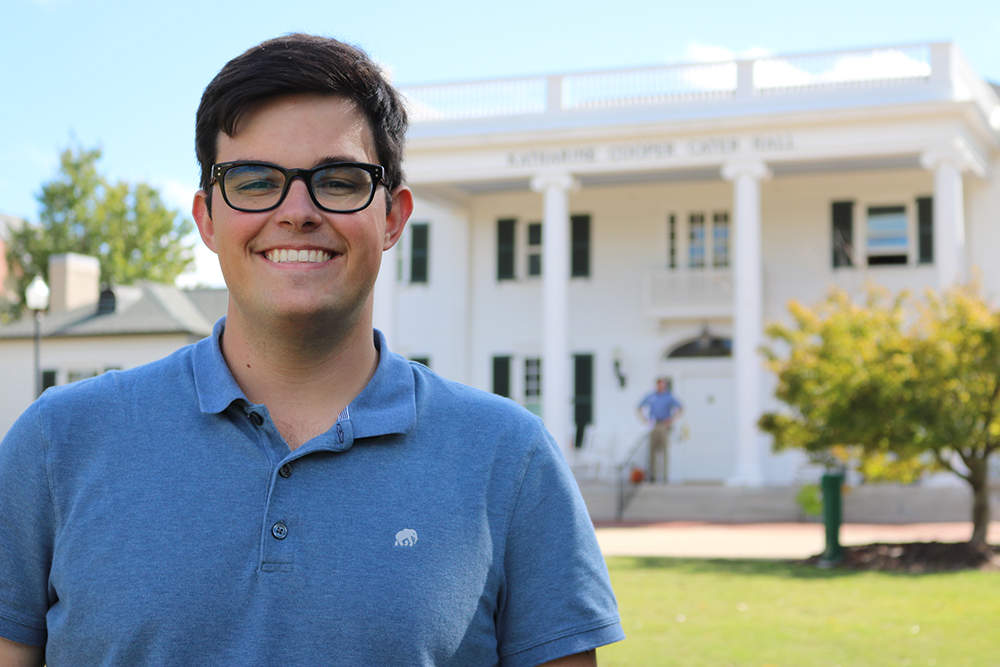 While other teenagers were spending summer break lounging by the pool or working summer jobs, Matthew Rogers was meticulously dissecting a malware program developed by a foreign adversary.
For some people, scanning line after line of code from the confines of a Huntsville office building may epitomize monotony, but it represented a massive opportunity for the 17-year-old computer whiz.
Tasked with reverse-engineering the malware program, Rogers knew he was in for a daunting challenge. Although the malware had been flagged by antivirus software, unraveling its true intent was proving difficult due to layers of obfuscation. It didn't help matters that the code was barely decipherable to the human eye.
It was 2014, and Rogers and three friends were the first high school interns ever hired by the Huntsville-based science and technology firm Dynetics. Honestly, not much was expected of them when they were assigned the project.
"Our supervisors said, 'OK, well go at it. We don't really expect you guys to finish. This is kind of a test run,'" Rogers recalled.
But over the course of a month, Rogers and his fellow interns reverse-engineered the entire program, writing more than 3,000 comments and renaming every method, variable and function in the code. They even created a command-and-control server and set up a demo where they infected a computer with the malware.
Using a technique known as static hashing, the malware that he and his team reverse-engineered was even able to evade antivirus software programs, providing valuable information for research in this area.
Perhaps then, it is no surprise that Rogers is primed for a big future in cybersecurity. Now 21 years old, he graduated from Auburn a year early with a perfect GPA, a bachelor's degree in software engineering and a plethora of experience as an undergraduate research assistant, co-founder of Auburn's Ethical Hacking Club and Honors College student.
An impressive body of work, no doubt. But if you ask Rogers, he will tell you his biggest achievement is his recent selection for the prestigious Rhodes Scholarship. As a 2018 Rhodes Scholar, Rogers will head to England this fall to pursue a Doctor of Philosophy degree in the University of Oxford's renowned cybersecurity program.
Following a rigorous application and interview process, he was one of only 32 American students selected for the honor from a pool of nearly 900 nominees.
"I think I was in a state of shock for about three weeks afterward," Rogers said.
Rogers plans to use his education at Auburn and Oxford as a springboard to "usher in a new generation that can produce the cyber security research, and policy, necessary to prevent our globally connected society from falling apart."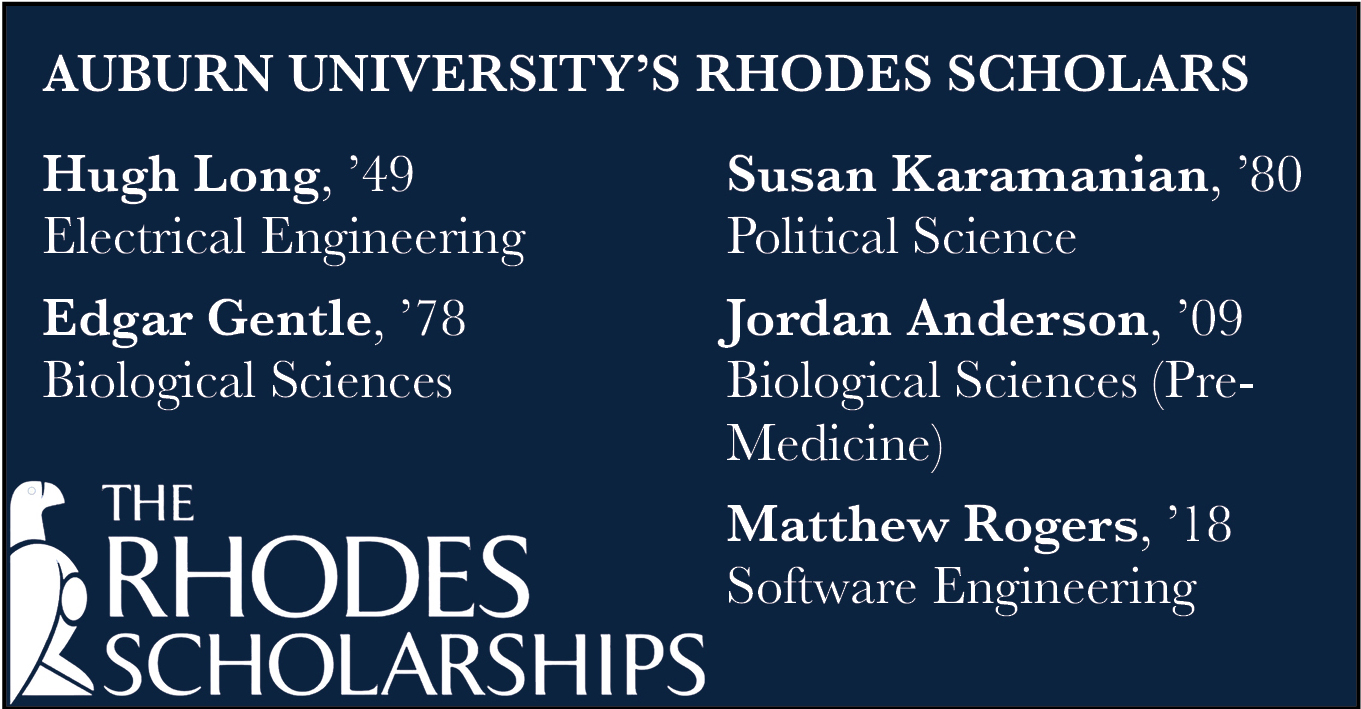 BECOMING A CYBER WARRIOR
Rogers first became interested in cybersecurity when one of his high school buddies convinced him to take part in CyberPatriot's National Youth Cyber Defense Competition, which challenges students to find cybersecurity vulnerabilities and defend a network against professional aggressors.
Rogers joined his friends on Grissom High School's CyberPatriot team, and they exceeded their wildest expectations by placing second in the nation.
It was that experience that led to them becoming the first high school-aged interns Dynetics had ever hired. In addition to reverse-engineering the aforementioned malware program, Rogers' experience at Dynetics also provided him with the opportunity to develop other malware analysis tools.
When it came time for Rogers to choose a college, he was drawn to Auburn because of its software engineering program's strong reputation.
"What I think I've enjoyed the most about Auburn is the freedom to start groups like the Ethical Hacking Club," he said. "I just don't think I would have had the same autonomy to start those kinds of clubs at other schools and have the same freedom that I currently do."
The Ethical Hacking Club has brought students from across campus into the cybersecurity arena. Each week, the club gathers to discuss software vulnerabilities and assess the vulnerability of pieces of hardware and software.
Rogers has also taken his learning experiences beyond the classroom by participating in the Undergraduate Research Fellows program. Working alongside Auburn Engineering faculty, Rogers has conducted research on the Internet of Things and developed new uses for Trusted Platform Module crypto-processors.
"Matthew's accomplishments at this stage in his career are really pretty remarkable," said David Umphress, director of the Auburn Cyber Research Center and Rogers' faculty advisor. "It would almost be easier to list the things he hasn't achieved because they are so few. I think a lot of our students are rock stars, but when you talk about the rock star of the rock stars, that's what Matthew is."
LOOKING TO THE FUTURE
The protection of data and financial assets has always been of paramount concern for information security professionals, but cybersecurity's broader geopolitical implications are beginning to come into view.
Whether it is the Kremlin using cyber assets to meddle in Western democracies or North Korea's hacker army stealing money to offset the effects of sanctions against its regime, cybersecurity concerns are now an integral part of international relations.
"One of the main things that interested me about the University of Oxford program is that it looks at cybersecurity from a multidisciplinary perspective," Rogers said. "It's not just about the technical aspect, but when you take a step back, you see the role it has in international relations and politics, and it's kind of thrown a loop into how we consider our negotiations with all these other countries."
From a national security perspective, Rogers is interested in ensuring our critical infrastructure remains protected in cyberspace. With the increasing integration of computer networks with infrastructure operations, a bad actor in cyberspace could cause real damage to national infrastructure, such as the water supply or the power grid. Rogers wants to prevent that, in part by securing industrial control systems and supervisory control and data acquisition systems.
Upon finishing his doctorate, Rogers aims to work in a position where he can engage in technical research but also have a hand in shaping policy. He believes his education at Auburn and Oxford will allow him to achieve that, even though the field is always evolving.
"There's always something new to learn and that's why I like computers and working with them," he said. "The field is constantly moving a million miles a minute."
Addressing the challenges of an ever-changing cyber world will be no easy feat. But neither was reverse-engineering a malware program at the age of 17. Rogers has proven he is up for the challenge.