Students who frequent Broun Hall had a different experience this semester as the facility received a much needed upgrade through massive renovations and the creation of the Davidson Pavilion.
The renovation was made possible thanks to a $5 million gift from Dorothy Davidson in honor of her late husband Julian, a 1950 electrical engineering graduate and defense industry pioneer. This project completes the first phase of more than $65 million in renovations and new construction currently taking place on the engineering campus.
The addition of the Davidson Pavilion has transformed the area most used by students and includes a new main entrance that allows natural light into the first two floors, renovated classrooms and labs, all equipped with the latest instructional technologies.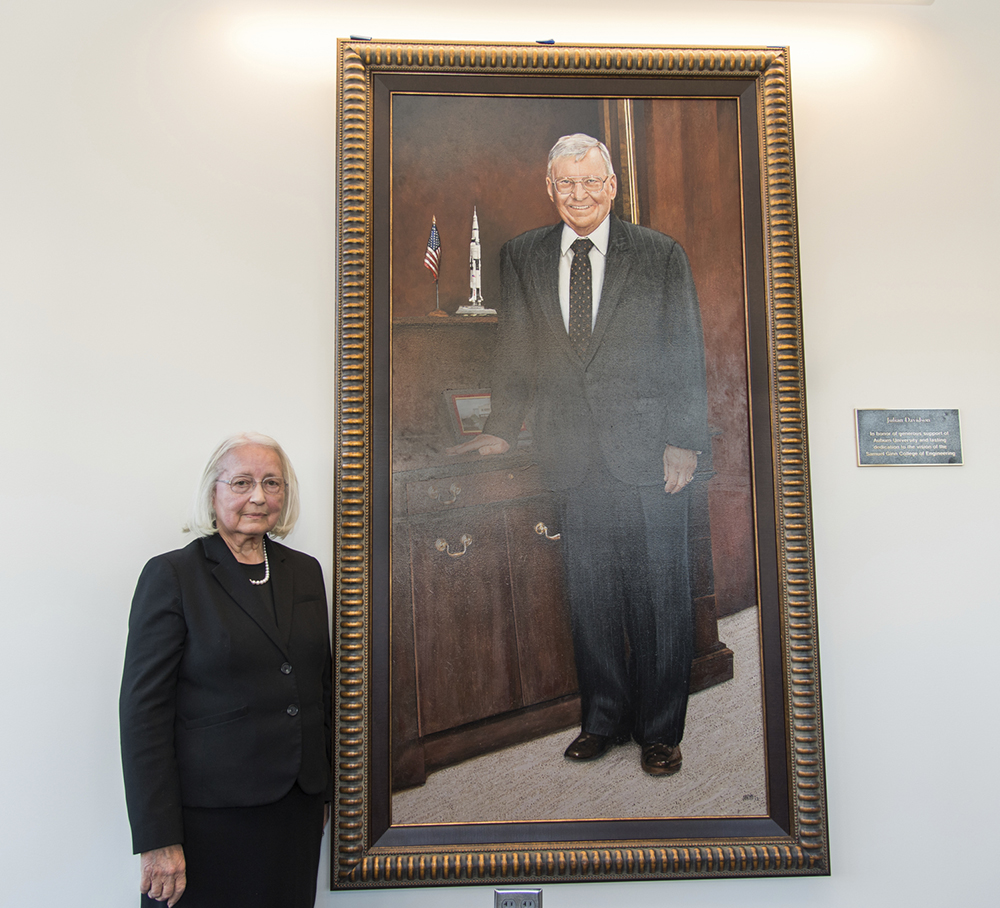 During a February dedication ceremony, Dorothy reminisced about her loving husband and said she hopes this new chapter in Broun Hall's history will provide an environment that will inspire the next generation of engineers through spaces that are conducive to study and collaboration.
"This is the best engineering institution in the state, the region and the country," Dorothy said. "I hope this will show students that, if they work hard, they too can be anything they want to be."
Christopher B. Roberts, dean of engineering, said students are already reaping the benefits of these state-of-the-art study areas, classrooms and labs.
"The addition of the Davidson Pavilion has made a tremendous difference to the aesthetics of the facility, and it's already making a huge impact on the way our students collaborate, study and work in team groups," he said. "We are grateful for Dorothy's generosity and unwavering commitment to Auburn University and the College of Engineering. Julian was a hugely influential member of our Auburn Engineering family and this area will serve as a fitting tribute in his honor for many generations to come."
Auburn University President Steven Leath also spoke during the event and he said this area would further enhance the student experience.
"When I arrived on campus last year, one of my priorities was to continue to expand on the culture of student-focused leadership at Auburn," Leath said. "We will make the student experience the best it can be and increase the value of an Auburn degree, and this beautiful new addition to campus helps us achieve those goals. This renovation provides our students and future generations with the tools and environment to thrive, collaborate and innovate."
Auburn University Board of Trustees President Pro Tempore Michael DeMaioribus, who also holds a bachelor's and master's in electrical engineering in 1976 and 1977, respectively, has been a longtime friend of the Davidsons and he thanked Dorothy for their generosity and the impact they have made on the Huntsville community, the university, the state and the country.
"Not only do I have an enormous amount of respect for what they've accomplished professionally, but I also have great respect for their numerous philanthropic endeavors," DeMaioribus said. "Your support of student scholarships, facilities improvements, laboratory upgrades, software programming and more allows us to provide the highest quality engineering education, while also preparing our students to go out and change the world."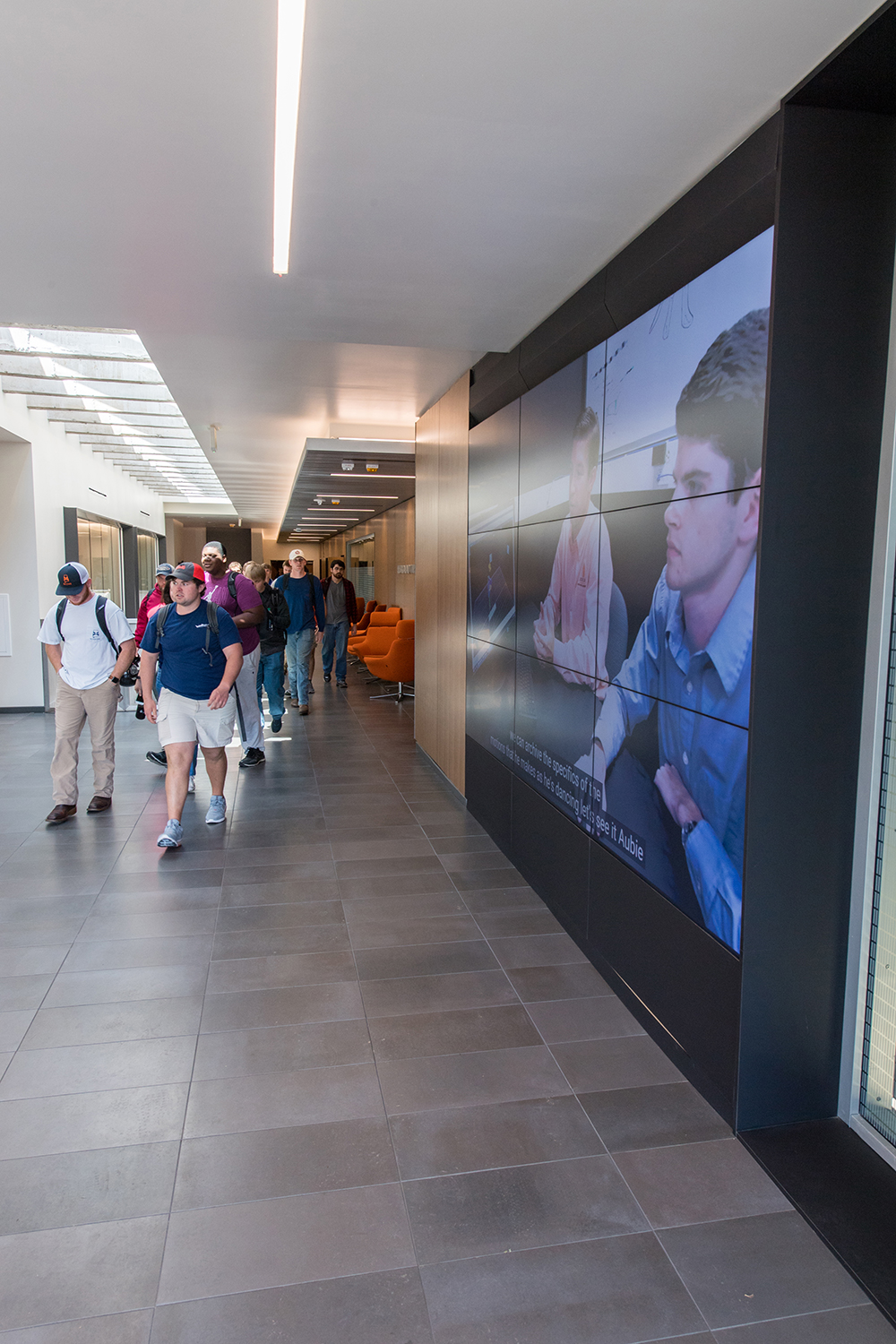 Julian Davidson graduated from Auburn with a bachelor's degree in electrical engineering in 1950, and Dorothy received a bachelor's of science in mathematics in 1956. In 1981, Julian and Dorothy were married, and in 1992 they moved to Huntsville. Four years later, the Davidsons co-founded Davidson Technologies, a company providing innovative engineering, technical and management solutions for our nation's defense and aerospace industries. Throughout his career, Julian was a leader in missile defense engineering. In 1984, he was named to the panel that evaluated President Ronald Reagan's Strategic Defense Initiative and determined its feasibility.
Twenty years later, he worked with the Department of Defense to review the Patriot missile's effectiveness during Operation Iraqi Freedom. In 2008, the U.S. Space and Rocket Center named the Davidson Center for Space Exploration, which houses a restored Saturn V rocket, in Julian's honor.
Dorothy took a position as a research mathematician with the U.S. Air Force at the Pentagon upon graduation, and in 1965 she began a career in systems engineering, working for several U.S. and German companies in Europe. She returned to the U.S. after 17 years abroad and consulted for companies that interfaced with NATO. After Julian's death in 2013, Dorothy stepped in to run Davidson Technologies as the CEO and chair. Her business acumen and engineering background provided a seamless transition.
The Davidsons have demonstrated a strong commitment to Auburn University and the Samuel Ginn College of Engineering throughout their careers. In addition to his professional achievements, Julian was an active member of both the Auburn Alumni Engineering Council and the Electrical and Computer Engineering Industrial Advisory Board. He has been recognized with the Electrical and Computer Engineering Outstanding Alumni Award, as a Distinguished Auburn Engineer by the college's alumni council in 1991, and was inducted into the State of Alabama Engineering Hall of Fame in 2007.
Julian and Dorothy have funded scholarships, programs and laboratory support within the college and the Department of Electrical and Computer Engineering, and have supported the Jule Collins Smith Museum of Fine Art as well.
Their philanthropic memberships have included the Engineering Eagles and Ginn societies, as well as the university's 1856, Foy and Samford societies.