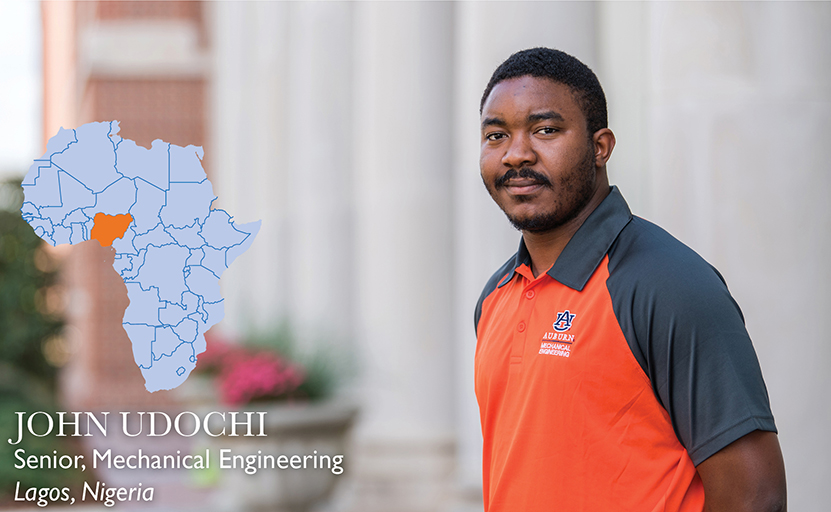 Mechanical engineering student John Udochi hails from Lagos, Nigeria, the most populous city of Africa's largest nation. Settling into Auburn in 2013 marked a major turning point in his life.
He'd learned of Auburn as a high school senior after his mom visited the campus, returning with photos of Samford Hall and Jordan-Hare Stadium and stories of peaceful settings and genial people. Udochi was sold.
"The atmosphere here at Auburn is one that breeds success and achievement," he said. "It encourages one to reach for the stars and accomplish that which hasn't been done before, whether by research or involvement. Auburn has helped me find and nurture skills I didn't know I possessed.
Besides getting an education, I am also getting a firsthand experience of what it means to be part of a big family whose only goal is to ensure every member achieves greatness."
Udochi has researched artificial intelligence to make e-books more interactive. He said he hopes to work in both engineering and finance.
"My dream is to be a part of an organization that utilizes either field to make a difference in the lives of others," he said. "Auburn has helped me understand what change is and how to go about spreading it. My hope is to make not just my family proud, but to make Auburn proud as well."
He honed his finance skills at his mother's Lagos bakery, where his tasks ranged from balancing the books to mixing flour.
One of the things Udochi misses most is his mom's traditional Nigerian cooking. In Lagos, he and his younger brother, Daniel – an Auburn student pursuing a microbiology degree – savored home-cooked meals and only ate American fast food on special occasions. Now, he said, "I'm addicted to Chick-fil-A."