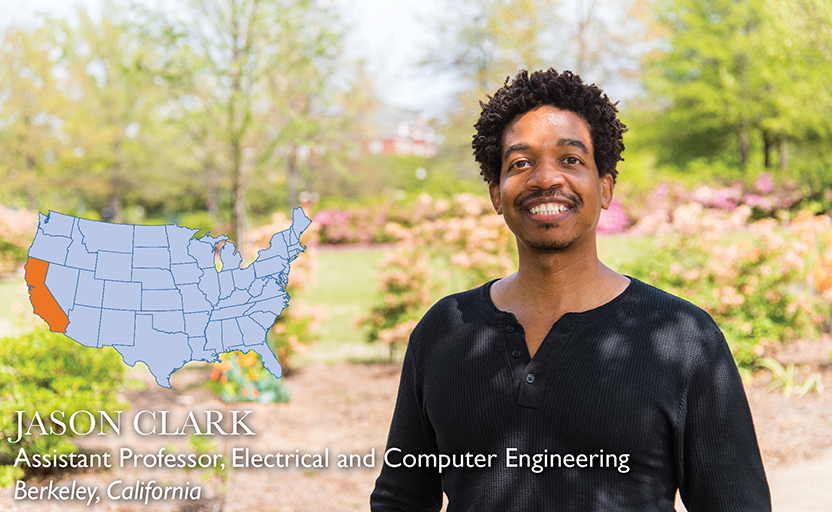 For Jason Clark, navigating downtown Auburn is a breeze compared to his time as a graduate student at the University of California, Berkeley, where a 20-minute drive to campus could turn into two-hour gridlock in the Bay Area's infamous traffic.
Having joined Auburn University as an assistant professor in the Department of Electrical and Computer Engineering in August 2017, Clark finds a lot of upside to Auburn besides the traffic.
The Alabama Micro/Nano Science and Technology Center, housed at Auburn, has everything he needs to advance his research in microelectromechanical systems, microscopic devices that integrate electrical and mechanical elements.
"A lot of institutions don't have a micro lab, and that's one of the things that stood out to me about Auburn," Clark said.
Science and engineering were a natural draw for Clark, who created his own toys out of paper and tape as a child. He eventually started drawing the inner workings of machines, even though he didn't understand the physics at the time.
"I would try to imagine how things might work," he said.
Now as a junior faculty member in engineering, he finds the university is deeply committed to ensuring his success.
"I had two faculty members from different departments volunteer my first week to be my mentor," Clark said. "That was a pleasant surprise to me."
Growing up in a military family, Clark spent his formative years in California, Washington, Alaska and Germany, and he is enjoying his new adventure in Alabama and exploring life in the South.
"Everybody here has been really nice, even strangers on the street," he said. "I guess it's infectious."