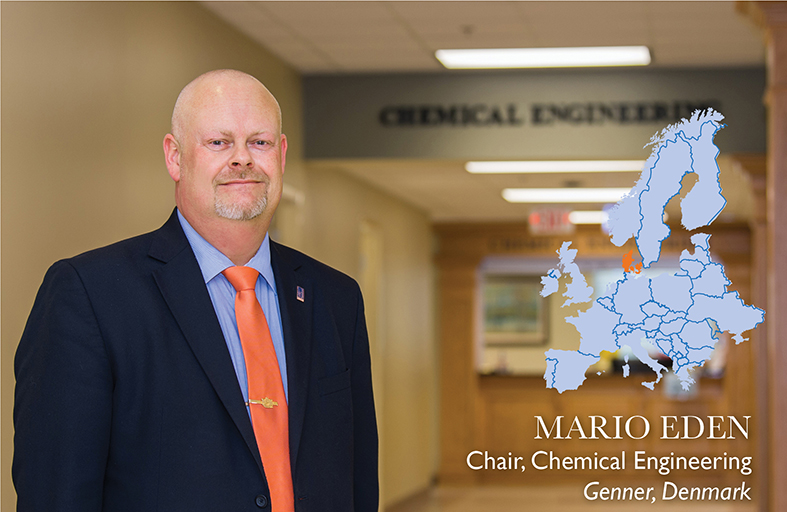 While studying at the Technical University in Denmark, Mario Eden was intrigued by the writings and research of a faculty member nearly 4,700 miles away at Auburn.
So, as part of the doctoral requirements in Denmark, Eden made the trek to Auburn to learn from former professor Mahmoud El-Halwagi for a nine-month term, and then returned another nine months as a visiting instructor.
"I never looked back," said Eden, now the chair of the Department of Chemical Engineering.
During his time as a visiting student, Eden became friends with faculty member Christopher Roberts. While serving as a visiting instructor, a tenure-track faculty position and the department chair position both opened up.
"We both started dreaming big," Eden said. "We worked on our applications at the same time and this was the only place I applied. This is the job I wanted."
He got the job, as did Roberts.
"The potential the department had was really exciting. We were getting ready to change what we wanted to be about and who we wanted to be," Eden said. "I wanted to be part of that. I wanted to put my fingerprint on that. You could actually influence things and I wanted to be in an environment where I could enjoy my colleagues' success."
Fast forward a few years and Eden is now the department chair and Roberts the dean of the college.
"As a faculty member, I have had access to fantastic students who advanced my research program in ways that I never even thought of when I first started. As a department chair, I have the best faculty, the best staff and the best students," Eden said. "Auburn has provided everything that I ever needed. It doesn't get any better than this."