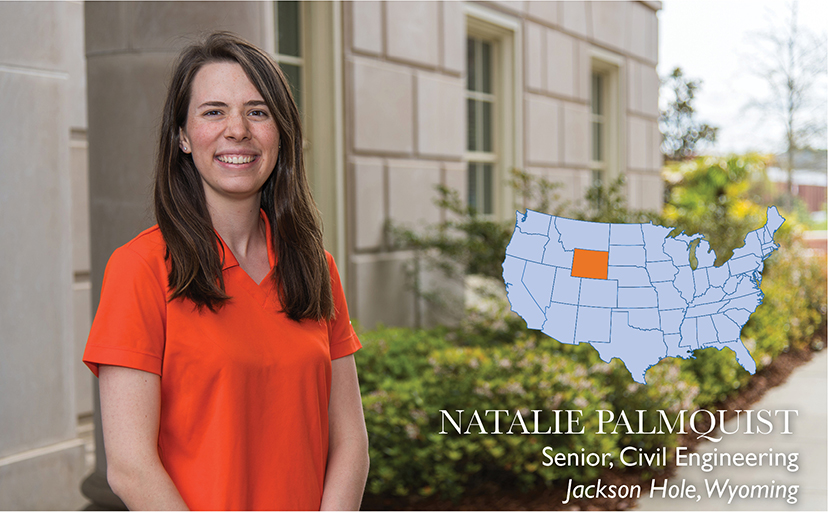 Natalie Palmquist has lived all over the world. Born in York, Pennsylvania, Palmquist moved to Skopje, Macedonia, at age 2, then to Istanbul at age 6 and finally settled in Jackson Hole, Wyoming, at 14.
She had never heard of Auburn University until her senior year of high school.
While participating in a Distinguished Young Women scholarship competition, she was introduced to Auburn and was quickly drawn to the Samuel Ginn College of Engineering. Hoping to offset the cost of out-of-state tuition with DYW and National Merit scholarships, she convinced her mother to accompany her on a tour of the Plains.
"That first day on campus was unforgettable," said Palmquist, now a senior in civil engineering who is serving a co-op term with Foresite Group. "I remember sitting on the back porch of the Quad Center and saying, 'Mom, I would really love to be here.'"
However, there was a bump in the road as she wasn't able to stack both of her scholarship offers, meaning she would need more financial assistance to make this dream come true. But it happened when she was offered an additional scholarship through the Department of Civil Engineering.
"I could not be more grateful for the chance to be a student here at Auburn University," she said. "It is a true joy to be part of the Auburn Family."
As part of that family, she is back to traveling the world, this time as a member of the college's Engineers Without Borders group on trips to Bolivia and Rwanda to help remote communities solve basic water needs.
"Because of this experience, 'I believe in the human touch' of Auburn students and faculty. I have seen its impact and I am so proud to be a part of it," she said.