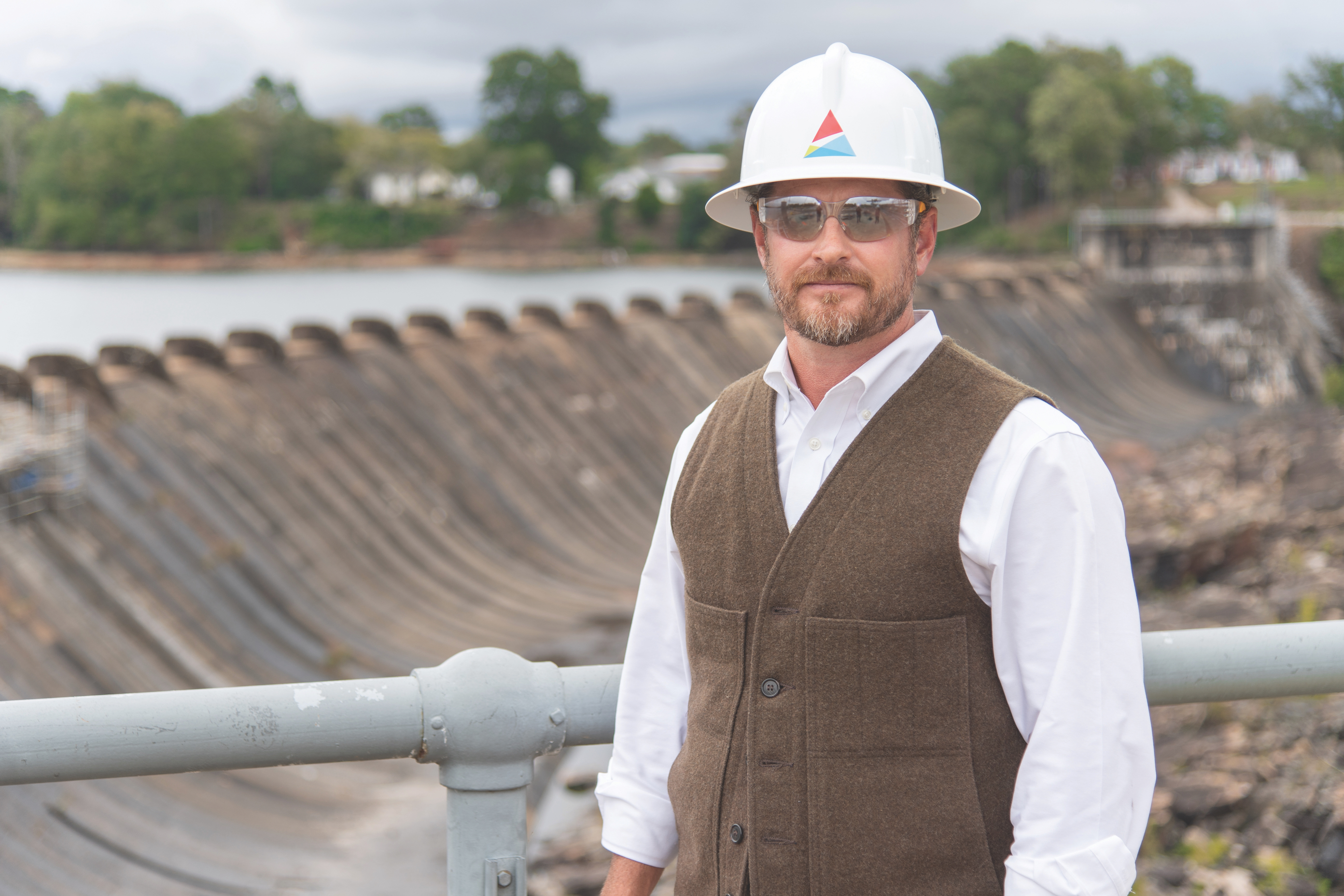 Herbie Johnson '94
Civil Engineering
General Manager of Southern Company,
Hydrogeneration
Before Auburn… Out of high school, I went into the military. It gave me discipline and the chance to figure out that I wanted to get a college education. My father and grandfather built houses, so I always had an interest in construction. That ultimately led me to civil engineering. I toured the schools and felt that Auburn had one of the best programs in the nation. I have a passion for civil, and I feel very fortunate to have started my job 25 years ago in hydro at Alabama Power Company.
Starting out… Our company does a great job of developing the technical side of individuals as soon as they start in the company. I started in the technical aspects of hydroelectric generation as a hydrologist. From that point, I went into the plants and learned how they operate, what it takes from a team of people to keep the plant running – from dam safety to keeping the lights on – how to keep the water regulated, and how to make sure we meet state laws and regulations. I had the chance to start managing a dam as superintendent at Thurlow Dam in Tallassee. From there, it just progressed. I managed other plants within our system and did some large construction projects, proving the ability to transfer my skills of civil and project management to large-scale projects. That gave me the opportunity to come back into our hydro organization as the general manager and support this great team of people that keeps our hydro fleet running.
A day in the life… I have the opportunity to work in the most beautiful places in our state, and I consider myself very fortunate. It's almost like every day is a vacation. My work routine is varied, and there's hardly a day that I repeat the same task, so there's always an interesting challenge. Each of the 14 lakes we have in Alabama Power Company has its own community and its own municipal, agricultural, environmental and recreational needs, so there's not one template for how we manage those resources. One of the largest things is learning the individual personalities of each of those lakes, how they interact with the community, and what the community values. Once you have that set, then matching the hydrology and managing the water resources is kind of the easy part. Keeping the balance of needs from the communities and all the stakeholders is probably one of the most challenging, but most interesting, parts of the job.
I still leverage Auburn for support. We recently partnered with the School of Fisheries, Aquaculture, and Aquatic Sciences on some work studying aquatic species on our rivers. Auburn is a fundamental part of stakeholder input that helps us do our job better and be more in touch with our communities. We often go back to Auburn for their services, their talent and their students to support what we do to manage these projects. I feel great that I'm in a job that's kept me in tune with Auburn in that manner.
My Auburn experience… After serving in the Air Force, I graduated with a degree in civil engineering in 1994. When I look at my time at Auburn, I remember being part of a good community. Partnering with teams, having study groups, finding out our strengths and weaknesses and learning who could help us understand something better, as well as how I could share with them to help strengthen a gap they may have had, were all important parts of my experience. Working with a community of people in study sessions, and ultimately becoming a success by graduating with a degree, was my favorite part of my time at Auburn. Those friendships have lasted a long time and are still in play today. I rely on a lot of those same study partners to bounce off ideas, questions and challenges. It's been a positive experience to see that they have also advanced in their careers to be leaders and to contribute to this great state and community. I remember Dr. [Joe] Judkins, who chaired the civil engineering department when I was there, and as he taught and would test you, it wasn't about just repeating formulas and doing mathematical equations. Dr. Judkins taught us to use common sense. I didn't really appreciate it until I graduated and came to work for this company. When we took Dr. Judkins' tests, we were applying common sense to real-world business cases. If you can do that, you can just about be successful in doing anything you want to accomplish as a civil engineer from Auburn.
What drives me… When I interact with our communities and our stakeholders, when I talk to our current employees or the young employee we're going to hire, I want them to know our hydro plants are forever assets, and that we've got a plan for the next hundred years. Several of our dams are already over 100 years old. We want people to know that we're already thinking about how we're going to preserve these assets with sound engineering and innovation. We're asking ourselves, 'What type of employees will it take? What type of training and skill sets are necessary to maintain the equipment?' I would say the "hundred-year plan" is the thing I really enjoy about my work. It's not just a 5-year, or even 20-year, outlook. We've got to really think about the future, and I've got to pull from that civil engineering background and foundation that Auburn gave me when I was there.
Career success… I've had the opportunity to serve as the president of the National Hydro Association for the past two years. We work on legislation to keep the process of licensing and relicensing our hydroelectric plants, not only for Alabama Power Company, but across the U.S., as efficient as possible, so it doesn't impact ratepayers and our stakeholders in a negative manner. The opportunity to work in Washington, D.C. and manage that process, as well as manage that organization as the president, has been a dream come true for me. One of the highlights of my 25-year career was when I had a chance to testify before Congress about the efficiency of the licensing process and share our thoughts and ideas as an industry on how to keep the process efficient for the next hundred years. That five minutes I had before Congress was a highlight of my career so far, but I hope for many more highlights to come.