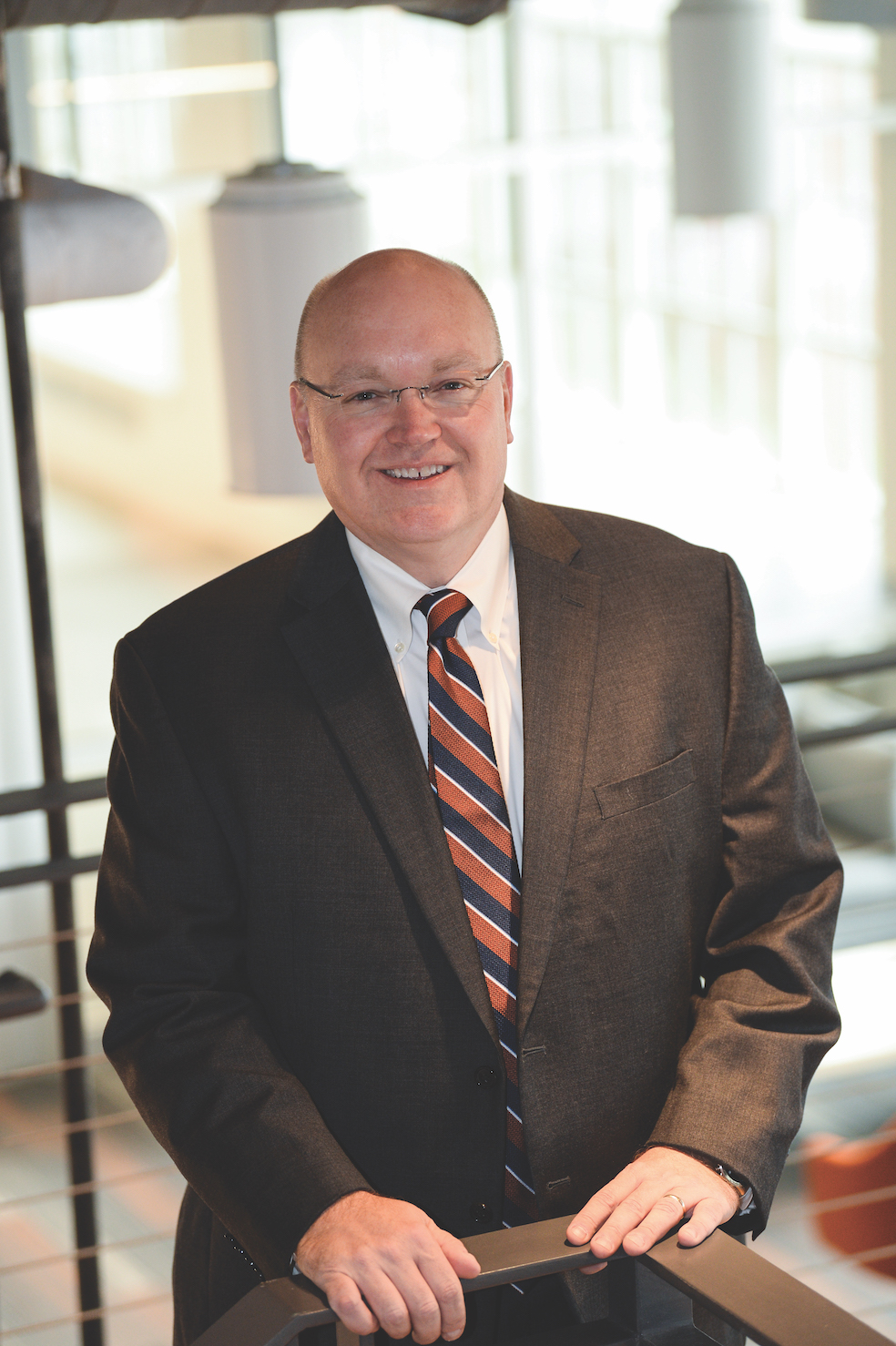 I enjoy writing these columns in Auburn Engineering because it gives me the opportunity to bring our readers up to date on our academics, our research, our people and our building program, and the bold new direction we're taking. I am going to do something a little different this time, which is to keep my comments brief.
So, first things first. The photo that accompanies this article was taken in the lobby of the Gavin Engineering Research Laboratory, which is now complete and in the process of being occupied by graduate students and researchers from throughout the college. Charles Gavin was on campus recently to help us dedicate it, and I hope that he will return, with many others, to see the dedication next fall of the Brown-Kopel Engineering Student Achievement Center.
Indeed, our ongoing building program, which began with Ross Hall, Wilmore Labs and the MRI Center, and then segued to Shelby Center – and the Davidson Pavilion addition to Broun Hall – has energized us. When I look to the lab space that was available to me 30 years ago (ow!) and compare that to the facilities we have now, I can tell you that we are looking at a truly remarkable transformation. Just as remarkable is the increase in our student body over the past decade, and the growth of our faculty over the past three years, with approximately 80 new teachers, lecturers and researchers.
These faculty impress me in ways that are hard to describe. Over the past year we have had an increase of 60 percent in our extramural research proposals, a testament to the energy they have brought with them. They join what I know is an already world-class cohort of seasoned faculty who have done much to show them the way. Moreover, dedicated alumni such as Gavin and Walt Woltosz have supported their efforts by doubling down on the number of graduate fellowships we offer. I am extremely thankful for all of our donors, without whom this kind of progress would not happen.
So, as I was walking back to my office from the Gavin Laboratory after the photo shoot, and checklisting some things along the way – yes, getting a little bogged down in the middle of the day in the middle of the academic year with the same kinds of problems you face every day – I looked ahead to the promise of the new calendar year. It made me think about why we are doing the things we are doing, the progress made, the roadblocks challenged, and the path ahead, all for one reason: to educate the best possible engineers for the changing world ahead.
We are working hard to make it happen, embracing the challenge – and having fun. I hope you will join us!