Auburn University and the Samuel Ginn College of Engineering are taking the lead as an institution on the forefront of cybersecurity research and professional preparedness in the industry.
Interdisciplinary research and collaboration through the Charles D. McCrary Institute for Cyber and Critical Infrastructure Security, the Center for Cyber and Homeland Security, the Auburn Cyber Research Center and the Lt. Gen. Ronald Lee Burgess Cyber Laboratory has positioned the university as a leader in improving the nation's vulnerabilities in these areas.
The McCrary Institute was founded in 2015 with a focus on research and advanced technologies to improve the security and operations of the country's infrastructure while valuing natural resources and conservation. This institute enables Auburn to attract nationally recognized faculty who are at the forefront of emerging technological issues, while leveraging existing university resources and personnel to broaden the institute's impact and to spur policy formation, economic development, business expansion and job creation.
Frank J. Cilluffo elevated Auburn's cyber efforts when he joined the university in 2018 as director of the McCrary Institute.
Cilluffo is a member of the Cyberspace Solarium Commission and the Department of Homeland Security's Advisory Council, and he's routinely called upon to advise senior officials in the executive branch, U.S. Armed Services, and state and local governments on an array of matters related to national and homeland security strategy and policy.
In addition to briefing congressional committees and their staffs, he has publicly testified before Congress on numerous occasions, serving as a subject matter expert on policies related to cyber threats, counterterrorism, security and deterrence, weapons proliferation, organized crime, intelligence and threat assessments, emergency management, and border and transportation security.
Similarly, he works with U.S. allies and organizations such as NATO and Europol. He has presented at a number of bi-lateral and multi-lateral summits on cybersecurity and counterterrorism, including the U.N. Security Council.
Following the 9/11 terrorist attacks, Cilluffo was appointed by former President George W. Bush to the newly created Office of Homeland Security. There, he was involved in a wide range of homeland security and counterterrorism strategies, policy initiatives and served as a principal advisor to Director Tom Ridge, directing the president's Homeland Security Advisory Council.
"Frank is one of the world's preeminent experts on cybersecurity and homeland security, and we are excited to have someone of his caliber leading such an important endeavor," said Christopher B. Roberts, dean of engineering. "The McCrary Institute has allowed Auburn University to build on the track record of the Samuel Ginn College of Engineering's Cyber Research Center and emerge as a national leader in cybersecurity research.
"Having Frank spearhead this effort only bolsters our commitment in this vital area," he added. "His leadership record is second to none, and his innovation and professionalism in the cybersecurity community is broadly recognized."
Cilluffo then joined George Washington University in 2003, establishing the Center for Cyber and Homeland Security (CCHS) as a prominent nonpartisan think and do tank dedicated to building bridges between theory and practice to advance U.S. security. He served as an associate vice president, leading a number of national security and cybersecurity policy and research initiatives. He directed the CCHS and, with the School of Business, launched the university's World Executive MBA in Cybersecurity program.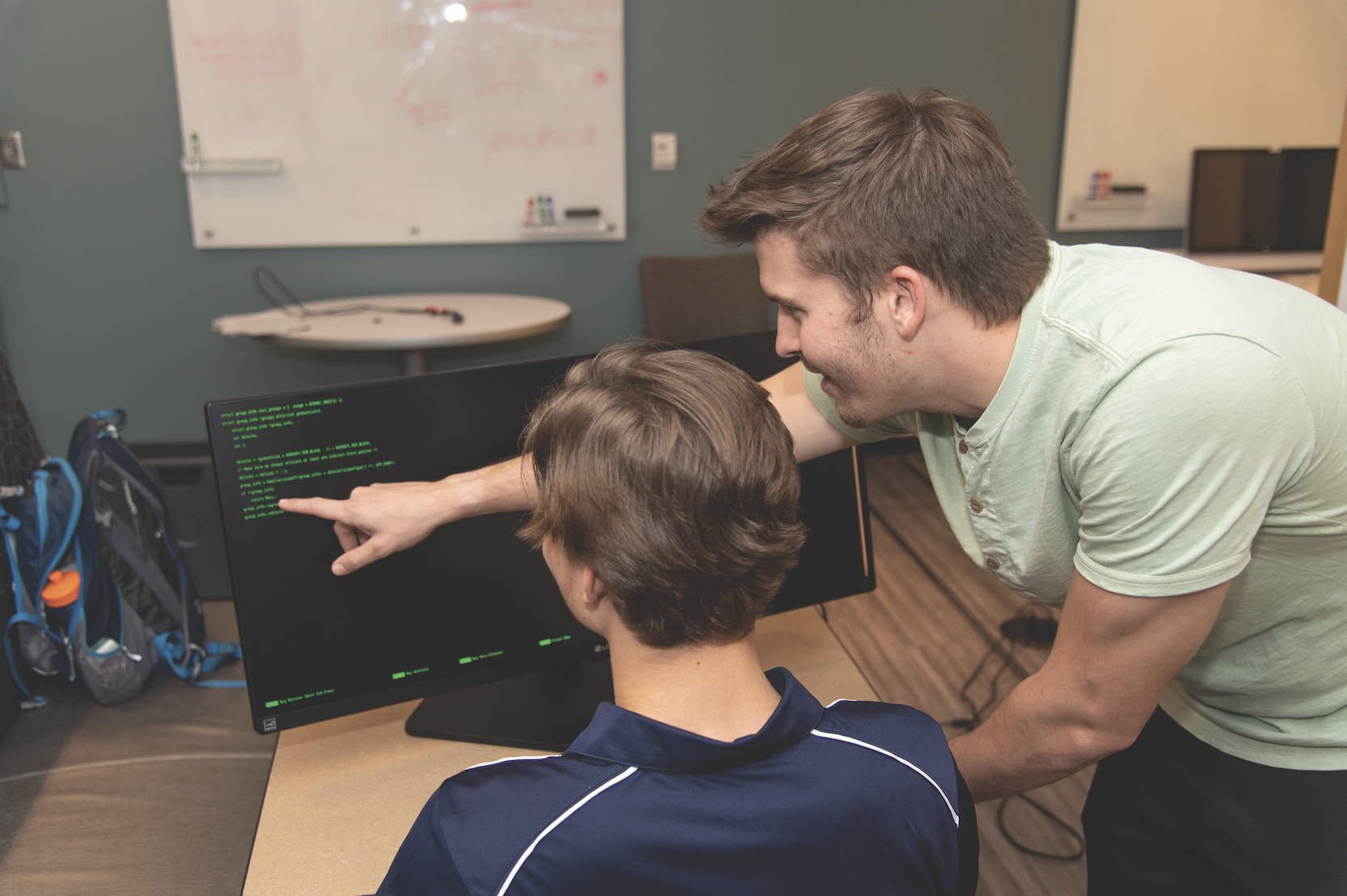 The CCHS, based out of Washington, D.C., now operates under the umbrella of Auburn University and the McCrary Institute, and it drives the policy component of the institute's work. This year, the CCHS hosted the annual State of Homeland Security Address with then Secretary Kirstjen Nielsen.
In addition to Cilluffo's leadership, the McCrary Institute announced the 12 members of its advisory board, including former commander of the U.S. Cyber Command and director of the National Security Agency Adm. Michael S. Rogers and former director of the U.S. Defense Intelligence Agency Lt. Gen. Ronald L. Burgess Jr.
"I am honored and humbled to serve on the McCrary Institute's Advisory Board alongside some of the preeminent minds in cyber, infrastructure and homeland security," Rogers said. "Auburn University has positioned itself as national leader in these key areas and, as an alumnus, I look forward to working closely with the Auburn Family and with these distinguished leaders in their fields as we aim to tackle some of our nation's most pressing issues."
With the addition of these experts, Cilluffo believes Auburn is poised to make major advancements in cyber policy and security for years to come.
"Auburn is at the forefront of cyber and critical infrastructure security policy, research and education," Cilluffo said. "With the formation of this advisory board, we now draw upon some of the best and brightest leading experts from across government, industry and academia.
"This highly distinguished group includes practitioners from government and the energy and financial services sectors, as well as top technologists and scholars. It is a real privilege for the institute to be the beneficiary of their insights and expertise moving forward," he said.
The institute also has a valuable resource in the state-of-the-art Burgess Laboratory and through its namesake, who currently serves as the university's chief operating officer. Burgess, a 38-year Army veteran who spent much of his career in military intelligence, including 15 years in the Department of Defense and three years as director of the Defense Intelligence Agency, first joined the university in 2012 as senior counsel for national security programs, cyber programs and military affairs.
"I speak all over the nation, all the time, about the threat to this country in terms of where we find ourselves, especially in the cyber domain. Auburn is at the forefront, not only in research, but in producing the undergraduates and graduate students that have the capability and capacity in this area. It's a good thing, from a national security standpoint, that we try to bring all of that together," Burgess said.
"I've seen firsthand the value of what an Auburn engineer brings to the table ­— their ability, their understanding, their desire to dive deeper on a topic, it makes a difference for this country every day," he added.
Complementary to the McCrary Institute, the Auburn Cyber Research Center is integrating cutting-edge engineering technology with research to develop innovative methods of protecting the nation's cybersecurity.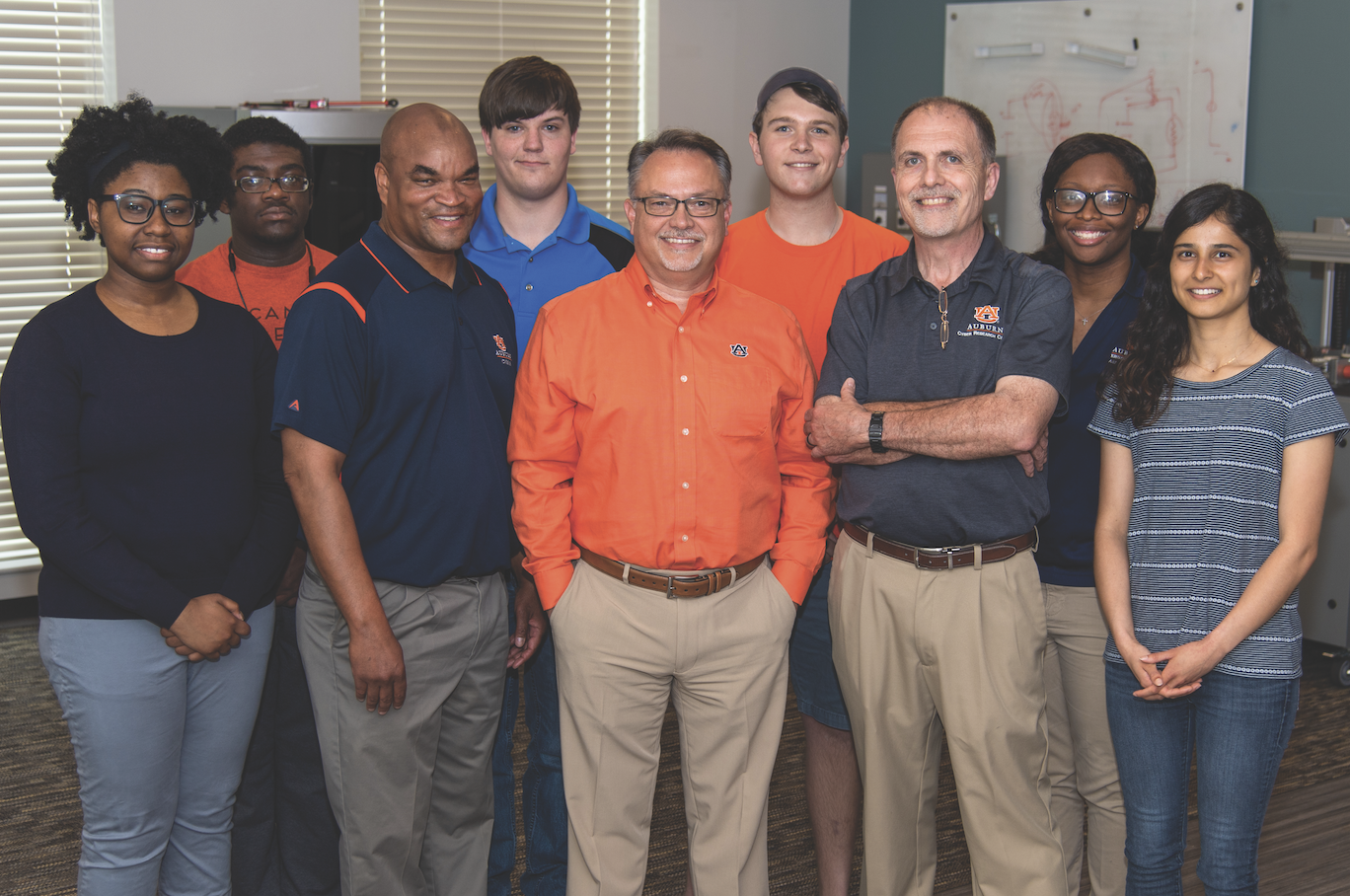 David Umphress, the COLSA Corp. Cyber Security and Information Assurance Professor in the Department of Computer Science and Software Engineering and the director of the center, was awarded a $4.7 million grant from the National Science Foundation in 2017 to help address a shortage of public sector cyber security professionals.
The award is part of NSF's CyberCorps Scholarship for Service program that provides students with scholarships and stipends in a cybersecurity field in return for service to a government agency after graduation.
Gerry Dozier, the Charles D. McCrary Eminent Chair Professor of computer science and software engineering, is also one of the top researchers in the fight to safeguard the nation's cyber systems and critical infrastructure.
With more than $27 million in sponsored research, his work in critical infrastructure protection is on the front lines of cyber defense, addressing public and private sector cyber threats that jeopardize national security. Dozier brings decades of research and teaching experience in artificial intelligence, evolutionary computation and identity science to this vastly important area.
After more than 10 years away from Auburn, he returned to the Auburn Engineering faculty in 2017.
"We have the support of the college, the upper administration, the Auburn Cyber Research and last, but not least, we have great faculty, staff and students," Dozier said.
These faculty members are not only producing innovative solutions to some of the country's most pressing issues, but they're also preparing the future of the cyber front.
Dean Hendrix, associate chair, associate professor and director of undergraduate programs for the Department of Computer Science and Software Engineering, has been helping to grow the program for the past 20 years, and he's seen some of the best and brightest move on as the next generation of cyber leaders.
One of those graduates, Matthew Rogers, '18 software engineering, was named as a Rhodes Scholar in 2017, becoming only the fifth Auburn student in university history to be awarded the prestigious scholarship.
As an undergraduate research fellow, Rogers worked with IBM on a Trusted Platform Module, or TPM, crypto-processor to create secure exchanges of information. He worked three summers as an undergraduate research intern at the Huntsville-based Dynetics Inc., where he helped develop malware analysis tools. He has given numerous presentations on malware analysis at professional conferences and is a co-author for several internal reports. He has appeared on the CBS "Sunday Morning News" as well as National Public Radio's "All Tech Considered."
As a result of Auburn's cyber efforts and as one of only 20 National Centers of Academic Excellence in Cyber Operations designated by the National Security Agency, the university hosted the 2018 SEC Academic Conference "Cyber Security: A Shared Responsibility." The conference explored computer and communication technology; the economic and physical systems that are controlled by technology; and the policies and laws that govern and protect information stored, transmitted and processed with technology.