It's been nearly 50 years since Joe Forehand last attended a higher education class, but the 71-year-old decided this year that it was time to go back to school. Just not in the way you would think.
Early this year, the Samuel Ginn College of Engineering and the Harbert College of Business partnered in a joint Executive in Residence program with the goal of integrating distinguished alumni and executives into the colleges. Forehand, '71 industrial engineering and former Accenture CEO and chairman, and his wife, Gayle, '70 business administration, served as the executives in residence during the six-week program from Jan. 28-March 8.
"Joe and Gayle brought a wealth of experience, knowledge, energy and passion to campus, and we were excited to welcome them as our first executives in residence," said Christopher B. Roberts, dean of engineering. "Their commitment and steadfast dedication to both colleges, and the university as a whole, is inspiring and we hope our students and faculty reaped the rewards of having such distinguished alumni on campus for the duration of the program."
During their time on campus, the Forehands worked with each college as guest lecturers and speakers; led roundtable lunches with students; hosted critical feedback roundtables with faculty and staff; led seminars on women in engineering and business, branding and marketing; worked with the collaborative Business-Engineering-Technology (BET) program the colleges share; met regularly with student organizations; and hosted office hours.
"This allowed us to give back to Auburn, in some way. For all we've gotten from Auburn, this was very important to us," Joe said. "I've gotten as much out of this program as I've given. Any alum that wants to give back, feels they have something to contribute and wants to help shape the future of Auburn students as they enter the workforce, it's a tremendous opportunity. It's a gift to be able to experience it."
The Forehands also delivered a presentation titled "What you need to know to be a leader" for engineering's Ginn Leadership Seminar.
"Not having been around students in quite a while, it's been an encouragement for me to see how much better they are prepared today than I ever imagined they would be," Joe said. "I have great hope for this generation of students. They've given serious thought to what life is after Auburn and they're doing things to prepare themselves for that reality."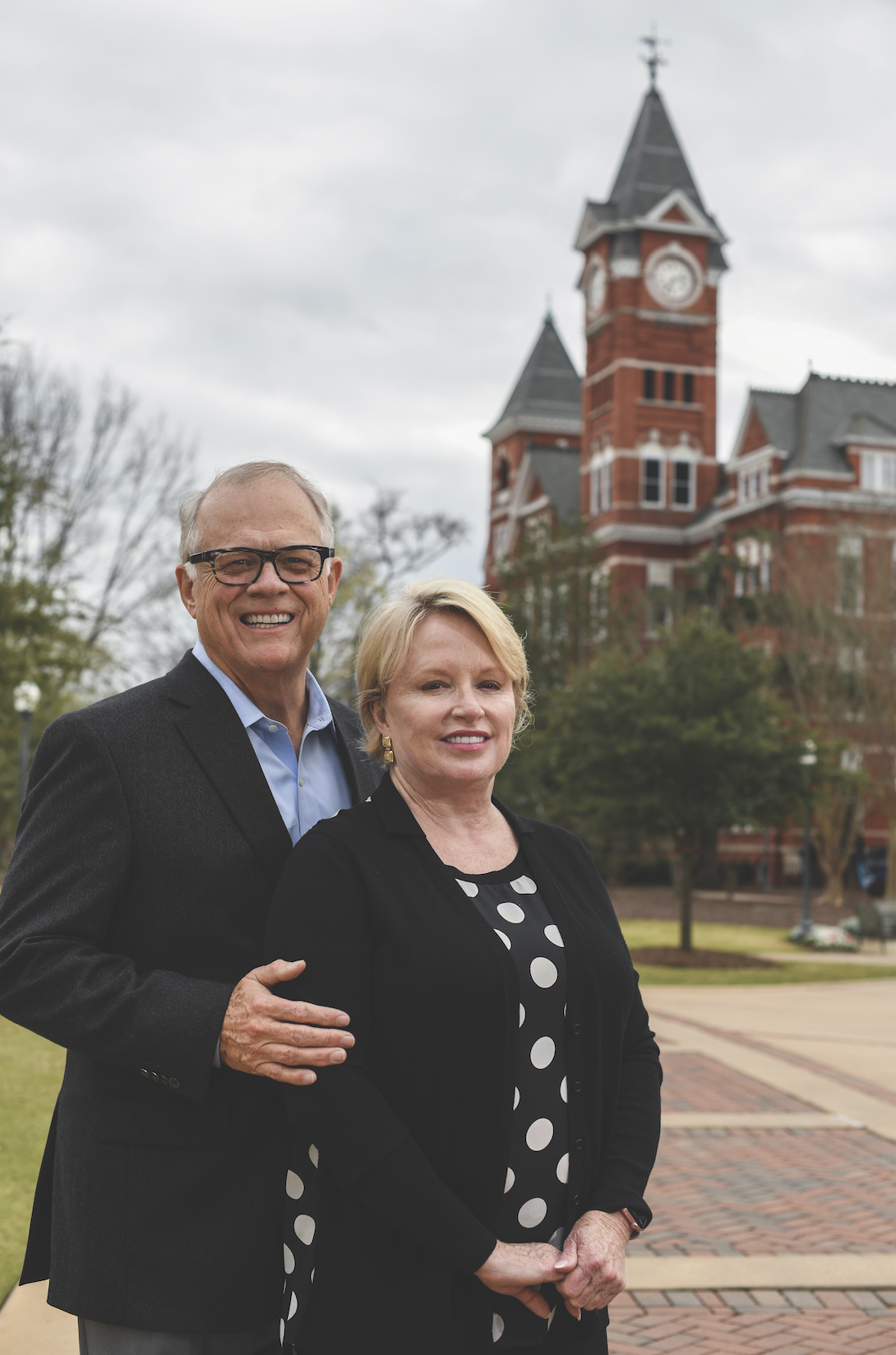 Following his time at Auburn, Joe earned a master's degree in industrial management from Purdue University in 1972, and then was awarded an honorary doctorate in management by the institution. He served in the U.S. Army before beginning a 34-year career with Accenture, where he served as CEO from 1999-2004 and as the company's chairman from 2001-06. In 2001, Joe led Accenture in its rebranding and IPO, one of the largest in U.S. history. During his term as CEO, Accenture grew from $9.6 billion in revenue and 66,000 employees to $13.7 billion in revenue and 103,000 employees.
Joe is a former chair of the Auburn Industrial Engineering Alumni Advisory Committee. He was previously named Alumni of the Year by Auburn's Department of Industrial and Systems Engineering, and also received the Auburn Alumni Engineering Council's Distinguished Engineer Award in 1999. Joe was inducted into the State of Alabama Engineering Hall of Fame in 2002, and he has served eight years on the Auburn University Foundation Board, including four years as chairman of the investment committee.
Gayle worked as a staff accountant at Purdue University, chief accountant at Emory University and assistant controller at Emory University Clinic.
"Joe and Gayle embody the spirit of Auburn. They believe in work, hard work. And they always give back," said Annette L. Ranft, dean of the Harbert College of Business. "We are so appreciative of the Forehands' time and their willingness to share their wealth of knowledge with our students, faculty and staff. As executives in residence, they inspire the next generation of Auburn graduates and prepare them to become the global business leaders of tomorrow."
The Forehands are members of the College of Engineering's Strategic Leadership Team, in addition to philanthropic memberships in the university's 1856 and Petrie societies, as well as engineering's Ginn Society. Joe previously established the Forehand/Accenture Distinguished Professor, held by Alice Smith, and the Forehand Professor, held by Jeff Smith, while Gayle's benevolence directly reaches the classrooms at Lowder Hall, where Supply Chain Management Professor Beth Davis-Sramek holds the Gayle Parks Forehand Professorship.
They support 14 scholarships throughout the College of Engineering, and they served as co-chairs during Auburn's $1.2 billion Because This is Auburn campaign.
"There are so many pockets of excellence, so many things hidden behind these walls, and I've only scratched the surface. How do we take all of these pockets of excellence and be able to showcase Auburn as a leader in this country in this whole new economy and emerging technologies?" Joe asked.
But with the current leadership, thriving collaboration and cutting-edge innovation, Joe knows Auburn is on the cusp of breaking out on the national stage.
"My goal and wish is to see Auburn on its best day every day," Joe said.