In 2001, then Dean Larry Benefield set out on a course to dramatically improve the engineering educational programs at Auburn University. Samuel Ginn, '59 industrial engineering, answered the call by donating $25 million and putting the college on an upward trajectory that continues to this day. Ginn was later recognized for pioneering the development of the wireless communication industry, and the university named the College of Engineering in his honor. Ginn has continued his generosity and commitment, as he is the largest donor in college history and the second-largest donor in university history with gifts of more than $50 million. As chair of the college's Strategic Leadership Team, he recently kicked off the college's Top 20 Initiative with a leadership gift of $5 million and a $10 million bequest. As a result, members of the Strategic Leadership Team have since donated an additional $20 million to this initiative. We recently caught up with Ginn in the California home he shares with his wife, Ann, to discuss his illustrious career, his unwavering dedication to the university he loves and his vision for the future of Auburn Engineering.
JK: You almost didn't make it to Auburn as a student. Tell me about that.
SG: My high school principal, John J. Nash, was a tough, serious man with not much of a sense of humor. When I told him I wanted to attend Auburn and pursue engineering, his response was 'You'll be wasting your dad's money and end up back here in Anniston pumping gas in six months.' He then refused to sign my application to Auburn until the third time I approached him. I never had a chance to tell him, but I would have liked to have communicated to him that while I didn't find myself back in Anniston pumping gas, I did serve on the Chevron board of directors for more than 20 years.
JK: What comes to mind now when you think back on your time at Auburn, or as it was then known, Alabama Polytechnic Institute?
SG: Auburn was truly a small village in the 1950s. It was quiet. You could hear the train rolling through town every night. The student body was about 8,000 strong. It was friendly and open. Many of my classes were in the shop buildings. Football was big, we won a national title in 1957 and I treasure all the pep rallies, bonfires and celebrations. Men outnumbered women 4 to 1, which made it tough to get a date. Course grading was tough. The emphasis on academics was strong. It made an average student, like me, work hard. There was a strong expectation at Auburn to behave properly and never embarrass the university. The late '50s was a wonderful time and place. It was also a time where I had to sign up for ROTC. When I went to the armory to enroll, I just wanted to get out of there as fast as possible, so I got in the shortest line, which happened to be the Army Signal Corps. It's interesting that that decision dramatically impacted the rest of my life. You never know when an impulsive decision will change the direction of your life.
JK: Do you believe, then, that you were given a solid academic base?
SG: Of course, I think that Auburn gave me what I needed to be competitive in the marketplace. Coming out of high school, I had a lot of catching up to do, but it was more than academics. Auburn academics are grounded in the Auburn Creed. What has helped me through my life, not only the academics I believe in so much, was the values instilled in me at Auburn University. The Auburn Creed is framed and hung in front of my workspace. I see it every day. Those values are always close to my heart and I think it is an excellent guidepost on how I have tried to live my life. Beyond academics, Auburn prepared me for life. What Auburn gave me was much more than an academic education.
JK: You did a tour with the U.S. Army Signal Corps after being commissioned by the Auburn ROTC, and then went to work for AT&T. Tell me about your first job.
SG: My first line job was as a maintenance supervisor for broadband services at AT&T. It was a central switching office with 13 union guys in my crew, with some who were twice my age. I understood if I did not handle the group, I would fail. This was a clear test by AT&T management to test my skills. I adopted a position with my team of 'I'm here to learn what you can teach me.' On my third day as a supervisor, we experienced a total failure, losing every communication link west of Birmingham. Red lights were blinking, loud noises were coming from all parts of the office. It was a serious situation. I called the team together and told them 'If you will take charge of the restoration, I will do anything I can to support your efforts.' With some enthusiasm, they said yes. The restoration occurred in record time. From that point on, I cemented my relationship with my crew.
JK: You had a long and rewarding career with AT&T and the Pacific Telesis, and then came the government mandated breakup of the system – where did you go from there – and how soon did you move into wireless communications?
SG: It was certainly a traumatic time for me and many others, because the whole way we did business was upended, but that turned out to be a good thing. It made us think very differently. As you may know, I ended up as the CEO of Pacific Telesis, but I could already see the potential of wireless. In 1984, we set up some cellular sites at the Olympics in Los Angeles and invited people to make calls to whomever they wanted just to test how people would use the system. Most people were amazed that you could talk without wires. We also got a clue at the Olympic games how it would change the workplace, because we became very popular with the event crews. Working the games, we discovered that workers at the venue sites needed constant communication. Multiple times people asked me, 'Can I borrow your phone?' This confirmed that this was an exceptional service and all of society would benefit. That conclusion was the foundation for us becoming very aggressive and entering the wireless market.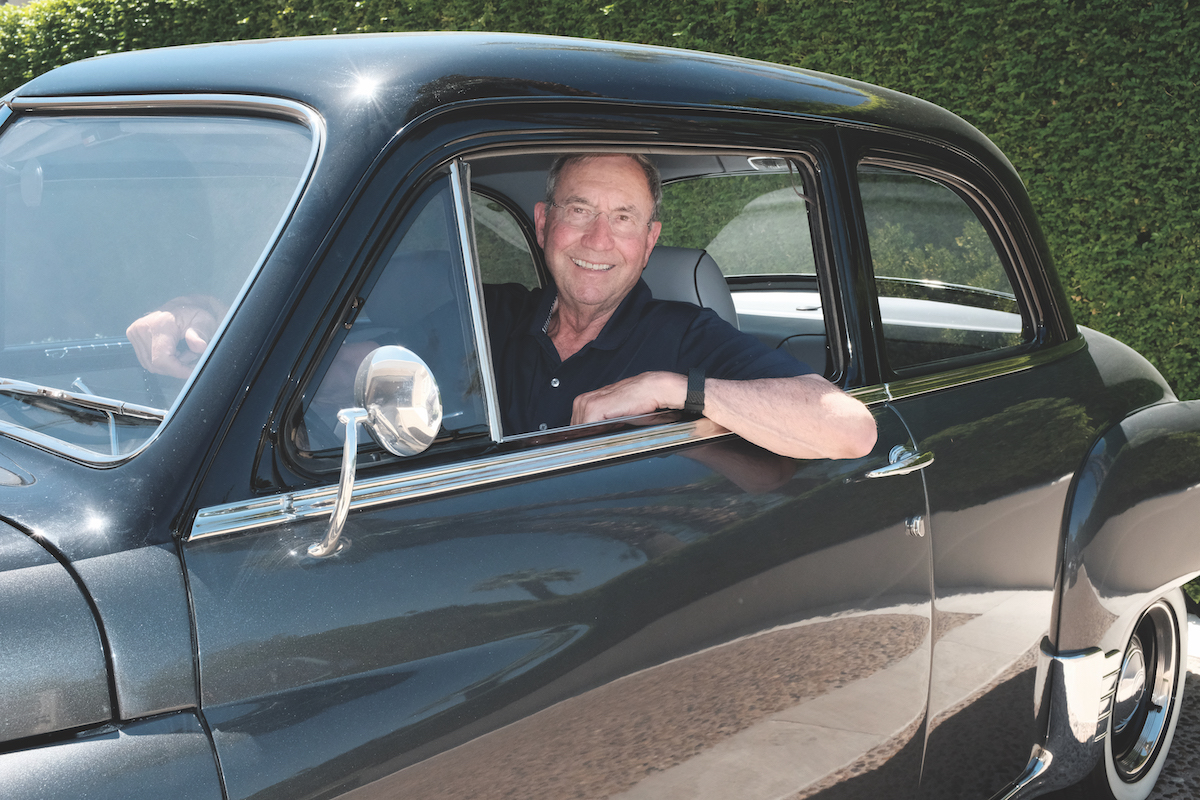 JK: In the next five years, you recommended to your board to spin off the wireless division into a separate company.
SG: We ended up spinning our cellular group off as a separate company entirely to get away from the regulatory structures within the system, and I went from being in charge of 80,000 employees to one of 450. People thought I was crazy, but with the creation of AirTouch we went public with an IPO of $10 billion in capital. Vodaphone acquired AirTouch for $65 billion five years later, creating a value of $1 billion per month for our shareholders over that time period. AirTouch turned out to be the largest cellular system in the world. AirTouch properties are more than half of what is now Verizon in the U.S. and more than half of what is Vodafone in Europe and Asia.
JK: You said, however, that you got a glimpse of the possibilities when you matriculated at Stanford's Sloan School in 1968.
SG: Auburn gave me all of the basics, but at Stanford I learned, essentially, how to run a business — all the basics, accounting, how to read an income statement and a balance sheet. We studied companies that were immensely successful and those that failed. We tried to apply those lessons in real life. Stanford, in some ways, was a completely different experience from Auburn Engineering, but for me when you combine the technical background of Auburn with Stanford's business school focus on management and enterprise, it was a great combination for me.
JK: Tell me about how you decided you would support Auburn Engineering.
SG: When former Dean Larry Benefield approached me, he wanted to increase the stature of the College of Engineering, and move up in the rankings by growing research, the quality of the faculty, quality of the students and to encourage other alumni to help build the program. Larry was willing to commit to targets of improvement, which you don't always find in the academic environment. In any event, I was impressed by that. Dean Chris Roberts is much the same – he wants to move us a dozen or so slots into the Top 20 in engineering programs in the country. He has put a leadership team together to make it happen. I and a lot of other alumni are in strong support of Dean Roberts taking on this significant challenge. I believe Auburn Engineering has the leadership to make it happen.
JK: Sam, you've been out of Auburn for 60 years. At 82, what occupies your time?
SG: I am a gym rat. I try to stay healthy. My wife, Ann, and I enjoy our kids and grandkids. Last year, we took them to Normandy, France, to pay respects to those who paid the ultimate sacrifice in World War II. We follow Auburn sports year-round. We were so excited about the amazing Final Four run. Two years ago, we even hosted the Auburn golf team for a tour of Pebble Beach and I joined them for a round of golf at Cypress Point Club. Those kids were good! I have not quite retired. Six years ago, I was founding director of a company called Ondot, a Silicon Valley start-up company. We are essentially a software firm and we help banks transition to the digital environment. Our software is in more than 4,000 banks worldwide. Our future looks extremely bright. I also serve as an overseer of the Hoover Institution at Stanford University and on the five-star Eisenhower Hospital Board of Directors in Rancho Mirage, California. Both offer me tremendous stimulation, keep me current and their issues challenge me greatly. So, as I think about my daily activities, it seems like every day is fully occupied, and for the most part, I enjoy every part of it. Life is good.
JK: As we look back, you've been honored in many ways. The state of Alabama has honored you a number of times and so has the prestigious Wireless Hall of Fame. Tell us about it.
SG: The state of Alabama, Auburn Engineering and many outside the state have honored me in a number of ways. I find it humbling. I was inducted into the State of Alabama Engineering Hall of Fame, the Alabama Business Hall of Fame and the National Wireless Hall of Fame, of which there are only 62 inductees. I've had my share of awards, but there's another Auburn Engineering alumnus who's a member of the Wireless Half of Fame and I would like to acknowledge him. Ed Reynolds was a close friend who I worked with at FirstNet and a 1970 electrical engineering graduate who was battling cancer. When he found out he was being inducted into the Wireless Hall of Fame and decided to make the trip to Los Angeles, I made the trip to meet him, as well. When his name was announced, we were concerned he wouldn't make it to the podium. He got up from the table and slowly made his way to the podium, gave a wonderful acceptance speech as hundreds of wireless bluebloods watched in awe. The people in this room started the wireless revolution, and it was a stunning thing to watch. The audience understood the courage being exhibited in him. His comments were wonderful and I thought to myself, 'This is Auburn grit.' I mentioned the Auburn Creed earlier in this interview, and it's only fitting that I close it by acknowledging Ed Reynolds, who was truly the embodiment of the Auburn Creed and did a wonderful job of representing us in Los Angeles that night. I am so proud of him and miss my friend.