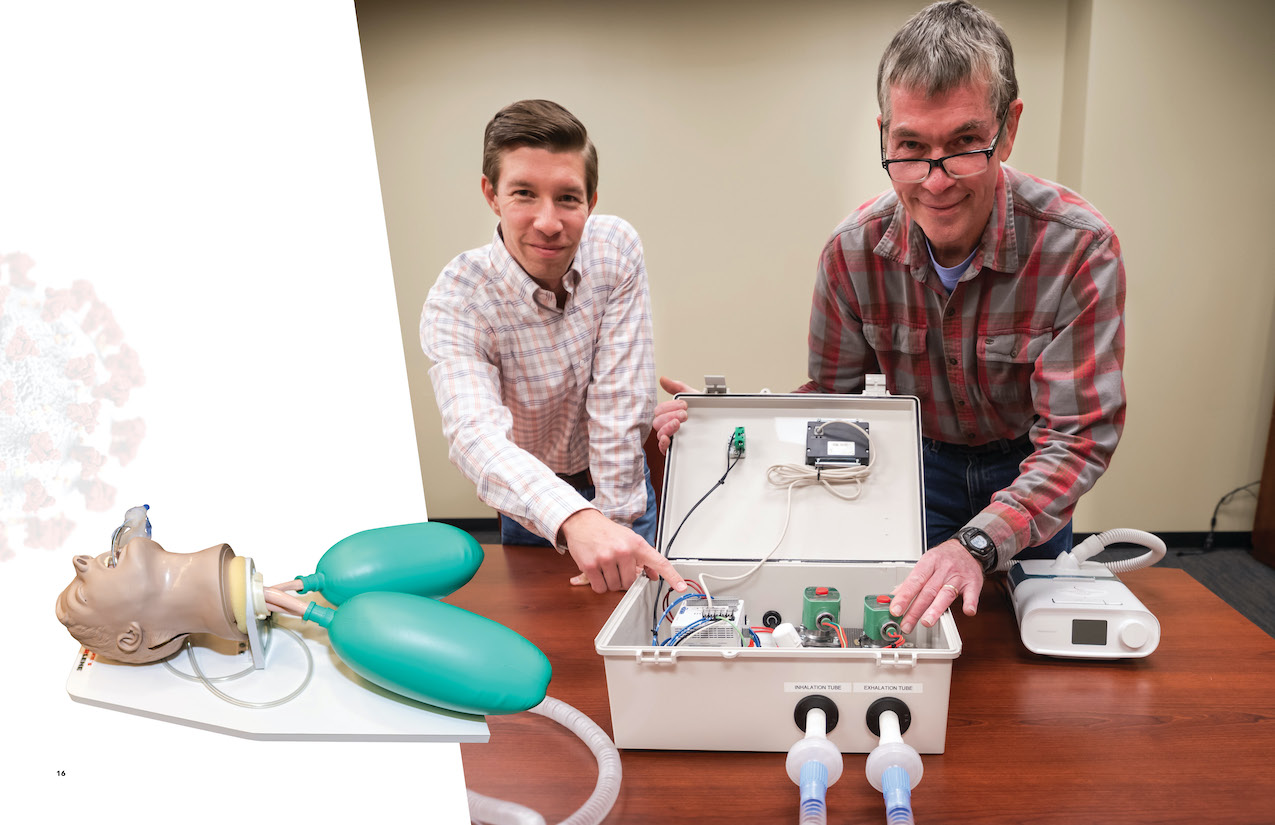 It was March 22. Chris Spiker didn't have to guess which garage was Michael Zabala's. On a normal Sunday afternoon, he might have thought he was looking at someone gearing up to mow the lawn. But during a pandemic? The guy in the medical mask bent over a work table covered in wires and tubes was a dead giveaway.
Spiker was finally heading home from his ICU shift at East Alabama Medical Center. He lived in Zabala's neighborhood, so Glenn Wood, an anesthesiologist at the hospital consulting with Zabala on the RE-InVENT project, had asked him to go check it out — to make sure he wasn't seeing things in the video Zabala had just texted.
Spiker parked on the street. He was still in scrubs. He introduced himself. No one shook hands. Tom Burch, a senior lecturer in Auburn's Department of Mechanical Engineering, kept his distance, a bottle of sanitizer dangling from his belt. He's in his 60s. Zabala, an assistant mechanical engineering professor is only in his mid-30s, but he'd been just as cautious as Burch. He's taught on the biomechanics of respiration in his Auburn University Biomechanical Engineering (AUBE) lab. He knows how lungs work. He was learning how the virus worked.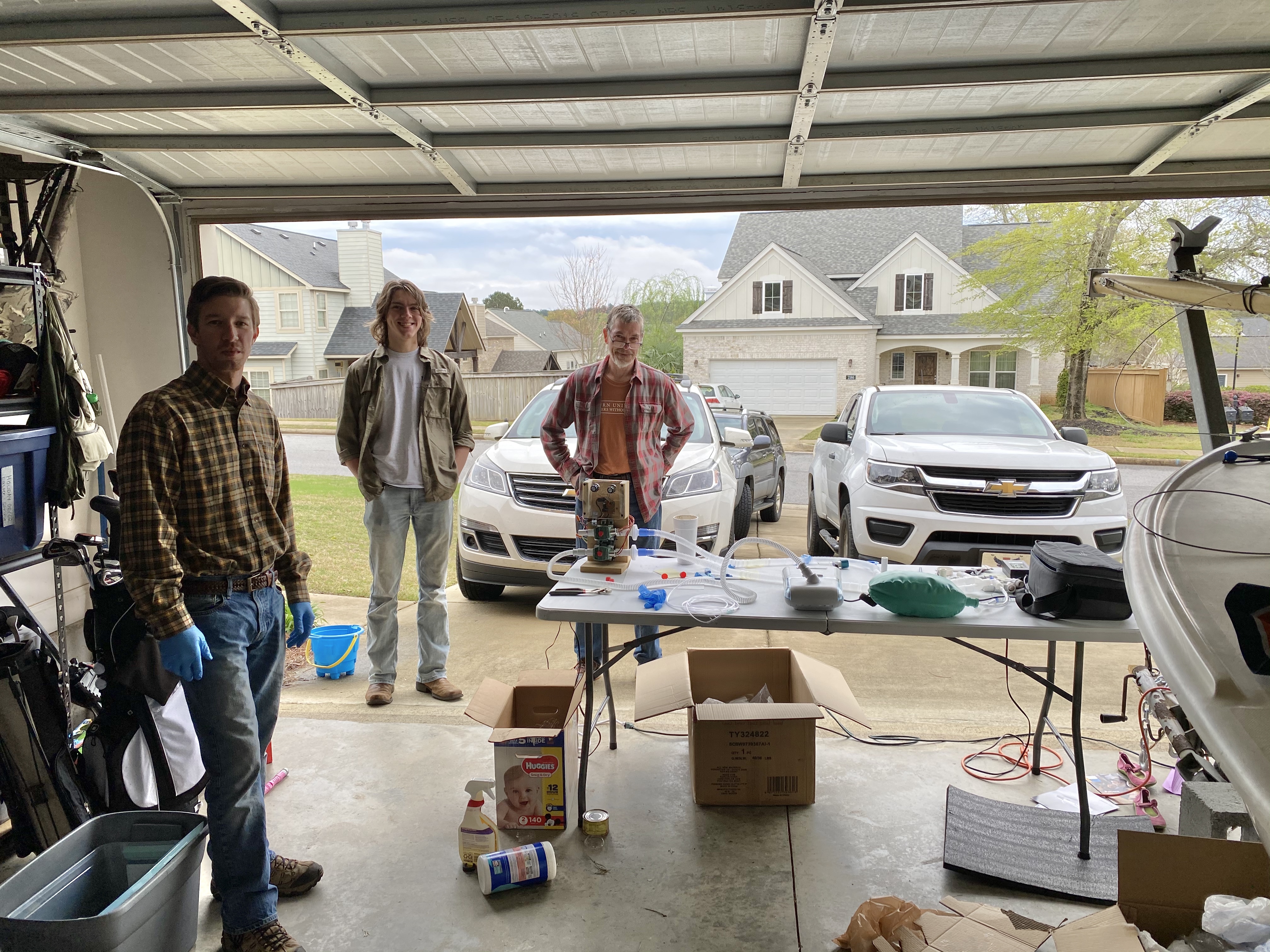 Zabala got to it. He rattled off the Cliff's Notes from the weekend, about the team's desire to help mitigate any potential respiratory treatment equipment shortages in the early days of the COVID-19 crisis, about Burch's suggestion to incorporate a CPAP machine, about the parts needed, about meeting Wood at Texaco that morning to grab some tubing and the test lung. Then it was time.
Burch flipped the switch. Click. The test lung inflated.
Click. It deflated. Click. Inflated, deflated. Click, click, click, click.
It had rained that morning. The sun was finally out. The subdivision was just coming to life. Moms pushing strollers looked over. Dads on golf carts stared.
So did Spiker.
Click, click.
"Does it have adjustable pressure settings?" Spiker said.
"Up to 5-25 centimeters," Burch said.
Click, click.
"OK, it maybe needs to be about five at minimum, because that's the baseline to overcome the tube that's in their mouth. And you can adjust the rate, too?"
"Oh, yeah," Zabala said.
Click, click. Click, click.
"Well, guys," Spiker said, "I think you just created your own pressure-controlled ventilator."
Unforgettable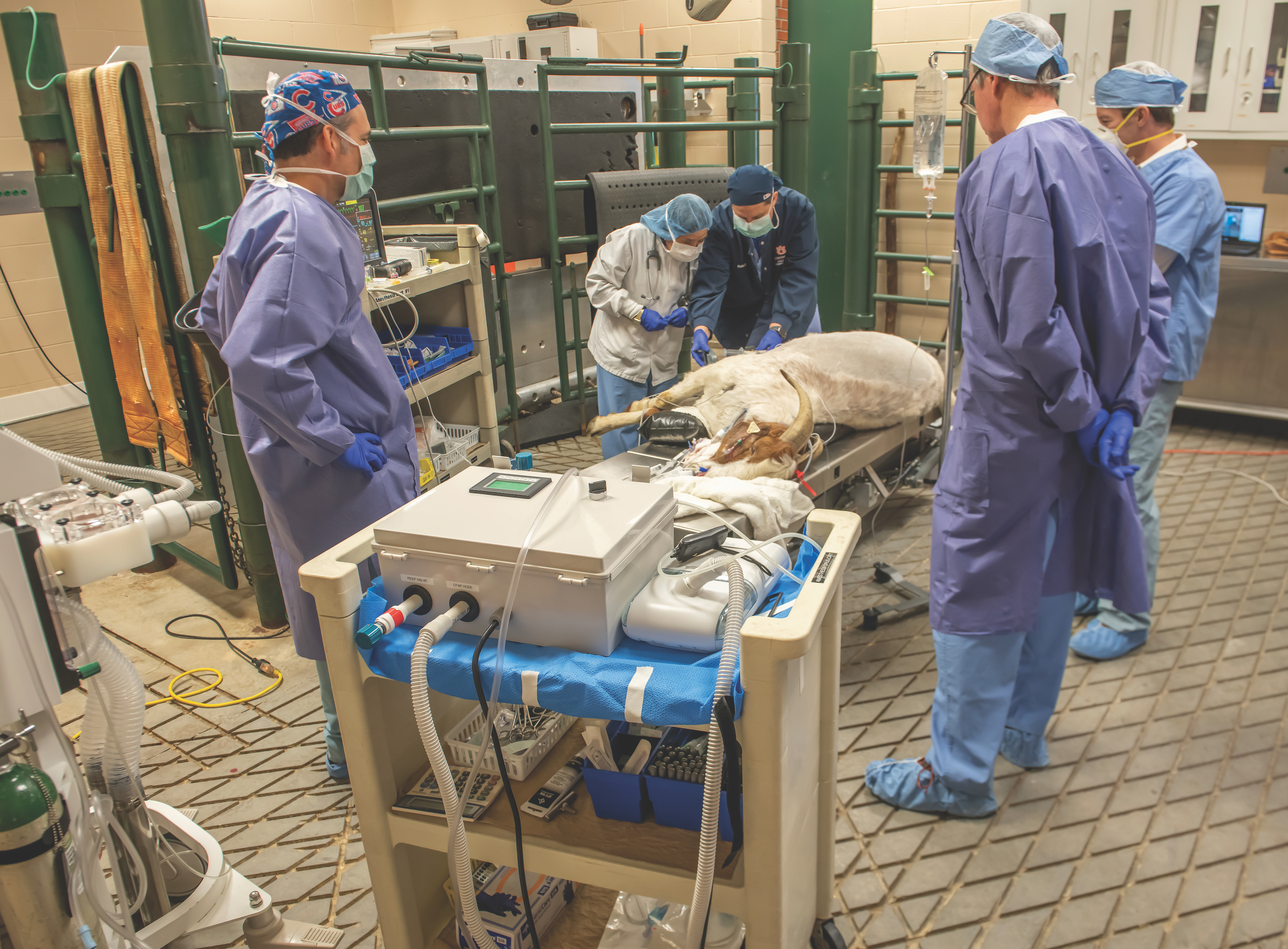 The goat won't remember April 3, 2020.
Zabala, Burch and the other Auburn engineers behind the RE-InVENT will never forget it.
"We had gone from concept to a successful test on a test lung in just two days," Zabala, a 2007 Auburn mechanical engineering graduate, said of the device, which effectively converts a CPAP machine into a safe, emergency alternative to conventional ventilators. "But it was still just awesome to see it perform so well on the real thing."
Burch, who earned his bachelor's and master's degrees in mechanical engineering from Auburn in 1979 and 1982 respectively, agreed.
"We were pretty sure it would work," said Burch, who first proposed incorporating continuous positive airway pressure to simulate a ventilator. "I use a CPAP machine, and it does 90% of what a ventilator does."
The team focused on a design that would reliably ventilate a patient for an extended period, while also considering affordability and ease of manufacture.
"It was almost like something out of 'MacGyver,' or like that scene in 'Apollo 13.'" said electrical engineering professor and RE-InVENT team member Mike Hamilton when he first learned of Zabala's and Burch's early efforts.
Thanks to control systems improvements from Hamilton, as well as computer-aided modeling assistance from team member and mechanical engineering lecturer Joe Ragan, the device can be assembled in as little as four hours using approximately $700 in readily available component parts in addition to a standard CPAP machine. Standard hospital ventilators can cost up to $25,000.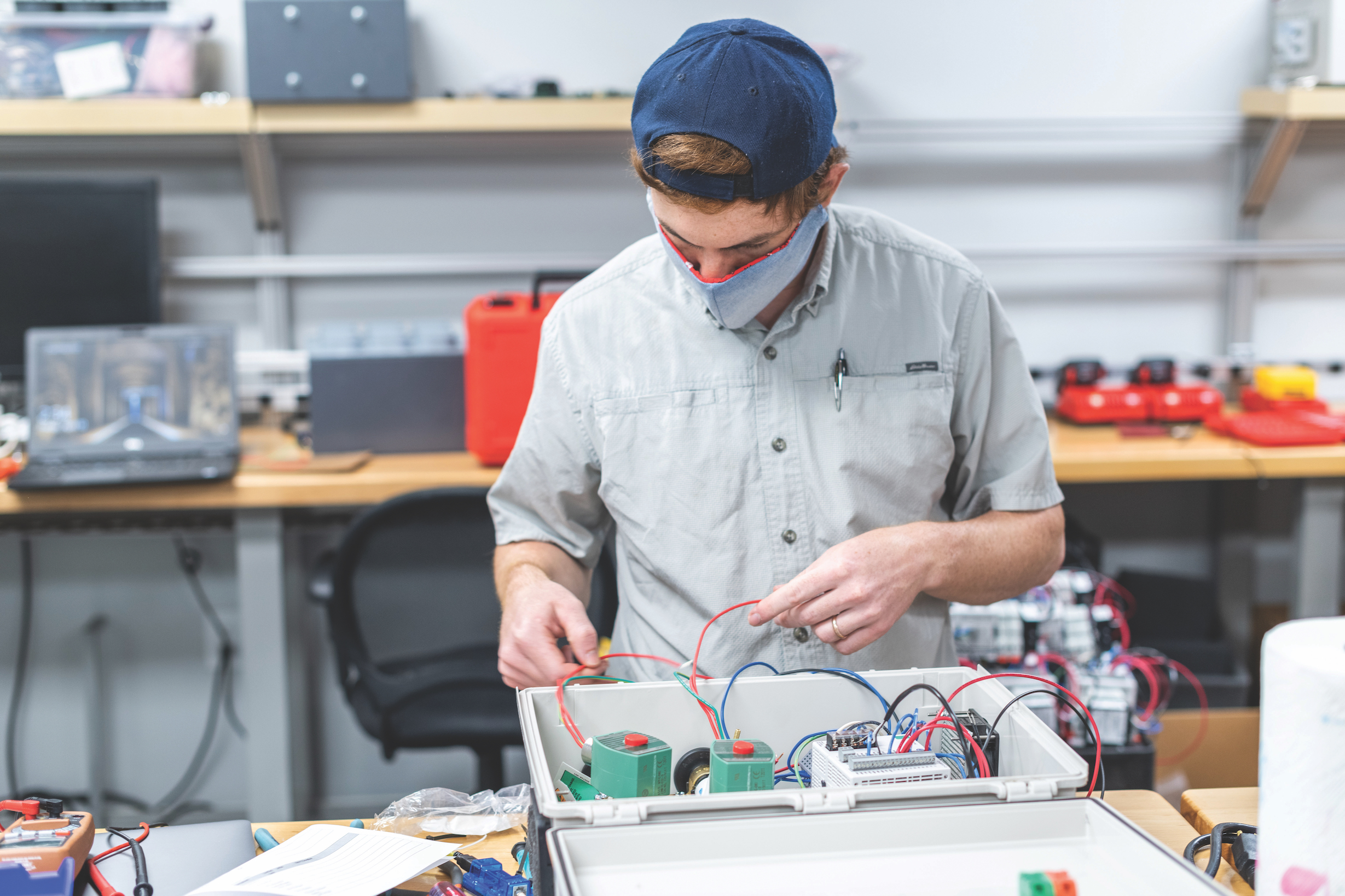 Easily one of Auburn University's most ingenious contributions to the fight against COVID-19, the device had performed flawlessly in early benchtop testing, starting with the proof of concept experiment in Zabala's garage. But the April 3 test at Auburn's College of Veterinary Medicine's Vaughan Large Animal Teaching Hospital would determine whether the RE-InVENT would move from prototype into production.
That the machine kept a 200-pound goat with a lung capacity similar to that of humans properly ventilated for two hours validated its design in ways that even surprised Wood, who monitored the procedure via Zoom along with other anesthesiologists, including an associate professor of anesthesiology in Auburn's College of Veterinary Medicine.
"It performed perfectly," Wood said. "It went better than I expected in being able to ventilate the animal."
A subsequent successful live animal test, this time on a sheep, proved just as promising. After that, it didn't take long.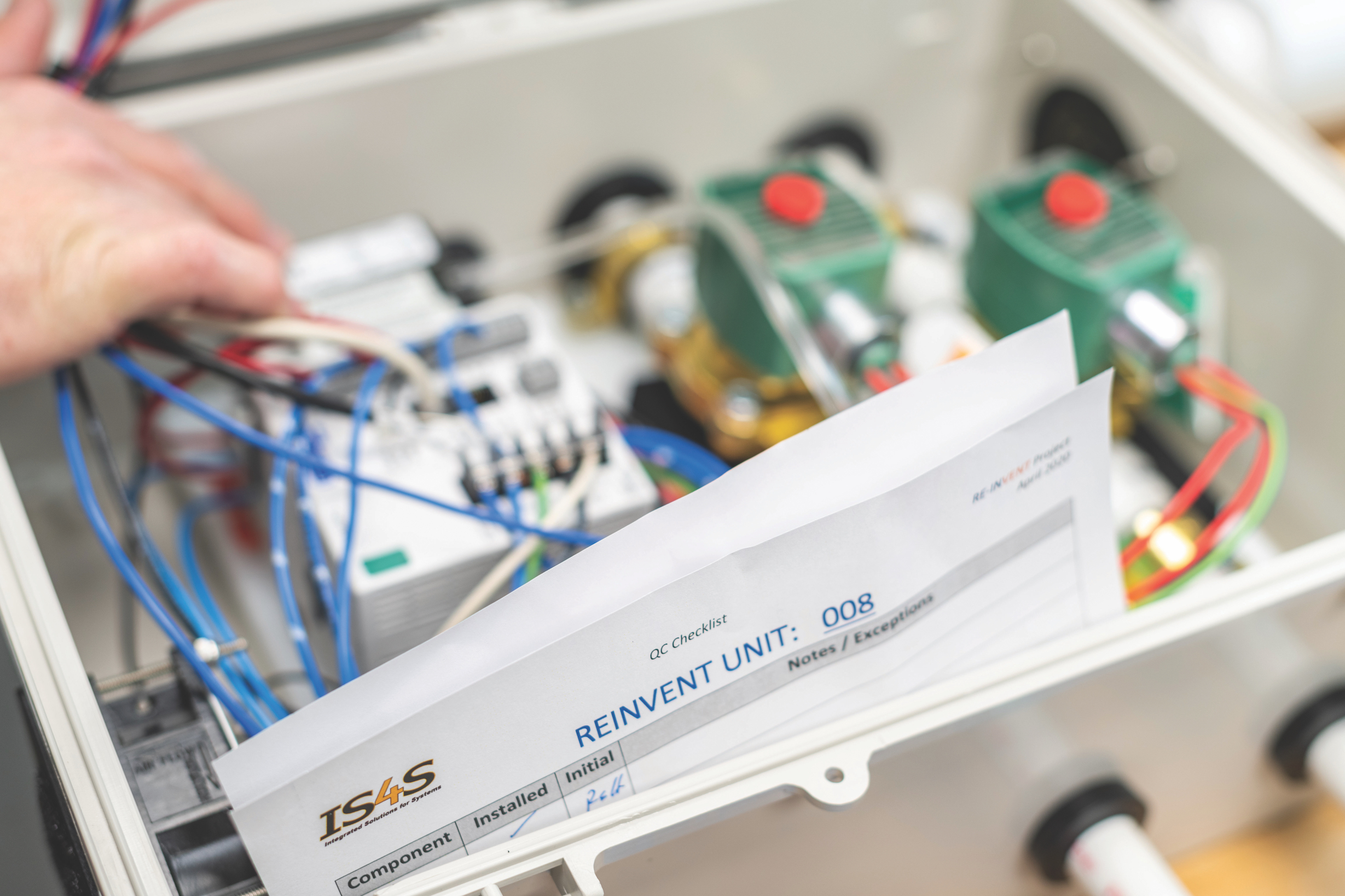 Huntsville-based IS4S, an integrated systems solutions company and defense contractor that frequently partners with the Samuel Ginn College of Engineering, quickly began production on the RE-InVENT, assembling 100 units in just three days in mid April.
"IS4S was tracking on the RE-InVENT project from the earliest days, and we knew that the need for these devices was urgent and pressing," said Ryan Hill, an IS4S research engineer who earned his bachelor's and master's degrees from Auburn in mechanical engineering in 2008 and 2011, respectively.
Hill played an active role on the RE-InVENT team, helping refine hardware design for its second and third iterations.
"While many companies across the country are building ventilators, we thought few could assemble and produce the needed devices in under a week," Hill said. "Once the successful animal test was completed, IS4S immediately began taking the steps to fabricate the units for distribution."
IS4S has fielded requests for the innovative accessory from across the country and as far away as India.
"We have several rural hospitals asking when we can send them devices," said Glenn Rolander, IS4S president and CEO. "There's also been a strong international demand from multiple medical agencies that contact us almost daily."
While the RE-InVENT awaits Emergency Use Authorization approval from the FDA that would allow distribution of the device to health care professionals in rural areas, IS4S is endeavoring to provide units to Family Legacy Missions, a medical ministry serving vulnerable children in Zambia that expects its number of COVID-19 cases to rise over the summer.
"These are difficult times," Burch said. "Everybody who understands the gravity of the situation wants to do something to help, so it feels good to think you've helped with something that may have an impact."
Burch's former student agrees with him.
"Wait, did I have you in a class?" Burch said to Zabala minutes after the RE-InVENT's first successful test in Zabala's garage.
Zabala nodded and smiled.
"Got an A."
Assisting regional health facilities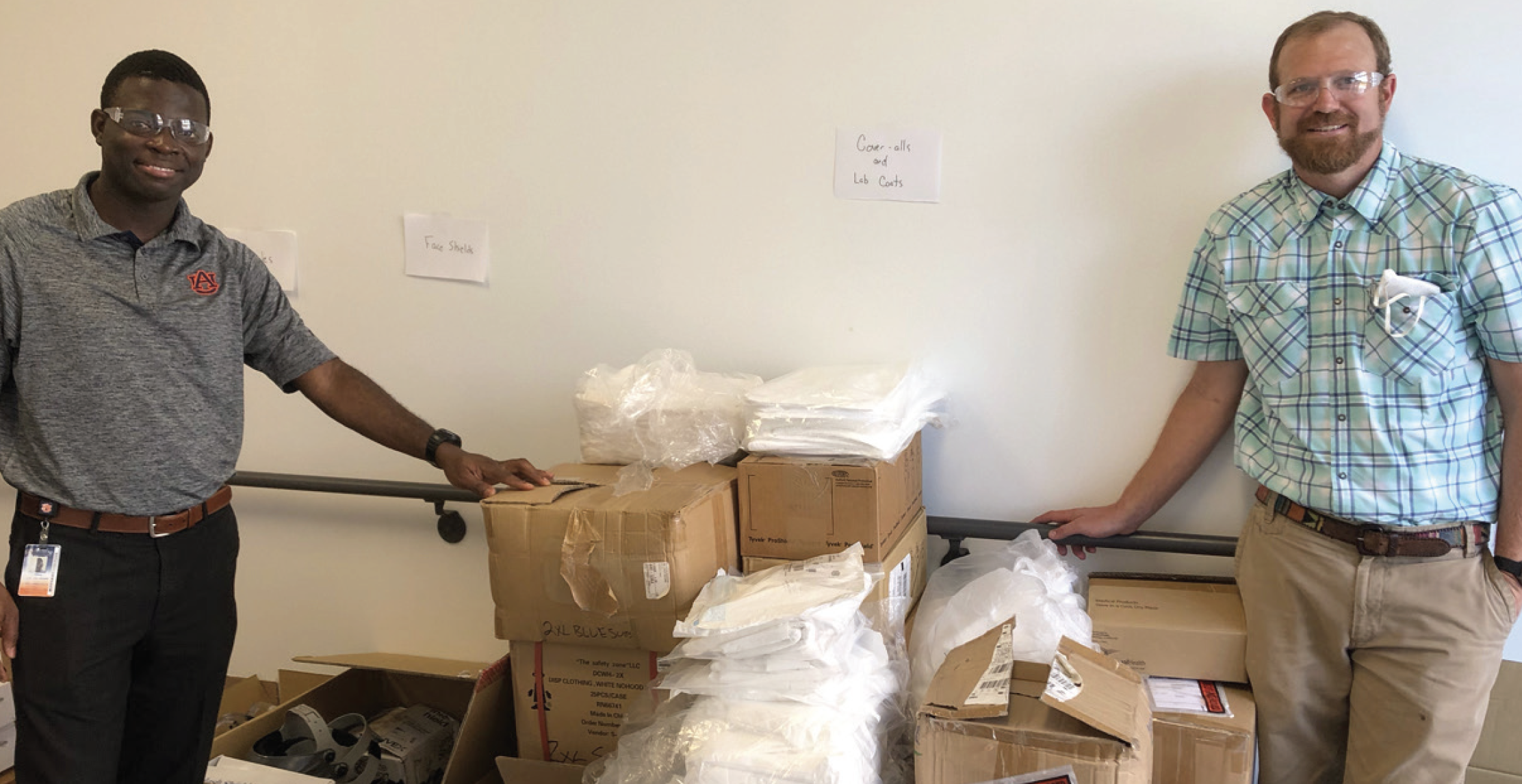 The Samuel Ginn College of Engineering donated vital personal protective equipment (PPE) and supplies to East Alabama Medical Center (EAMC) in Opelika and to health facilities in Alabama, South Carolina, Georgia and Kentucky to aid in the effort to stop the spread of the coronavirus (COVID-19). The donations include 10 gallons of hand sanitizer mixed by the Department of Chemical Engineering and 3D-printed protective face shields.
In total, the supplies donated to EAMC include:
• 426 pairs of eye protection (goggles, safety glasses and face shields)
• 1,719 respirators (N95, N99, N100, R95 and surgical masks)
• 275 boxes of hand protection (nitrile gloves and latex gloves)
• 312 pieces of body protection (disposable lab coats and coveralls)
• Five 60-ounce bottles of hand sanitizer
• 10 gallons of hand sanitizer mixed in the lab
• 400 3D-printed face shields
"The Auburn Engineering family is working in close partnership with East Alabama Medical Center and the Auburn University Medical Clinic to help leverage our capabilities and expertise in whatever ways we can to help during this time of crisis," said Steve Taylor, associate dean for research in the Samuel Ginn College of Engineering.
Donations of PPE supplies of all sizes were made by faculty and staff from across campus, including from the College of Agriculture, School of Forestry and Wildlife Sciences and the College of Architecture, Design and Construction.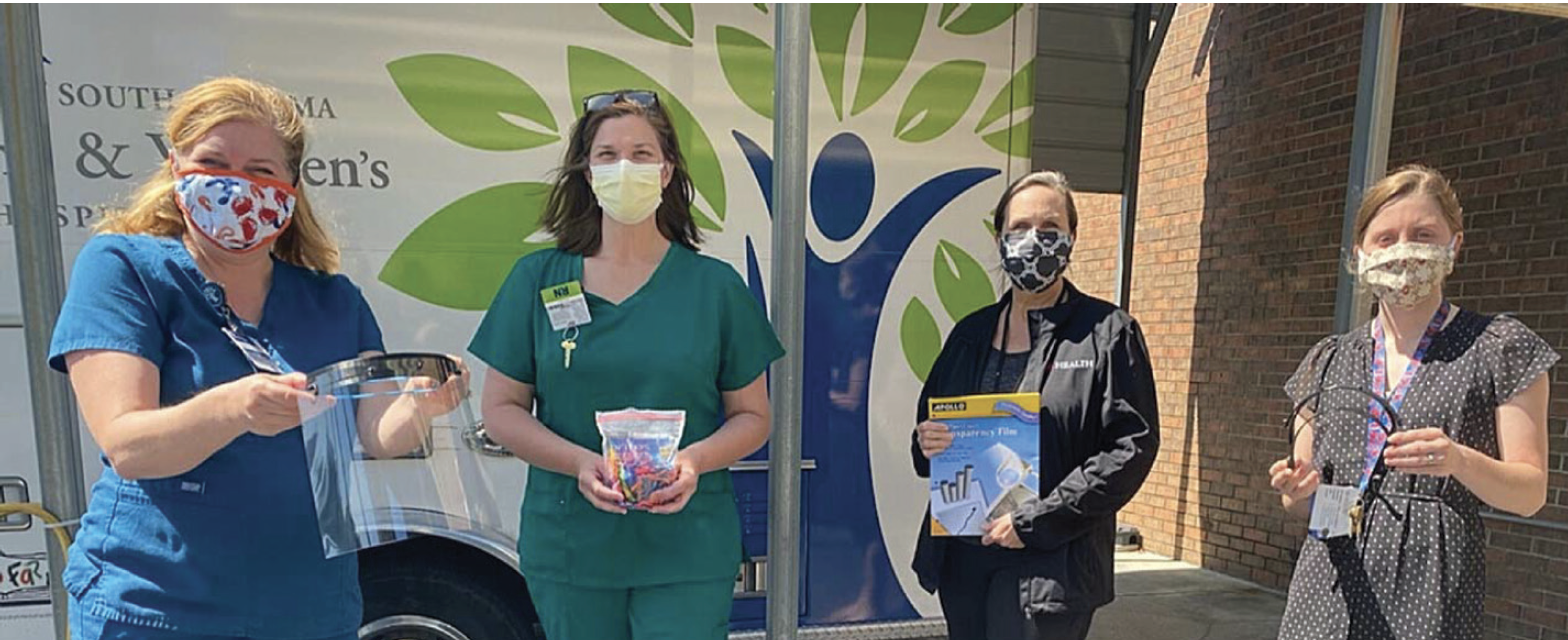 "We had faculty who were able to give an overwhelming amount of supplies, and that is amazing, but we've also had some who have only had two or three items available to give, and that's great too," said Christian Brodbeck, research engineer and a co-organizer of the collection efforts. "No matter the size of the individual donations, we can make a huge difference when we pull our resources together."
Emmanuel Winful, engineering safety manager who also coordinated the collection efforts, worked with chemical engineering faculty member Bill Josephson and staff member Brian Schwieker to prepare two formulations of hand sanitizer for the hospital following guidelines developed by the World Health Organization – an absolute ethanol formulation and an isopropyl alcohol formulation.
"I think this partnership has allowed the College of Engineering to identify the needs facing the hospital during this public health emergency and leverage the resources and expertise within the college to support the best way we can in addressing the crisis," Winful said.
Leveraging a network of on-campus 3D printers, a multidisciplinary group of volunteers from engineering, the College of Agriculture and the College of Architecture, Design and Construction have also been able to 3D-print face shields. In just a few short days, 400 shields were printed, assembled and delivered to EAMC and the team has continued to print face shields to assist 16 regional health facilities across several southern states. In addition, the Samuel Ginn College of Engineering has started a collaborative effort with the University of South Alabama (USA) College of Engineering to print PPE that will be directed to the USA Children's and Women's Hospital, located in Mobile. The college was also able to provide face shields for medical staff at the Alabama Department of Corrections.
To date, the team of volunteers from Auburn Engineering and others across campus has printed more than 2,000 face shields and 500 mask strap holders.
"This is a tangible way that we can assist the greater community. Kudos to our faculty and staff for making this happen," said Taylor.
Chemical engineering doctoral candidate contributes to COVID-19 test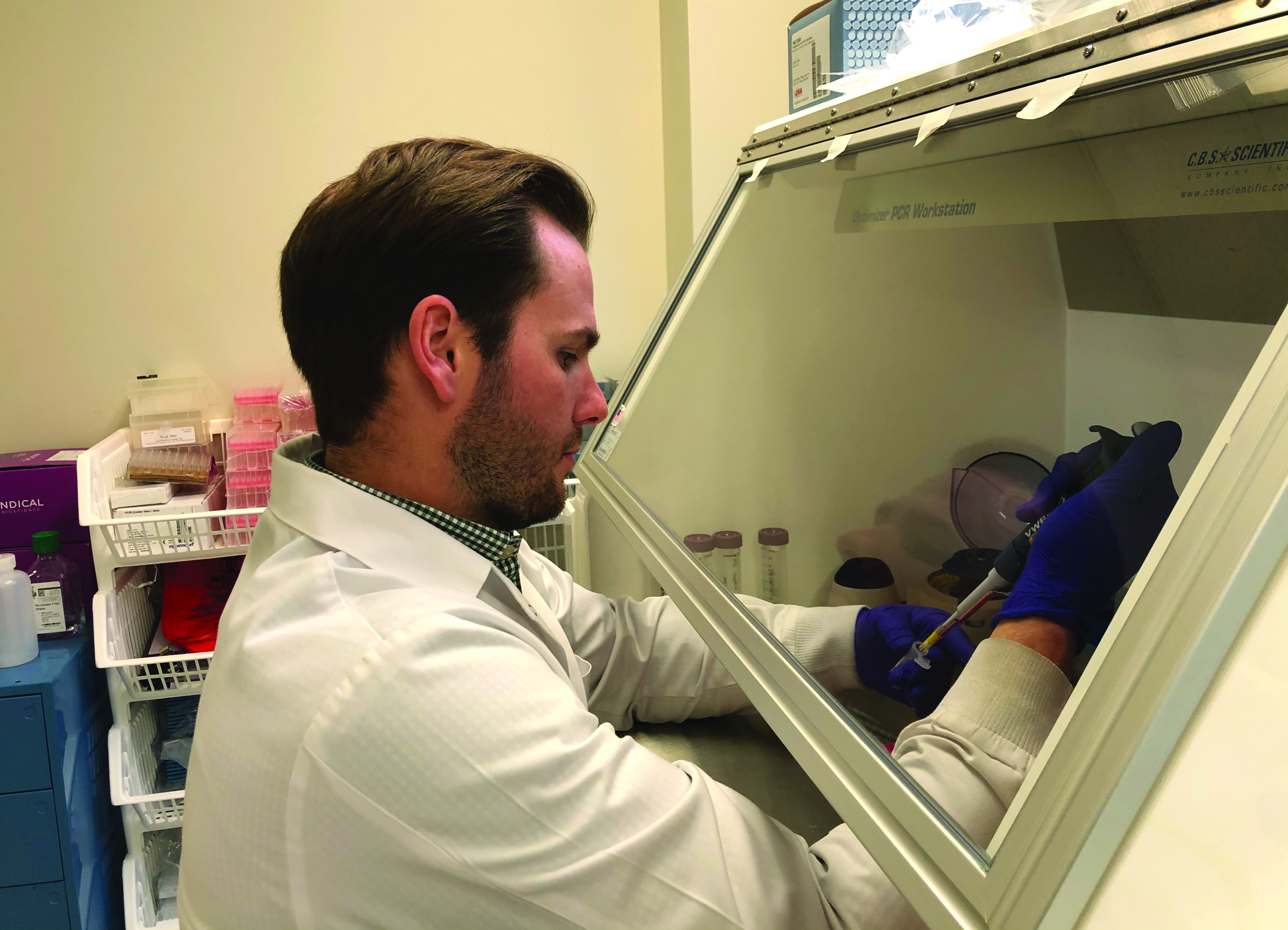 As COVID-19 spreads throughout the United States and Alabama, scientists on the research and development team at Assurance Scientific Labs in Birmingham have devoted their undivided attention to developing a reliable test for the virus as quickly as possible.
Richard Cullum, a doctoral candidate in chemical engineering, is a member of the R&D team that brought a COVID-19 test from development to clinic in less than two weeks.
"Our COVID-19 test uses real-time reverse transcription-polymerase chain reaction (RT-PCR) to detect SARS-CoV-2, the virus that causes COVID-19, in upper and lower respiratory specimens," Cullum said. "My desire to create products that improve public health was a strong motivator for pursuing a Ph.D. Seeing the impact of the COVID-19 test I helped develop has been extremely rewarding, especially so early in my career."
The Assurance lab has produced thousands of tests so far and the production team continues to manufacture them to meet growing public demand. Due to the laboratory's Emergency Use Authorization agreement with the Food and Drug Administration, all specimen testing must be performed in Assurance's in-house reference lab.
So far, their clinical lab has tested more than 8,000 specimens from across Alabama and several other states.
Cullum credits his chemical engineering education with helping him develop a unique set of problem-solving skills to allow him to design and develop accurate and reproducible tests for pathogen detection.
"As a chemical engineering student, you learn to approach and solve problems at the reaction and process level," he said. "The process development skills I learned enable me to optimally configure diagnostic tests for maximum throughput when implemented in clinical workflows."
In his graduate work at Auburn, Cullum is co-advised by Allan David, the John Wilford Brown Associate Professor in chemical engineering, and David Riese, the Gilliland Professor in the Department of Drug Discovery and Development in the Harrison School of Pharmacy.
"The interdisciplinary nature of his co-advised doctoral project has equipped him with a combination of skills from both chemical engineering and pharmacy that allows for a unique perspective on how to address these types of problems," said Mario Eden, professor and Joe T. and Billie Carole McMillan chair of the Department of Chemical Engineering.
Cullum's dissertation focused on melanoma drug discovery, specifically using in silico approaches to analyze a clinical melanoma genomic data set.
Through his research, he identified "a gene of interest that is likely to contribute to the tumorigenesis of a signification portion of melanomas that do not currently have a targeted therapy option," he said.
Another phase of Cullum's dissertation project required him to design and implement tests of thousands of drugs for those that might be effective against metastatic melanoma.
"Through this project, he developed superb process and assay development skills," Riese said.
"These skills, combined with the outstanding foundational and practical education in chemical engineering obtained here at Auburn, enabled him to quickly and effectively develop the COVID-19 test at Assurance," he said.
Investigating rapid detection device
Two Auburn Engineering assistant professors have received a $200,000 grant from the National Science Foundation to develop a biosensor that will rapidly detect COVID-19.
COVID-19 belongs to a family of similar viruses known as beta coronaviruses. There have been two other such viruses that have emerged over the past two decades — Middle East respiratory syndrome (MERS) and severe acute respiratory syndrome, commonly referred to as SARS.
"There are similarities between the viruses that cause MERS, SARS and COVID-19 to the point where the name of the current virus is SARS-CoV-2," said Robert Pantazes, assistant professor in the Department of Chemical Engineering and the principal investigator on the project. "What we're doing is using computational tools and experimental methods to try to take advantage of all the resources that were already in existence for these other coronaviruses and convert them into tools that will work with COVID-19 and potential future coronavirus outbreaks."
The research project, titled "Antibody-Based Nanoplasmonic Barcode Biosensors for COVID-19 Detection," is led by Pantazes in collaboration with Pengyu Chen, assistant professor in the Department of Mechanical Engineering and Jennifer Maynard, the Henry Beckman Professor of Chemical Engineering at the University of Texas.
Specifically, the team of researchers are developing an inexpensive, near-real-time, point-of-care diagnostic device that would meet the need to more quickly and more conveniently diagnose COVID-19 and understand its spread. 
"My lab has a long history in developing nanomaterial-based biosensors for immune detection," said Chen, a co-investigator on the project. "This biosensor design originated from a multiplex barcode sensor for high throughput sensitive cytokine measurements in human serum samples and can be further applied to saliva and throat swabs."
The team plans to screen and select optimized antibodies that can target the spike protein on the surface membrane of the virus.
They will then immobilize the selected antibodies on glass substrates to capture the virus.
"We will flow in signaling nanoparticles functionalized with detection antibodies that can attach to the captured virus to form a so-called 'sandwich' structure," Chen said. "These nanoparticles can emit strong scattering light with specific color and can be visualized under microscope or even by human eyes. So if we have a positive response, we will observe a brightened barcode or colored test strip."
The team is progressing toward a proof-of-concept device that can be used for lab testing to be followed by a prototype of an integrated test strip that could be potentially used at home or in clinics.
"The academic research community is working rapidly to reduce the impact that this pandemic has on our daily way of life," Pantazes said.
Evaluating public response
Widespread shelter-in-place orders have been issued by government and public health officials across the United States due to the coronavirus pandemic. The effectiveness of these orders at slowing the spread of the virus is still being evaluated and largely depends on how the public responds to them.
Two faculty members in Auburn's Department of Industrial and Systems Engineering were awarded a $145,000 National Science Foundation grant to evaluate the public's compliance with recent public health orders by looking at social media behavior. They will use this data to create a simulation to help policymakers improve mitigation strategies in the future.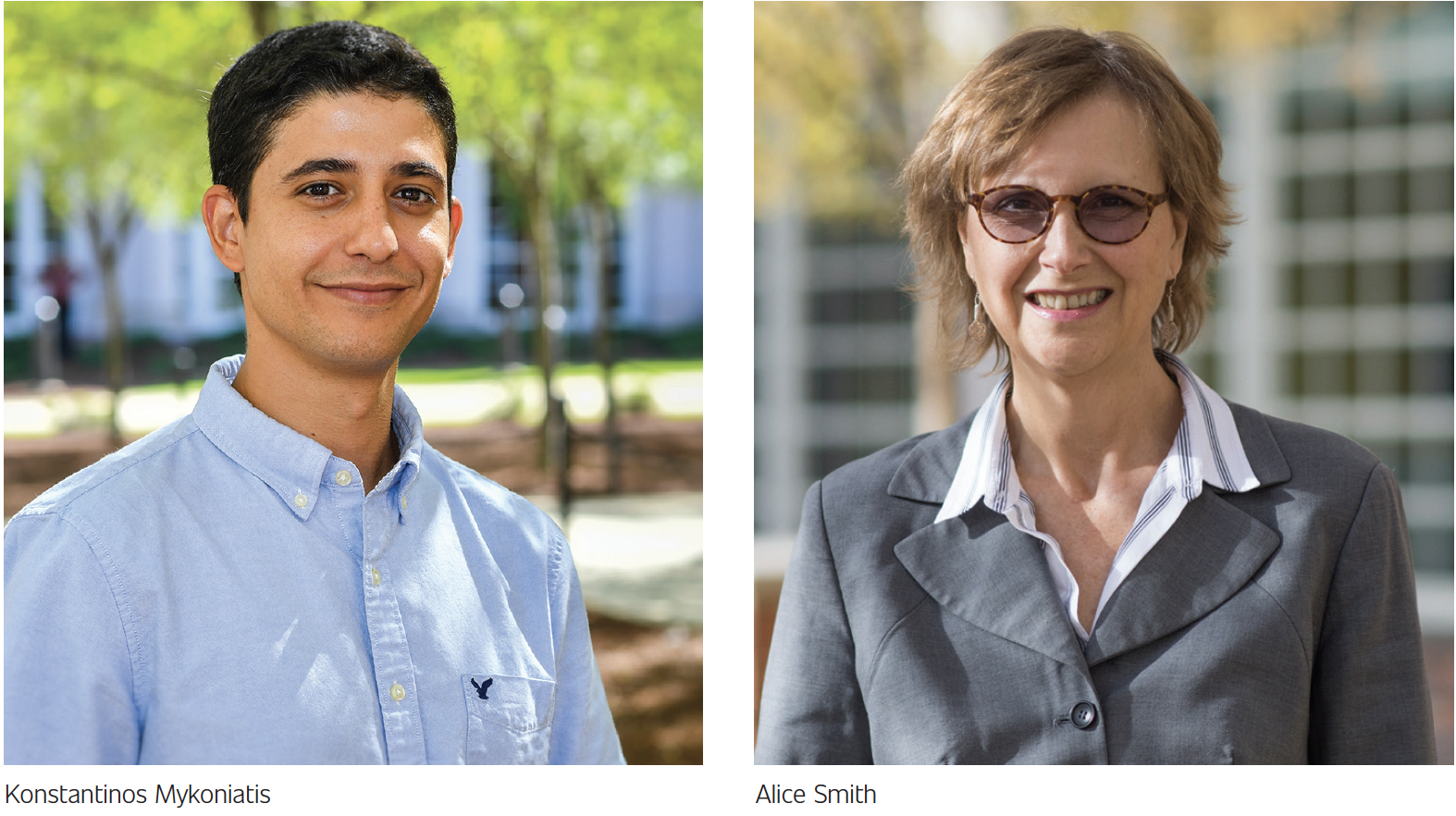 The research project, titled "Quantifying Social Media Data for Improved Modeling of Mitigation Strategies for the COVID-19 Pandemic," is led by assistant professor Konstantinos Mykoniatis and Alice Smith, the Joe W. Forehand/Accenture Professor. The two are collaborating with Anastasia Angelopoulou, assistant professor of computer science at Columbus State University, to collect social media data, analyze the data to identify patterns and build a simulation model to evaluate the effectiveness of different mitigation strategies.
"The majority of mitigation strategies and policies are based on assumptions and how well a model can predict a specific situation depends on those assumptions," said Mykoniatis, the principal investigator on the project. "Most of these models have very oversimplified assumptions — namely that all people will follow a specific engagement strategy or public health order. We thought that by studying the human behavior exhibited on social media, we could get a more accurate representation of how willing people are to follow these strategies and comply with these orders."
By collecting social media posts related to certain keywords such as "COVID-19," "coronavirus" or "pandemic," the researchers aim to group the data by like characteristics including demographics and geographic location. Understanding correlations between an individual's identifying characteristics and the degree to which like-minded people comply or resist shelter-in-place orders can help policymakers shape messaging to counteract potential resistance.
"We're going to concentrate on Twitter to try to build relationships about different clusters of people and their reactions to public health recommendations that might lead them to a certain degree of compliance or active resistance," said Smith, the project's co-principal investigator. "We're going to see what we can find out about the differences that can be used in models to ascertain the relative success or failure (noncompliance) of certain mitigations that could be proposed and understand for a given grouping of people or community of people that certain strategies are going to be preferred over others and why."
The team will also be evaluating the role that rumors or false information about the coronavirus pandemic has played in determining the effects of compliance behavior.
Once the raw data is collected, Smith will analyze and cluster the data using unsupervised machine learning techniques. Mykoniatis will then use the findings to build a hybrid dynamic simulation model that can be used to evaluate the effectiveness of future messaging campaigns. The results will be made available to the public at the end of the project.
"With this simulation approach, we're considering how these groups of like-minded individuals behave and react to certain strategies and how likely they are to follow these types of orders going forward," he said.
Remote instruction
In early March, Spring Break at Auburn was overshadowed by an evolving series of messages from administration regarding the university's response to the COVID-19 pandemic, and by March 20, students and faculty learned that all courses would be continued remotely through the end of the spring semester.
For the Samuel Ginn College of Engineering, the largest college at Auburn, more than 800 courses in eight departments would be moved completely online. The president's office later announced Summer 2020 Sessions 1 and 2 would also be held remotely.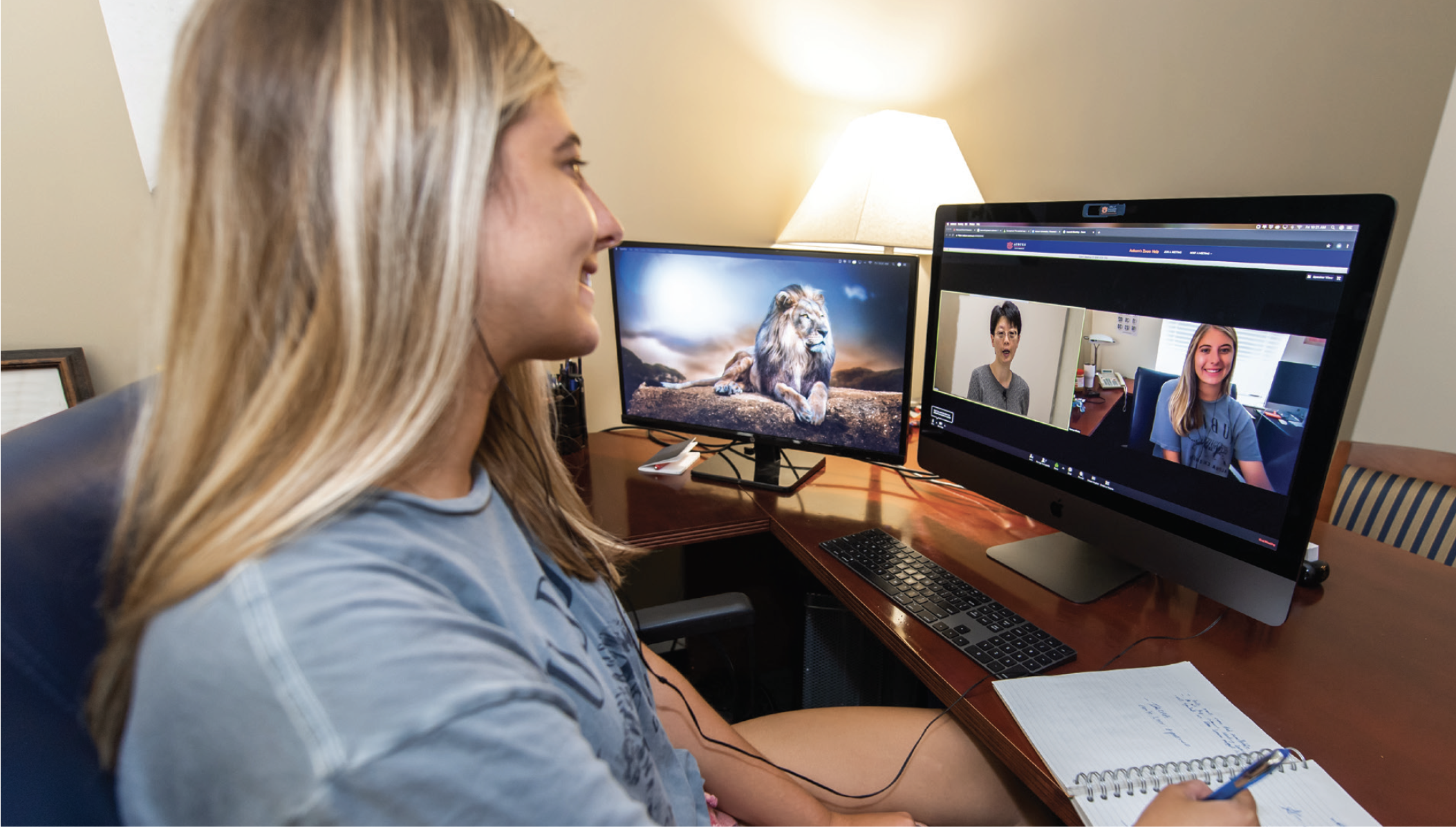 "The positive way in which our faculty, staff and students have responded to this alternate instruction model truly demonstrates the character of the Auburn Family," said Christopher B. Roberts, dean of engineering. "Our Engineering Network Services, Engineering Online staff and the Biggio Center, in particular, were integral parts of this massive process, wasting no time in developing tools and resources to ensure the smoothest possible transition."
For Shannon Price, director of Engineering Network Services, the largest hurdle has been ensuring students have access to the necessary software to complete their assignments. Students traditionally access a variety of technical software in the computer labs on campus – no longer an option – and students' personal computers often won't support that software.
ENS responded by purchasing new software that provides remote students with a virtual gateway to computers in the on-campus labs and even steers them to specific machines based on the software they need.
The college also purchased MATLAB for all students; MATLAB is the primary technical computing software used in engineering courses.
Price said ENS has also spent a lot of time getting instructors the equipment they need to teach from home, including desktop monitors, web cameras and even small document cameras so some can continue to draw out formulas and technical illustrations in real time for students.
"The instructors use a variety of different methods to teach, so it was important to get them the equipment they need to teach how they are most comfortable," he said.
Many online resources such as Canvas, the university's learning management system, were already available to faculty and students and helped ease the move to online instruction, as did the Auburn Engineering Online and Continuing Education office staff and resources, Price added. Engineering Online and Continuing Education offers more than 50 online courses and 21 graduate programs that are fully online.
Bill Cameron, assistant director of Engineering Online and Continuing Education, said his team immediately began contacting faculty during spring break to help them decide the best methods to continue their courses and offer technical assistance.
Since then, the team has helped familiarize hundreds of instructors with programs such as Zoom and Panopto, the college's video recording and streaming platform.
Through Panopto, faculty have learned to capture, record and even digitally edit their lectures.
"You have people with different levels of technology skills, and you just have to meet them where they are," said Alicia Harkless, instructional designer for Engineering Online and Continuing Education.
Harkless held multiple technology training sessions for faculty, both in person and through Zoom. Those larger sessions, each with about 60 to 100 participants, prompted dozens of other one-on-one sessions, phone calls and emails with more questions.
"The faculty have been very resilient in terms of getting all that they were doing face-to-face to translate to the online world," Harkless added. "They are maintaining the original structure and content of their courses as much as possible."   
For example, she helped one instructor set up Zoom "breakout rooms" so that students could continue working in pre-assigned groups during class time and the instructor could drop in and out of each group as needed.
Both Price and Harkless credit the Biggio Center and its Course Continuity Preparation website, directed by Asim Ali, for providing invaluable online learning solutions. For example, faculty, staff and students all have access to Biggio's "Bighelp" Zoom meetings, where they can get live, remote help anytime during business hours.
Price said instructors have primarily sought help with lecture capture, giving assignments and testing.
"Biggio got organized very quickly with information about how to transition to online teaching and learning," Price continued. "They shared resources, met with us very early and kept very long hours to support faculty and students with issues."
Throughout the process, Cameron's media resources team has been tasked with checking materials faculty post on Canvas and ensuring there are no issues with the technology, ideally before students try to access the materials.
However, professors such as John Hung, who teaches undergraduate and graduate courses in the Department of Electrical and Computer Engineering, are still trying to figure out the best way to remotely teach laboratory courses, which are so hands-on by nature.
"One of the undergraduate courses I teach is a huge challenge because it is about 80% lab work," Hung said. "I've been extremely fortunate to have five exceptional teaching assistants who have been creative and very responsive … it is requiring a Herculean effort, not to mention investment in materials and equipment."
No technology can fully replicate in-person interaction with students, says Jacqueline Hundley, senior lecturer in the Department of Computer Science and Software Engineering who currently teaches 460 freshman in an introductory computer science course.
"I miss reading the students' faces during a class lecture and discussion, and I miss face-to-face office hours," Hundley said.
The transition has been frustrating at times, agreed both Harkless and Price, but overall they say faculty have been positive, patient and committed to the academic standards of their courses.
"You don't want to lose the integrity of the programs just because you had to transition to a remote environment," Harkless said. "At the same time, faculty have been compassionate and flexible in working with students."
Engineering tutors go the extra mile without the extra miles
College life in the age of social distancing hasn't exactly been ideal. But as far as boning up on hydraulics or crystallography is concerned, no one who has taken advantage of Auburn Engineering's online tutoring options from the comfort of their own couch seems to have noticed.
"One awesome thing about offering or getting tutoring remotely is the flexibility it offers. I tutored a student that told me that they enjoy getting to sleep in and just wake up 20 minutes before and not have to get ready," joked Gregory Starling, a senior in aerospace engineering who tutors for Engineering Student Services.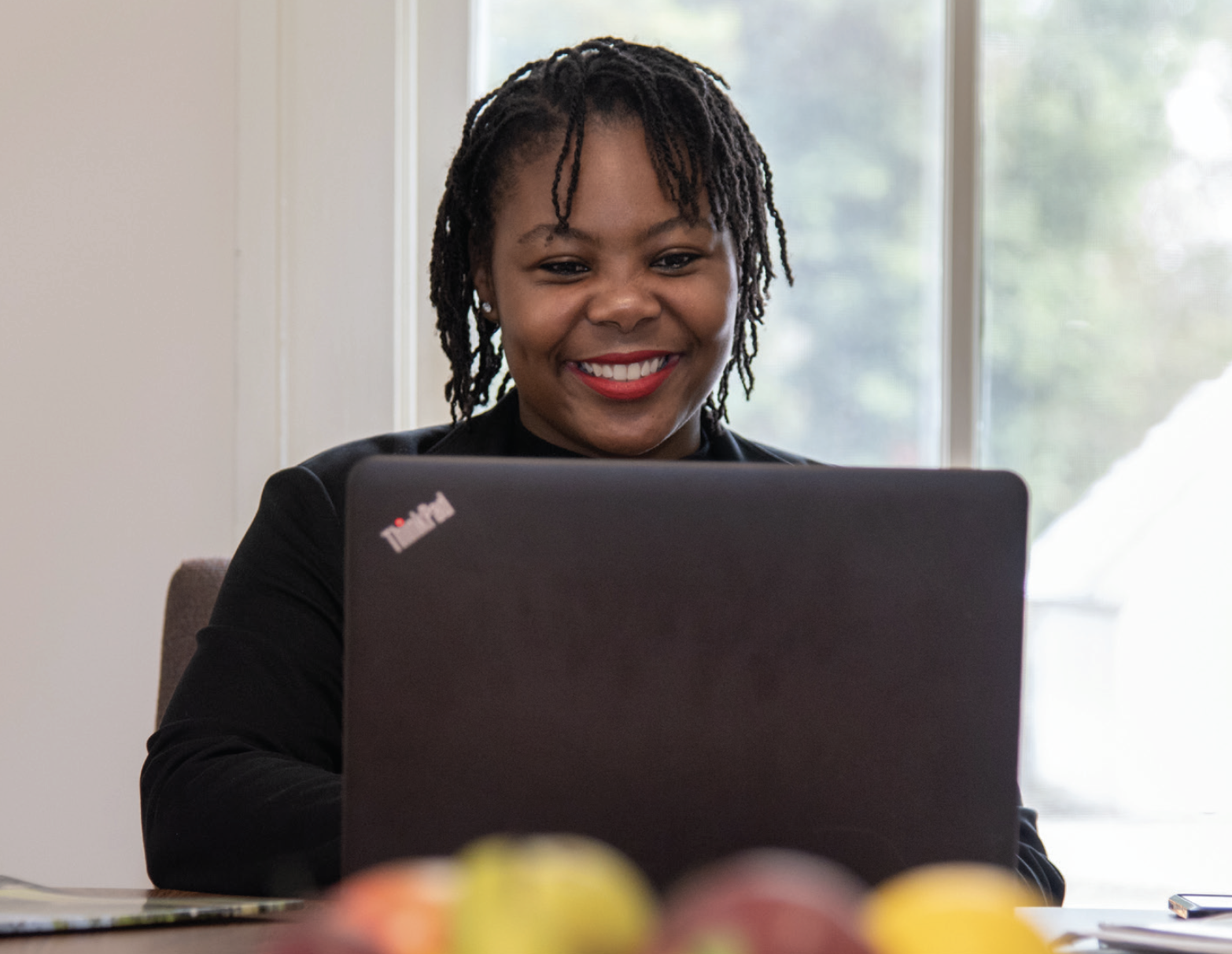 "It eliminates all of the unnecessary waiting time and allows for more work, or relaxing, to get done. Students and tutors no longer have to go to campus which, through the transit system, could take over 30 minutes," he said.
In other words, when you can Zoom, you don't have to zoom.  
"I lived in the Village, and for me to go tutoring, it was nearly a 35-minute round trip," said Jack McClain, a freshman in software engineering who receives tutoring in Fundamentals of Computing. "I don't have to worry about the weather, or walking back to my dorm late, or traffic or where to park."
McClain said he actually began taking advantage of tutoring services more after Auburn transitioned to remote instruction to fight the spread of COVID-19.
"It's just easier to schedule a session, and then keep that commitment," he said.
McClain isn't the only one keeping commitments.
"The engineering tutors could have quit, but they didn't," said Kathy Friedenreich, an academic counselor in the Office of Student Services who coordinates the efforts of the Engineering Student Services Tutorial Center. "They adopted working remotely as quickly as the faculty and staff — if not faster. We didn't offer remote tutoring before this, and we all had to become Zoom experts in a matter of days."
Hannah Harry, a junior in civil engineering who receives tutoring for her civil engineering analysis class, is grateful that they did.
"It's been working really well so far," Harry said. "The only disadvantage is that using Zoom limits you a little bit in how well you can communicate questions and the tutor can communicate answers. It just takes a little longer to hop between screen sharing than it does showing things by hand. But overall, I feel like it's not all that different from the in-person tutoring as far as what you get out of it. I prefer in-person, but online is going well. I have no complaints."
Very remote instruction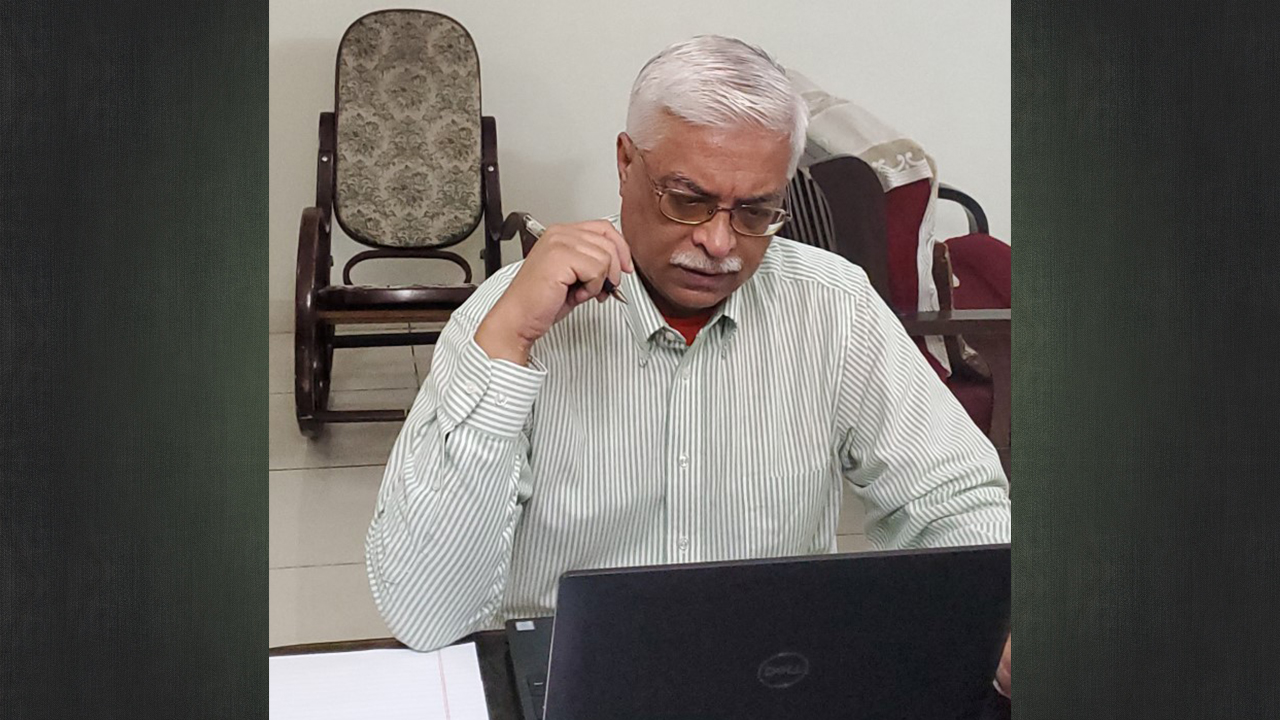 For the past two months, Sushil Bhavnani's lectures in Electronics Thermal Management have given new meaning to remote instruction.
In mid-March, Bhavnani, associate chair in the Department of Mechanical Engineering, flew to India due to a family emergency. He knew his students would have to temporarily embrace distance learning after Spring Break.
He just didn't know it would be that distance.
"My return, originally scheduled for late March, has been delayed indefinitely due to the international flight ban in response to the coronavirus," he said. "I am currently in the city of Mysuru in the southern part of India."
So twice a week starting March 16, Bhavnani logged onto Zoom at 9:30 p.m. India Standard Time to teach advanced techniques in dissipating heat from the microprocessors in the very cellphones and laptops and data centers that kept his students on track to complete the semester.
"I was completely shocked that it went off without a hitch," said Bhavnani, who administered final exams 9,111 miles from Wiggins Hall — 10.5 hours ahead of when he planned to in January  — via an online proctoring service. "What facilitates this is our polite, goal-oriented student body."
Bhavnani was especially amazed by his attendance numbers, which from Day 1, never dipped below 100%.
"One day, during class, we had two brief power outages that lasted about five minutes each," he said. "Every single student was still logged into the Zoom meeting when I got back in. That's pretty amazing!"
Auburn Engineering parents join the fight against COVID-19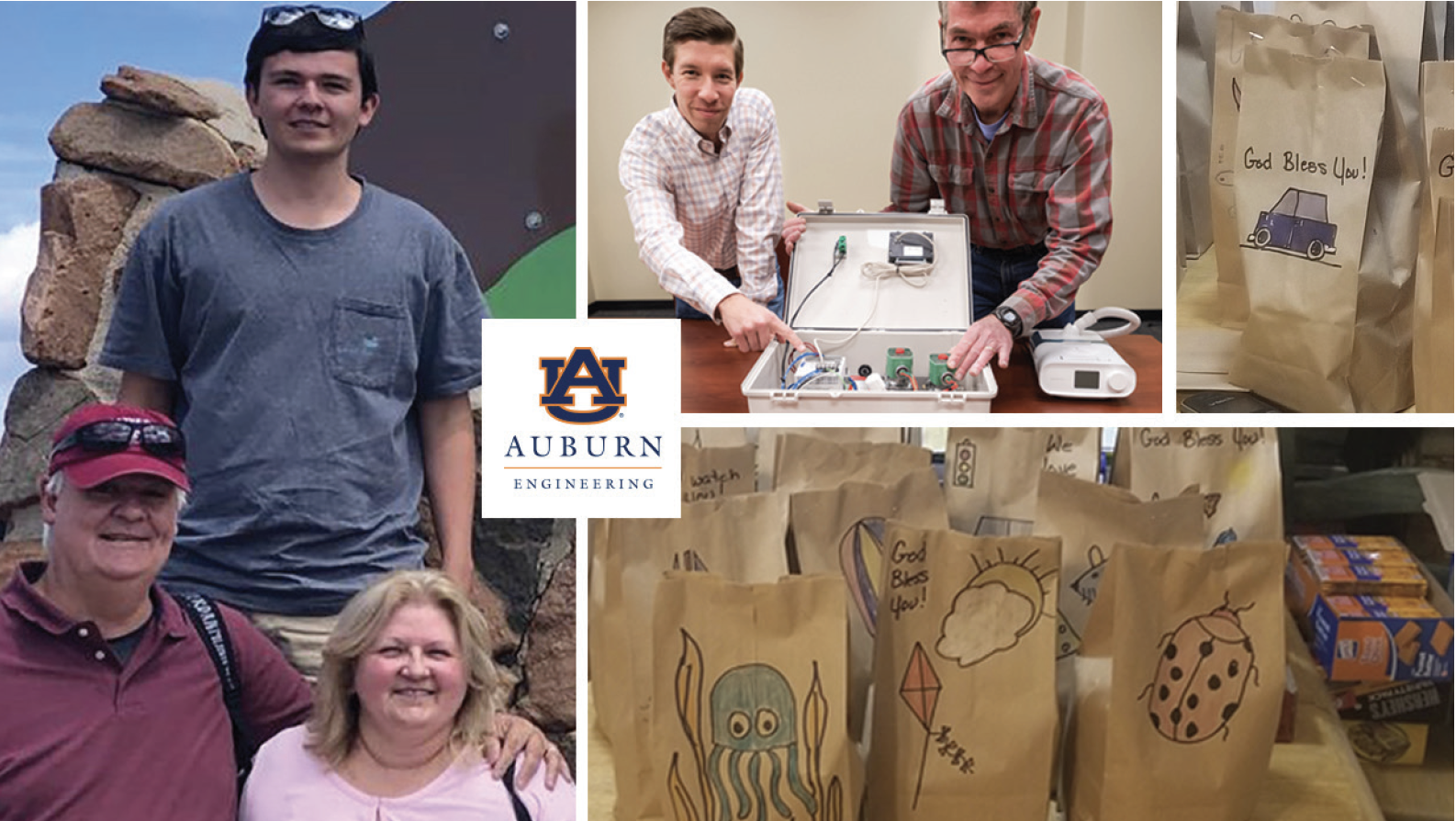 Connor Taylor is a senior in computer engineering. His parents, Glenn and Sheila Taylor, made the first philanthropic gift to the Samuel Ginn College of Engineering in support of the RE-InVENT project.
The couple reached out to the College of Engineering's Office of Development in early April, after reading about the initiative in one of the university's online publications.
"When we heard what the Auburn team was doing to inventively re-purpose CPAP technology, it resonated with us," Glenn said. "It felt similar to a MacGyver-like approach to getting an effective and quick solution. We loved that the team would act fast, and get something into the field, at EAMC, in weeks rather than years."
Their generosity directly supports the project, and provides funds throughout the project's evolution.
"One thing that we found really interesting about this CPAP to ventilator research was the inventiveness of the team," Glenn said. "The Auburn team working on the project seem to have the ability to quickly pivot to meet whatever need is greatest."
The Taylors also mentioned how impressed they were with the college's rapid response in 3D printing masks and supplying other personal protective equipment to local hospitals. They have been taking time to think through ways to make a difference. And from the beginning of the pandemic, they have been trying to find the silver linings of this crisis.
Sheila, who works in IT for the state government, recently transitioned to work from home. Glenn retired in January. With the additional time they have at home in Montgomery, Alabama, they have focused their efforts on providing for the individuals on the front lines of the pandemic. The couple has been creating goodie bags, which Sheila and volunteers decorate, for hospitals in their area. They are working with the hospital systems to provide meals to ICU and emergency room floor staff members.
"We have spent a lot of time thinking about how we could do something meaningful in this time of need," Sheila said. "We see many people doing amazing things. The true heroes in this battle are the nurses, doctors and healthcare staff on the front lines. The truck drivers who are keeping the country running. The restaurants and grocery stores that make sure our basic needs are met. The delivery people who keep us safe with contactless delivery. These are the heroes in this 'war.'"
And when they learned about Auburn Engineering's efforts to fight COVID-19, they knew they wanted to join and help.
"We look forward to seeing how the team tackles the evolving coronavirus problem," Glenn said.
Written by Jeremy Henderson, Karen Hunley, Cassie Montgomery and Lauren Winton.