You're using GPS right now. You used it yesterday. You'll use it tomorrow. So the next time you see professors David Bevly, Scott Martin, Howard Chen, or even any of the more than 30 undergraduate and graduate student researchers working within the GPS and Vehicle Dynamics Laboratory (GAVLAB), tell them thanks for helping you watch Netflix on your phone. For helping you navigate a new town. For Amazon Prime. For securing the nation.
Because that's what GAVLAB researchers have been doing for nearly 20 years — utilizing and improving upon the miracle of global positioning to make life better, and safer.
"GPS is used in a variety of both military and civilian applications, like the timing of communications and financial transactions," said Scott Martin, an assistant research professor who joined GAVLAB as a graduate student in 2008. "But it's susceptible to interference from people looking to disrupt our everyday processes, which can cause real-world problems that affect the average citizen as well as the military. We're looking to solve those problems not 10 years from now, we're looking for solutions that we can implement tomorrow."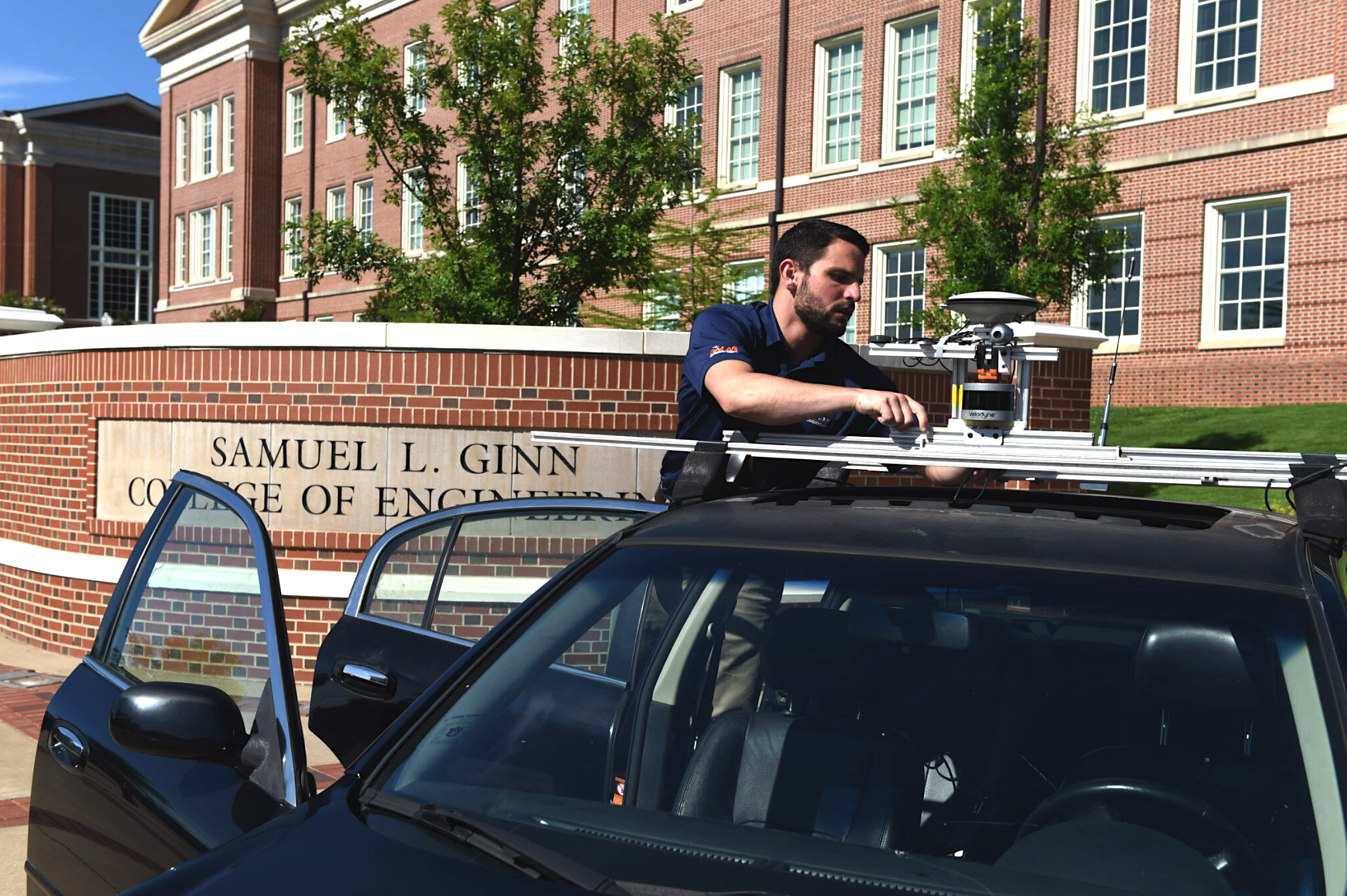 GAVLAB has secured nearly $10 million in funding in just two years. Though most recent recognition for the lab stems from its autonomous transportation innovations, the underlying research into the vulnerabilities of GPS also has implications for both the fight against malicious jamming and environmental complications.
"While GPS provides us very accurate navigation information when available, it can be degraded in some environments with heavy foliage or urban canyons where buildings block the signals," Martin said. "We're working to improve the availability of GPS and to improve accuracy of the navigation solutions by combining GPS with additional sensors, cameras, lidar and radar commonly found on production vehicles that can be used to improve the robustness of our solutions."
Those solutions routinely pique the interest of the military, which is eager to incorporate autonomous navigation applications like truck platooning into everything from combat supply logistics to rescue missions.
"Any time we can provide automation to remove humans from dangerous and difficult operations, that's a good thing," said Bevly, the Bill and Lana McNair Distinguished Professor, who started GAVLAB in 2001.
Bernie Theisen agrees.
"Driverless capabilities can do so much for our soldiers and their missions," said Theisen, who currently manages the autonomous ground resupply program for the U.S. Army Combat Capabilities Development Command (CCDC) Ground Vehicle Systems Center.
In October 2017, GAVLAB, in cooperation with the Michigan Department of Transportation, partnered with CCDC Ground Vehicle Systems Center to conduct the Army's first live demonstration of autonomous vehicle technology on public roads. Utilizing radar measurements, GPS and other on-board vehicle data, GAVLAB's proprietary platooning software allowed its two Peterbilt 579 test trucks to lead a convoy of commercial and military trucks across the Blue Water Bridge connecting Port Huron, Michigan with Ontario.
"We can move soldiers out of the convoy trucks and into missions where they're uniquely suited," Theisen said. "This technology can significantly increase the safety for those soldiers who do continue to operate the convoys."
The pair of Peterbilts also made history in late 2018 during Canada's first ever on-road commercial truck platooning trial. A distance of between 65 to 100 feet was kept between the vehicles, allowing a passenger vehicle to safely cut in between them. A collaboration between Auburn and Canadian research partners, FPInnovations and Transport Canada, the platoon traveled for several hundred miles on highways around Montreal and surrounding areas in Quebec with normal vehicular traffic.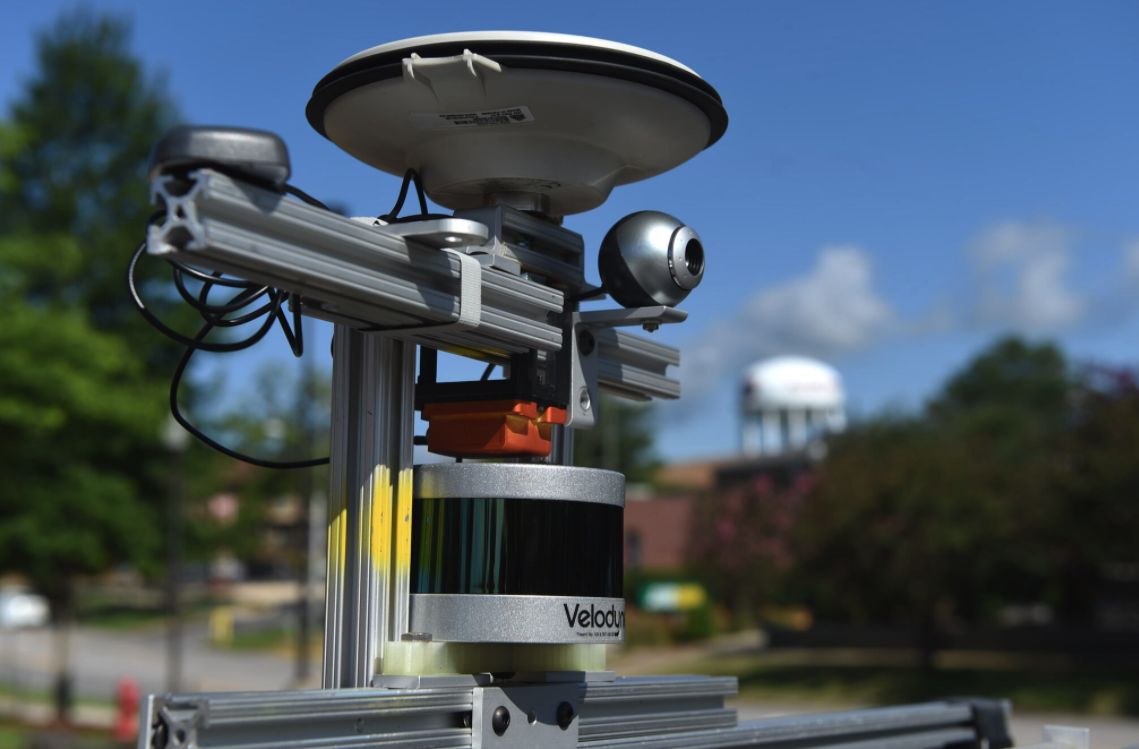 "Auburn's system proved to be very reliable even in the rainy and snowy conditions we experienced," said Edouard Proust, a PIT Group engineer with FPInnovations. "We were able to spend most of our time on the road with the platooning mode engaged."
GAVLAB is also currently contributing to another unprecedented automated platooning study alongside several other organizations representing defense, academia and the public sector. Begun in 2018, the two-year study sponsored by the American Center for Mobility aims to autonomously control the throttle, braking and steering of an entire fleet of both military and commercial grade trucks while optimizing fuel efficiency and safety. If completed successfully, it will be the first of its kind in the nation.
"Truck platooning technology has the potential to make our streets safer and increase efficiency in the transportation industry. Those are the kind of transformational research outcomes that drive us at Auburn Engineering," said Christopher B. Roberts, dean of the Samuel Ginn College of Engineering. "Our college is committed to staying at the forefront of this area of research."
Staying on the forefront means continuing to secure experts like Bevly, who has served as principal or co-principal investigator on nearly $34 million in extramurally funded research, and who holds four patents related to GPS technology and vehicle control.
It also means facilities, facilities, facilities.
GAVLAB has access to the National Center for Asphalt Technology's (NCAT) test track, a 1.7-mile oval jointly operated by Auburn University and the National Asphalt Pavement Association, as well as several by-wire and automated vehicles that in addition to the two Peterbilt tractors include a Lincoln MKZ and an autonomous ATV.
In May, construction began next to the test track on an $800,000 autonomous vehicle research facility that will provide GAVLAB researchers conditioned space in which to equip its growing fleet with navigation instrumentation and control systems. The facility includes two high garage bays that open directly onto the test track.
"The facility is going to provide a place for our students to be able to work out of the elements on the cars, to be able to set up experiments and really develop and debug algorithms while we test out at that great facility at NCAT," Bevly said. "I've been to a lot of other schools that have incredible garage and research space where they're doing autonomous vehicle work, but none of it is attached to a track."
If you'd like to monitor the facility's progress, just ask Google to take you to 32°35'57.8"N 85°17'40.6"W.
"We expect that now," Bevly said. "Positioning has become ubiquitous. We want to know where we're at or how to get somewhere, and we want that all the time."