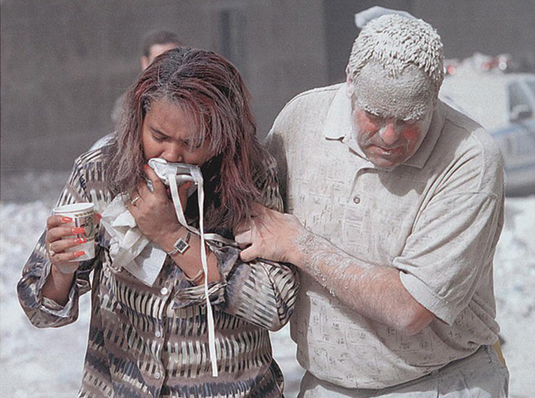 [Continued]
Auburn alumna Leslee Belluchie, a 1983 graduate in mechanical engineering, agrees. "Ten years ago, cyber security wasn't a term that everyone used," says Belluchie. "Today, we are all thinking about it and talking about it. There is an overwhelming focus on it and the need to stay ahead of the curve."
Belluchie has spent her career providing support to the Department of Defense and the intelligence community. From her early days as a project engineer to her current role as co-owner of a private equity fund, she has been involved in our nation's security infrastructure for nearly 30 years.
Like millions of Americans, she watched in horror as the events of 9/11 unfolded in front of her. But unlike many others, she had a bird's eye view of the devastation from her high-rise apartment overlooking the Pentagon.
"I couldn't go home that first night," she says. "But, for nights following 9/11, I watched the Pentagon burn from my window and couldn't believe what was happening."
By September 12, the focus of her work had already begun to change.
"The amount of activity and the need for expertise and speed of deployment ramped up immediately," she says. "Everything accelerated. Our work became much more defined and incremental with an emphasis on protecting and defending our infrastructure. It was all about speed, speed, speed . . . for our country and for our soldiers."
Back on Auburn's campus, the university has continued aligning its interests in conducting research and hiring faculty who can carry out this kind of work, identifying key research areas that meet this priority.
"We have seen a change in the focus of the requests for proposals with an emphasis on layers of security," says Ralph Zee, associate dean for research in the College of Engineering. "It includes work on better physical barriers, improved sensors and network security like hardened concrete, bullet proof materials, information assurance and cyber security."
In order to meet this demand, researchers have embraced the collaborative approach to discovery and innovation, inviting colleagues from around the country to offer their expertise on projects that could be easily enhanced by another set of hands and an additional mind at work.
"Another change, which reflects congressional oversight on research after 9/11, is increased emphasis on collaborative work, both in house and across institutions," says Martha Taylor, assistant vice president for research in Auburn's Office of the Vice President for Research. "A requirement was added to many requests for proposals (RFPs) asking researchers to describe the broader impacts of the funding. It naturally led to collaborative efforts that increase the footprint of the work, so now we are seeing fewer numbers of single researcher awards."
Eric Imsand and Drew Hamilton, faculty members in computer science and software engineering, have been commuting to military bases across the country, instructing week-long digital forensics classes to wounded warriors who are looking to transition into new careers.
Their workforce training initiative is a collaborative project with Mississippi State University and Tuskegee University and is funded by the National Science Foundation, as well as the National Security Agency's National Information Assurance Education and Training Program. The project will also support outreach activities at minority institutions, including North Carolina Agricultural and Technical State University and Western New Mexico University.
Imsand and Hamilton's course provides servicemen with skills in digital forensics. Class participants learn how to trace email and Internet activities, recover deleted files from hard drives and find hidden data on digital devices, among other exercises.
This summer, they traveled to Eglin Air Force Base in Niceville, Fla., to instruct their sixteenth course in the past two years.
"Our country has a real shortage of people who can do this type of work [digital forensics], and most law enforcement agencies at the state and local level are faced with the new challenge of not having enough people to do it," says Imsand. "Now, we have wounded warriors who fully intend to serve their country — who are already motivated to do so — and who are making career transitions."
[miniflickr photoset_id=72157627852275685&sortby=date-posted-asc&per_page=20]