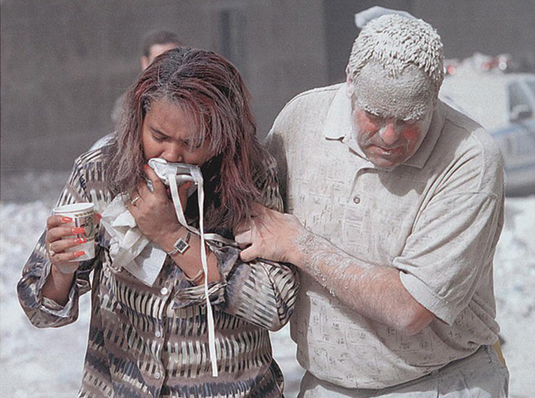 [Continued]
Davidson says that as a result of September 11, the structural engineering field expanded and the Department of Defense was pressured to open up to university and private sector individuals and organizations, so they could take advantage of protective structures knowledge within the industry.
"Prior to 9/11, the protective structures research community was relatively small and most work was directed to the Department of Defense," says Davidson. "September 11 made structural engineers realize that it may be necessary to consider blast design for many other categories of structures. Other areas in our industry, like earthquake engineering, started getting involved with blast loads."In the same way, polymer and fiber engineer Gwynedd Thomas is designing stronger materials that can protect us from the neighborhood street corner to the battlefield.
For Thomas, the horror of 9/11 was deeply personal, as it was for many Americans, but what followed in the months and years was her dedication and determination to protect us.
Her research with lightweight ballistics protection and composite materials is used to develop body armor for U.S. troops, including the Army's Air Warrior upgrade project from 2002-2006, as well as armor for vulnerable aircraft, such as the V-22 Osprey, and armor to protect American forces from deadly IEDs and land mines. According to military statistics, nearly 70 percent of all casualties in the Iraqi conflict have been caused by roadside bombs.
Thomas and colleague David Walrath at the University of Wyoming's Department of Mechanical Engineering are working with Kennon Products, Inc. of Sheridan, Wyo., a manufacturer of protective equipment and coverings for aviation and military applications, to develop vehicle armor that provides military personnel greater protection against those bombs.
"The designs that we are developing for explosion and ballistic protection will offer solutions for all of our military services and will provide an increased degree of safety for American men and women in combat," says Thomas.
Her work is proving vital to developing new armor that can withstand blasts better than the standard hardened steel that U.S. military vehicles currently use.
VULNERABILITY AND AN AGENDA
Maria Auad was working with a CalTech consortium on a military project involving liquid crystal polymers on the morning of 9/11/2001. She had been conducting research in the U.S. for a year.
Back then, she never expected that how and where those projects occurred might look different as a result of one September day.
"After 9/11, there was an explosion of new research and development technologies," says Auad. "Agencies that traditionally fund these projects, like the Department of Commerce, Department of Defense, Navy and Army, modified their focus areas in response to new threats and vulnerabilities."
Auad believes that the formation of the Department of Homeland Security is a clear response by the U.S. to those challenges, drawing on the intellectual and technological capabilities of scholars, scientists and technologists to keep Americans safe.
"There's no question that this event has changed America in so many ways, and research universities have not been immune to the consequences we have experienced," says Auad. "In fact, they have been impacted significantly. The national research agenda has changed post-9/11 and made protecting the security of citizens a top priority and a major challenge."
In a matter of hours, policy makers and American citizens alike began to realize that terrorists could threaten a number of areas, such as the economy and public trading, biosecurity, infrastructure for transportation and electrical systems, radioactive materials, communication and information exchange.
"September 11 affected us in a number of ways," says Taylor. "The biggest change was a move from RFPs for fundamental or early stage research to those for research that provided a solution to a specific problem."
[miniflickr photoset_id=72157627852275685&sortby=date-posted-asc&per_page=20]