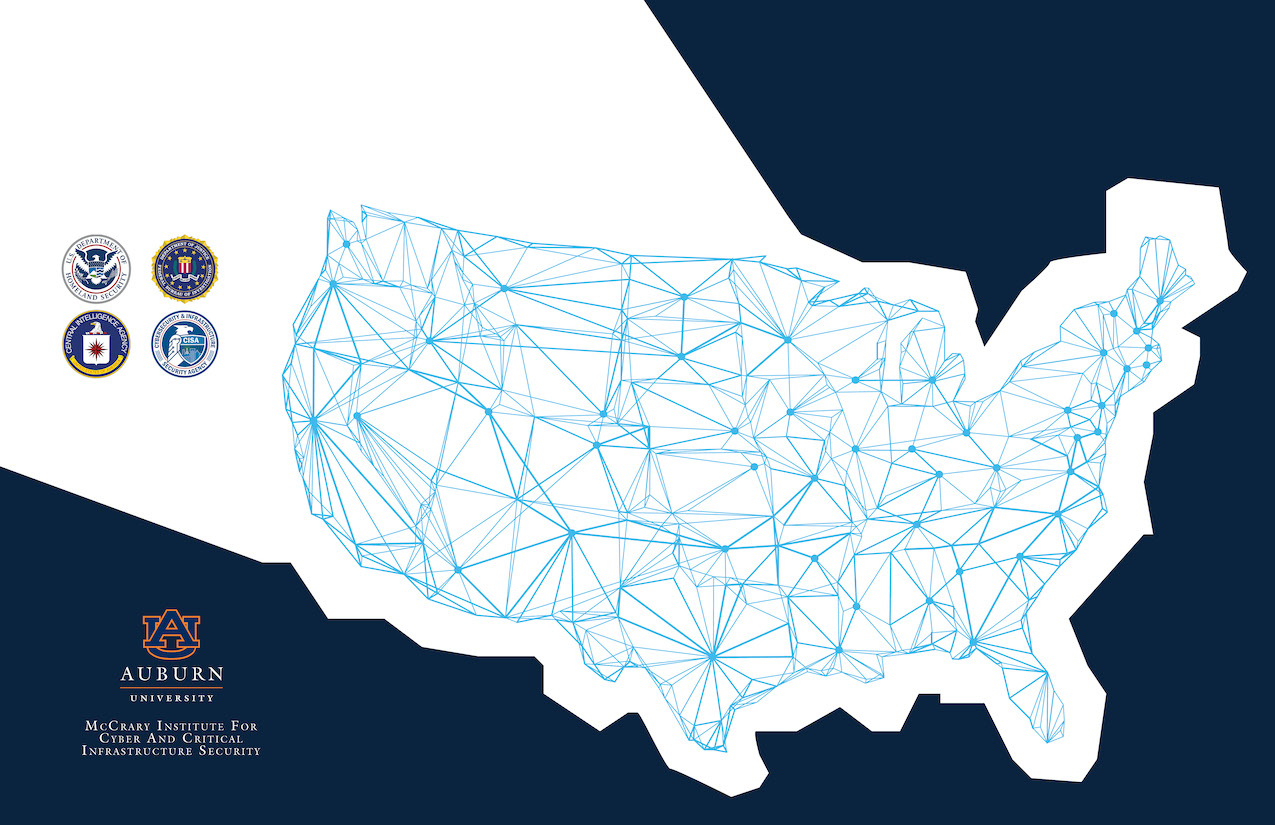 Gina Haspel, director of the U.S. Central Intelligence Agency, Chad Wolf, acting secretary of the Department of Homeland Security, and David Bowdich, deputy director of the Federal Bureau of Investigation, all have one thing in common. Well, maybe more than one thing.
In addition to being among the highest administrative leadership on the forefront of national security for the American people, these three leaders have developed a close relationship with Auburn University and its McCrary Institute for Cyber and Critical Infrastructure Security. These leaders have all visited and spoken on campus, either in person or virtually, within the past year as the university positions itself as a national leader on the forefront of cyber and critical infrastructure security, policy and defense.
These relationships are vital and critical, especially in a time where the nation is constantly fending off attacks and threats from hostile nations, organizations and individuals.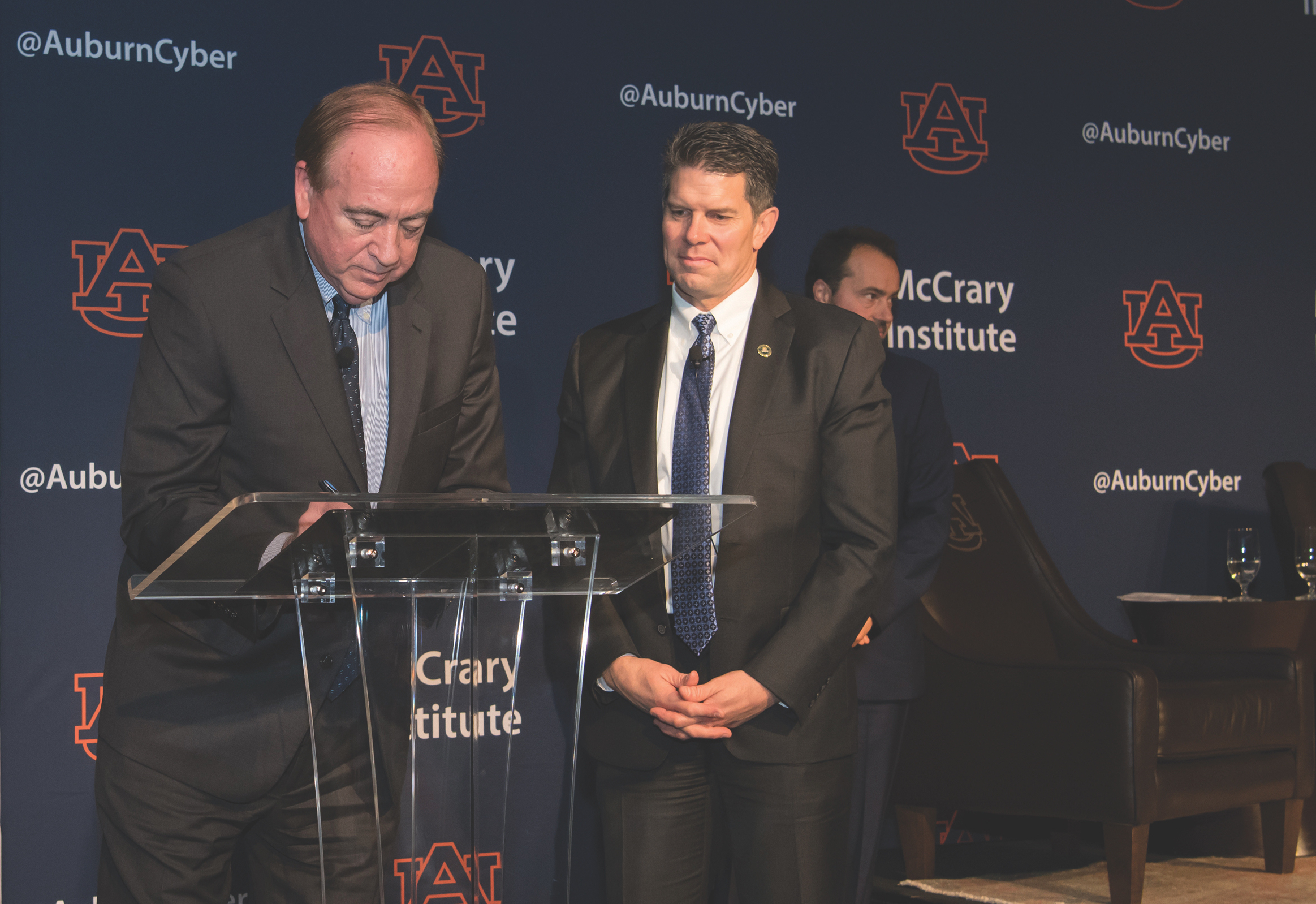 In 2019, Auburn hosted Haspel, former National Security Agency Director Michael Rogers, then-DHS Secretary Kirstjen Nielsen and DHS Cybersecurity and Infrastructure Security Agency Director Chris Krebs, Assistant Director Brian Harrell and Transportation Security Administration Administrator David Pekoske. In November, the institute hosted 80 members of private industry for a Cyber Moonshot workshop, co-hosted by Raytheon and Unisys, with the objective of making critical infrastructure on the internet safe and secure by 2028.
"We've been admiring the problem a long time, and now it's time to get things done," said Frank Cilluffo, McCrary Institute director. "The biggest companies in the world didn't go into business thinking they'd have to defend against other nations. It's not just a government problem."
In addition, Cilluffo testified before the U.S. House Committee on Transportation and Infrastructure and the U.S. House Committee on Homeland Security. This year, Cilluffo also testified before the U.S. Senate Committee on Banking, Housing and Urban Affairs, whose members include U.S. Sens. Richard Shelby and Doug Jones, both of Alabama, in a hearing titled "Threats Posed by State-Owned and State Supported Enterprises to Public Transportation."
"The threats to public transportation posed by state-owned and state-supported enterprises is a matter of national significance, as the issue bears on U.S. national and economic security, which are inextricably intertwined," Cilluffo said.
Since then, Auburn has also hosted Bowdich on campus and Wolf through a virtual livestreamed event. Following Bowdich's visit to campus, university President Jay Gogue and Bowdich signed a memorandum of understanding. The agreement names Auburn as a partner with the FBI as the bureau expands its workforce and operations, particularly in Huntsville where the bureau is investing $1 billion in a second headquarters that will include more than 1,000 jobs with a special emphasis on cybercrime.
Auburn aims to educate and train future FBI employees, and provide next-generation specialists needed to take on critical roles across the bureau. The FBI and Auburn also will share mutually beneficial information, research and technology that advances criminal justice and student and faculty opportunities.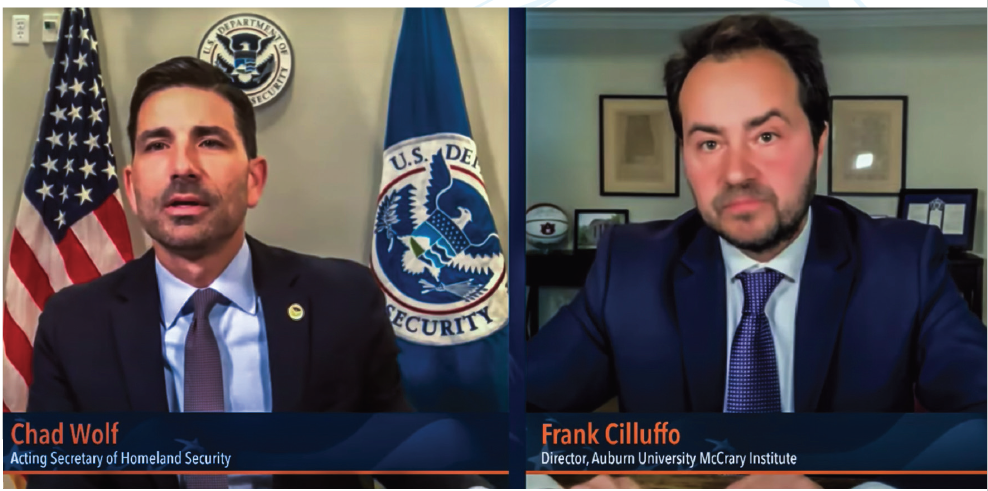 "Universities have a responsibility to arm the next generation workforce in cyber," Cilluffo said. "Auburn's top-notch faculty is ready to help address the greatest challenges facing our nation."
During Wolf's virtual visit in April, he spoke about how DHS is safeguarding the nation in many ways — particularly during this current pandemic — how the department is including a priority focus in the months ahead on economic security and how Auburn plays a vital role.
"The department has a number of resources in the state of Alabama, both from a FEMA standpoint and cybersecurity standpoint, and we find great partnerships, not only with the private institutions in the state, but also with Gov. Ivey. The state of Alabama has been a great partner to the Department of Homeland Security over the years," Wolf said. "I really appreciate the work of Auburn University and the McCrary Institute. The partnership has been great, and I look forward to continuing this conversation."
The day prior to Wolf's visit, the McCrary Institute held another virtual livestream event with the U.S. Cyber Solarium Commission in which Cilluffo, who is a member of the commission, moderated panel discussions with other members on the topic of deterrence in cyberspace.
The event followed the Solarium Commission's report in March detailing a comprehensive strategic approach to cybersecurity — layered cyber deterrence.
Most recently, the McCrary Institute has named 30 nationally renowned senior fellows who will add their expertise toward development of practical solutions to national security challenges.
This select group includes senior leaders with a depth of experience in government, private industry and academia.
Their high-level government service includes the White House, Capitol Hill, the Department of Defense, and the law enforcement, intelligence and homeland security communities.
"This new cohort of senior fellows is tremendously talented and brings a wealth of national security expertise," Cilluffo said. "Their knowledge will help power our efforts to shape policy and impact practice in the United States and build a community of experts committed to advancing our cyber and critical infrastructure security."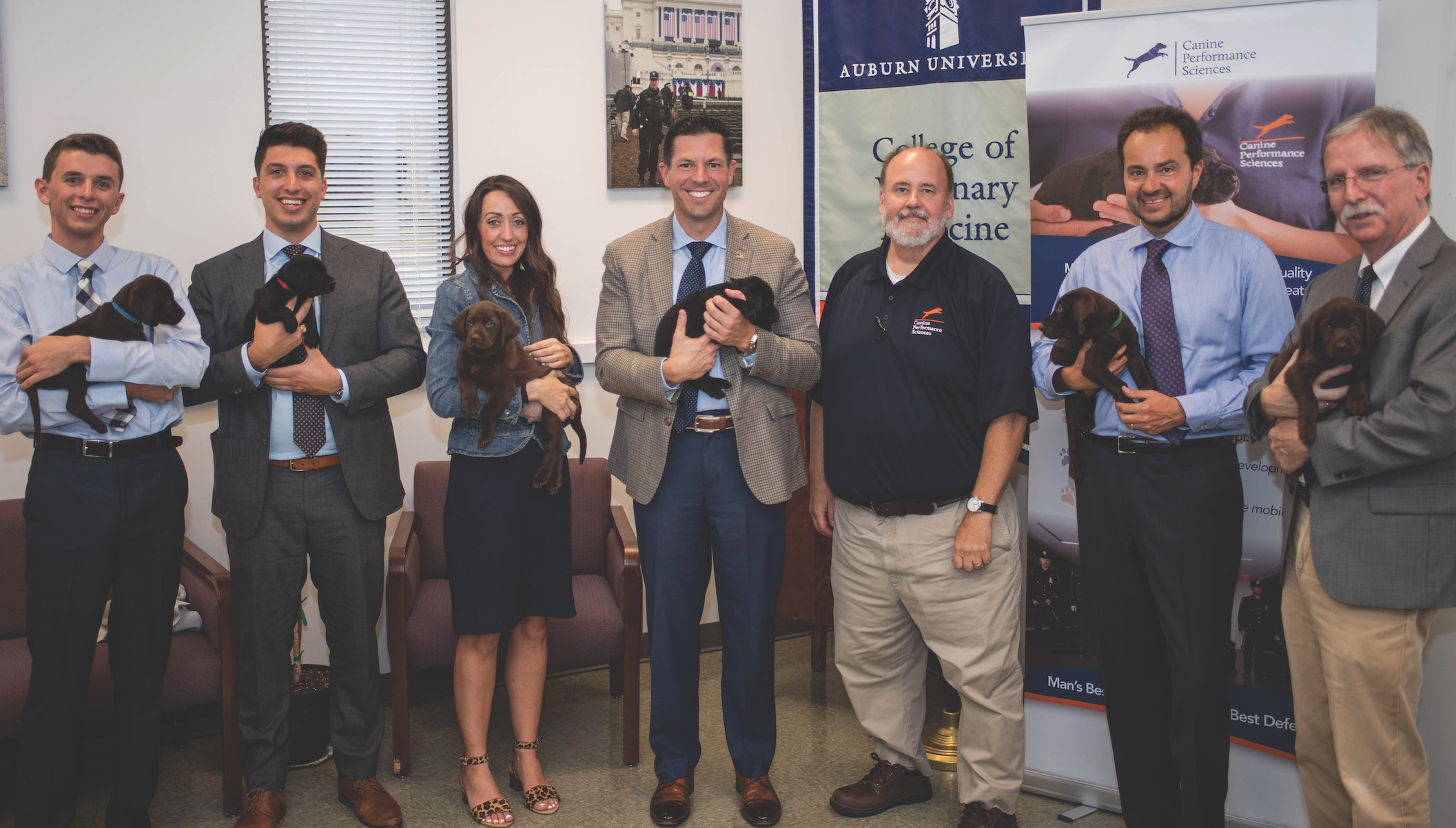 Senior fellows participate actively in the development and execution of the work plans of the McCrary Institute, engaging through multimedia, pursuing research and publishing regularly on timely topics of pressing interest and concern.
"The insights and experience that this distinguished group of senior fellows brings to the table will help take the work of the institute to a new level," said Charles D. McCrary, namesake of the institute and Auburn University trustee. "These fellows will deepen the institute's capacity to help tackle some of the country's most pressing challenges."
The institute, based in Auburn but with additional centers in Washington, D.C., and Huntsville, seeks practical solutions to pressing challenges in the areas of cyber and critical infrastructure security. Through its three hubs, the institute offers end-to-end capability – policy, technology, research and education – on all things cyber. It is named in honor of McCrary, '73 mechanical engineering, who served as president and chief executive officer of Alabama Power Company, following a distinguished 40-year career with the company.
"The McCrary Institute has a critically important mission to provide research that improves our ability to protect our nation though cyber security and critical infrastructure protection," said Christopher B. Roberts, dean of engineering. "Our college is proud to host the McCrary Institute, and we are so grateful to Charles and the McCrary family for their unwavering support to ensure that this work can continue into Auburn's future."