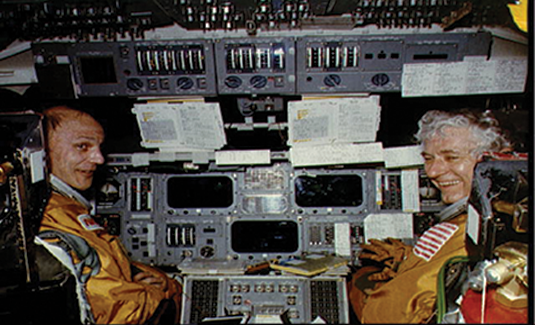 This article includes a number of stories, notes and accounts retold by alumni and friends of the college, as well as highlights from a history of Auburn aerospace engineering compiled by department head John Cochran.
NASA's first space shuttle mission lifted off from Kennedy Space Center on April 12, 1981, when the orbiter Columbia, carrying two crew members, rocketed out of the atmosphere. It was 20 years after President John F. Kennedy's 1961 announcement that the United States would accomplish manned space flight by the end of the decade, a feat many thought was impossible.
At the time, President Kennedy's vision included "landing a man on the moon and returning him safely to Earth." But Americans would soon realize that they had great curiosity about the new frontier. The space agency expanded, taking on new missions and developing vehicles such as the space shuttle, the popular designation for the Space Transportation System, or STS, which had been considered only as fantasy not long before.
With the expansion of the space program, Auburn's aerospace engineering program also grew in students and in research. John Cochran '66, head of Auburn's Department of Aerospace Engineering, says the program's curriculum began to include more physics and math, as well as courses in astronautics, boundary layer theory, gas dynamics and space propulsions systems.
Faculty members such as Richard Sforzini, Kenneth Harwell, Branimir Djordjevic, Fred Martin and James Nichols arrived on campus for the opportunity. Cochran, John Burkhalter '63 and Butch Foster '67, the program's second doctoral graduate, are still with the department. Even in the early days of NASA, the impact of Auburn engineers, their designs and workmanship could be felt throughout the budding space organization.
When the space shuttle program was in its infancy in the late 1960s, astronauts such as T.K. Mattingly, a '58 graduate in aerospace engineering, were cutting their teeth on Mercury, Gemini and Apollo. Later, Mattingly would command STS missions in a modern space craft built for modern space travel along with astronauts and Auburn physics graduates Kathy Thornton and Hank Hartsfield.
But behind the scenes, Auburn aerospace engineering alums, such as Gerald Smith '61, Walt Woltosz '69, Gary Abercrombie '70 and Robert Champion '86, mulled over its design, maneuverability and safety, perfecting vehicle components and tweaking systems.
[miniflickr photoset_id=72157627852293017&sortby=date-posted-asc&per_page=20]