America has an infrastructure problem.
Auburn now has a $22 million solution. It's at the corner of West Samford Avenue and Shug Jordan Parkway, it's nearly 42,000 square feet, and it's spectacular.
"The U.S. is dealing with significant issues related to aging infrastructure, such as roads, bridges, railways, airports, waterways, and water and wastewater facilities," said Steve Taylor, associate dean for research. "It's a safety issue, but also an economic development issue. Without safe and functional transportation networks, our economy fails. Without safe and functional water and wastewater systems, our economy fails. Auburn researchers in the Department of Civil and Environmental Engineering will now be able to better contribute to designing newer, cost effective infrastructure solutions for years to come thanks to the new Advanced Structural Engineering Laboratory (ASEL)."
"Advanced" is almost an understatement. The ASEL, one of the largest structural engineering labs in the world, is a technological marvel.
The facility, which opened in early December, includes a high bay laboratory with a strong wall and strong floor specially engineered to handle extreme structural testing loads; a geotechnical chamber within the strong floor; a concrete materials research and testing laboratory; wind testing capabilities that can replicate hurricane-level loads; and faculty and graduate student spaces.
"The new technology and functionality obviously excited our faculty when we first discussed building the ASEL, but another huge plus was that there would be so many things close together on one research campus," Taylor said. "For years, we'd had an excellent structural testing lab that's part of the Harbert Engineering Center, but we had outgrown it. We'd come to the point that we needed to replace it, due in part to its surroundings."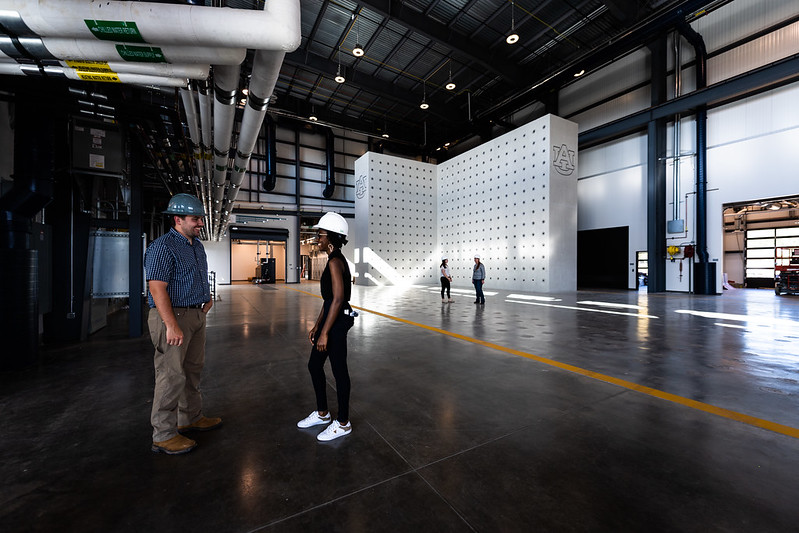 Indeed, one of the most attractive aspects of the lab, is the ease of access. Due to its location on the engineering campus, the previous structural testing lab, which was built in 1988, could only accommodate elements 40 feet in length or under.
"And even that took a lot of work," said Robbie Barnes, associate professor of civil and environmental engineering. "Let's just say that a few signs may or may not have been bent. But with the new facility, we can bring in elements like full-scale bridge girders that are 140 feet long. A lot of care was put into the design to ensure that a long vehicle, be it a truck or trailer, can basically just back right up to the building."
Plenty of care was also put into providing peace of mind once that vehicle's cargo is inside; the ASEL's strong floor is twice as large, and features anchor points that hold 10 times the load as the floor in the previous lab, which will be repurposed for other academic and research use.
But the ASEL's most unique feature may be the 4,700-cubic-foot geotechnical test chamber within the strong floor footprint — one of the few test chambers in the nation included in a university laboratory — that will allow the department's geotechnical researchers to conduct testing on foundations, anchorages and towers previously only possible in the field.
"After a devastating season of hurricanes in the Southeast, we are reminded of the fragile nature of some aspects of our critical infrastructure," said Justin Marshall, associate professor of civil and environmental engineering and the director of the ASEL. "The unique capabilities of the ASEL will allow for full-scale, controlled testing including the soil, the foundation and the structural system to develop and evaluate innovative, high-performing, resilient and cost-effective infrastructure that will endure and perform well into the future."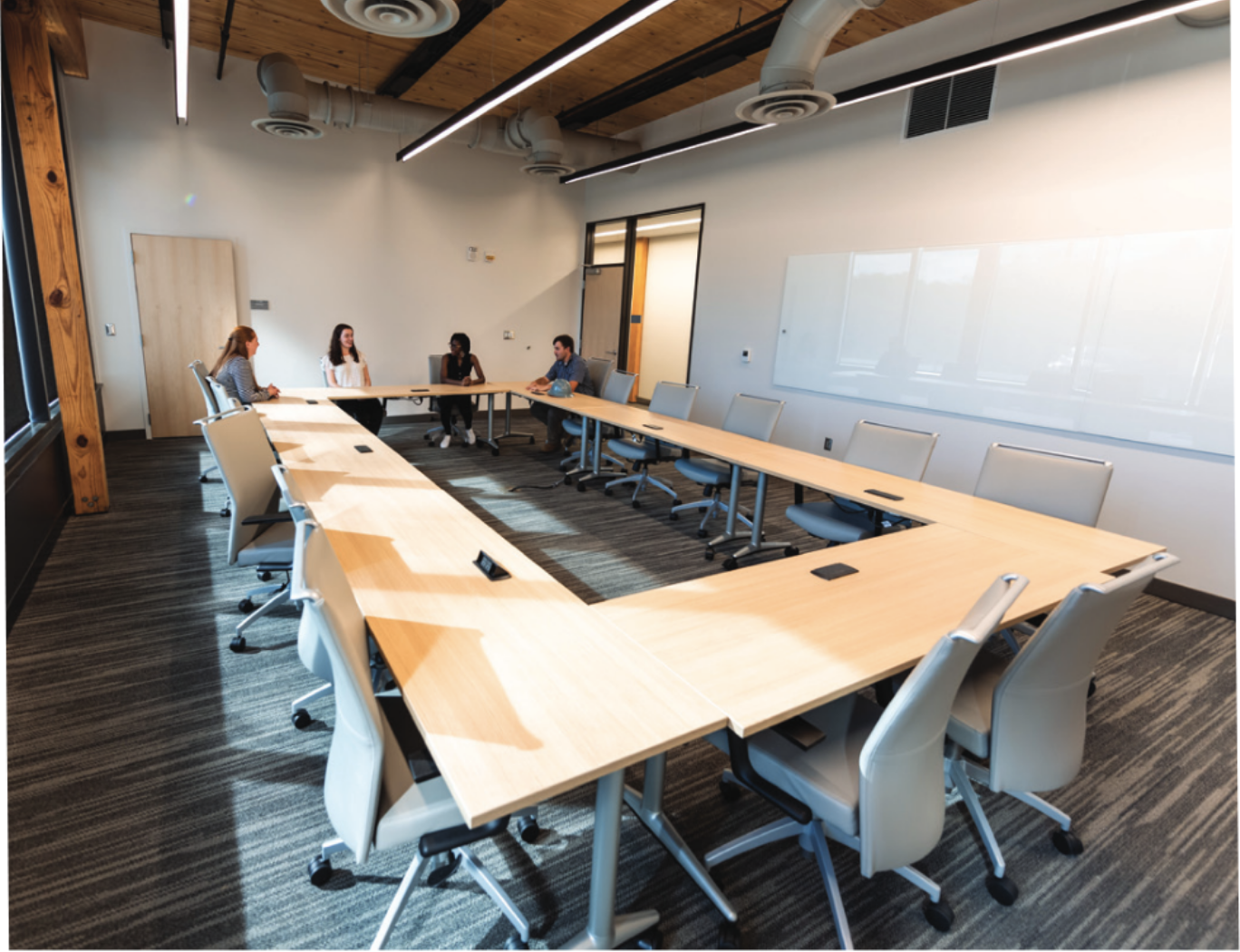 Marshall calls the ASEL "game-changing." Andy Nowak, chair of the Department of Civil and Environmental Engineering, goes a step further.
"It really is a revolution in structural engineering," Nowak said. "It creates completely new opportunities. It changes the way we think about solving structural and material engineering problems. What was impossible is now possible."
And Nowak is excited about who will be doing it.
"In addition to helping us secure research grants and projects, the ASEL will help us to recruit the best faculty and the best students," he said.
Taylor agrees.
"We now offer one of the best laboratories in the country — if not the best," Taylor said. "If I'm a student who wants to be a structural engineer, this is the best place to go to school in the nation."
But the ASEL isn't just a recruiting tool for the university, it's a huge one for the state.
"Auburn University continues to serve a pivotal role in the development of our state's second-to-none workforce," said Gov. Kay Ivey, a 1967 Auburn University graduate. "I am proud to celebrate the Samuel Ginn College of Engineering's new Advanced Structural Engineering Laboratory and the fact that this is not only a giant step for Auburn but a giant step for Alabama. When you have what is arguably the best lab of its kind, you are signaling to the world that Alabama is the place to do business.
"I remain committed to working in partnership with Auburn University as we move our state forward into the next century," she said.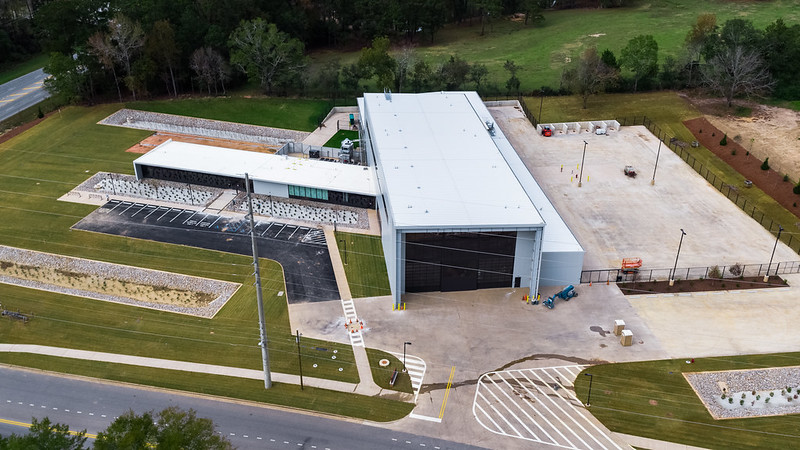 The unprecedented investment in Auburn's structural and geotechnical engineering expertise not only coincides, but pairs perfectly, with the college's continued efforts to elevate its transportation engineering initiatives; many of the full-scale structures and components that the ASEL can test, such as guardrails, long-span bridge girders and other bridge foundation systems, are integral to transportation infrastructure.
"As it is in many other areas of research, I'm proud to say that Auburn is now one of the top destinations in the world for structural engineering," said Christopher B. Roberts, dean of engineering.
"Whether it's developing new innovations or finding ways to significantly lengthen the life of our existing infrastructure, while decreasing costs to taxpayers, the ASEL allows our faculty in the Samuel Ginn College of Engineering to take the lead in solving some of our nation's most pressing problems. That's what industry experts have come to expect from Auburn Engineering," he added.