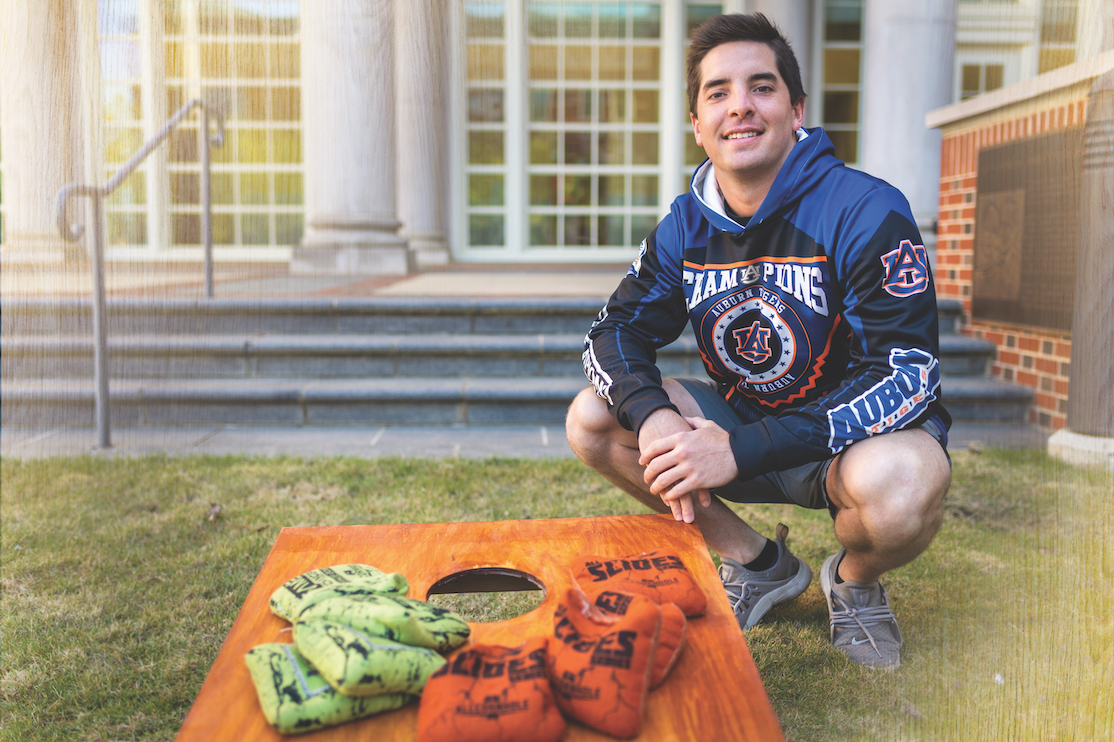 He's watched it, heck… 10 times now? Maybe 100? Who knows? If he sees it, he's watching it. If it's on, he's watching it. He'll keep watching it as long as ESPN keeps showing it… until it sinks in.
Did they seriously go to Myrtle Beach and win? Did he seriously take down Draven Sneed in overtime? Are people actually recognizing him in public?
No joke, the other night at El Vaquero, his favorite Mexican place back home in Phenix City, three people walk over and go, "Aren't you one of the guys who won the championship?"
Same thing happened at the gym. Four guys come up to him and ask if he's Travis Moore.
"Auburn completely runs in my blood, my whole family went here," Moore says. "So, representing Auburn was awesome. But never in a million years would I have thought it would have been through cornhole."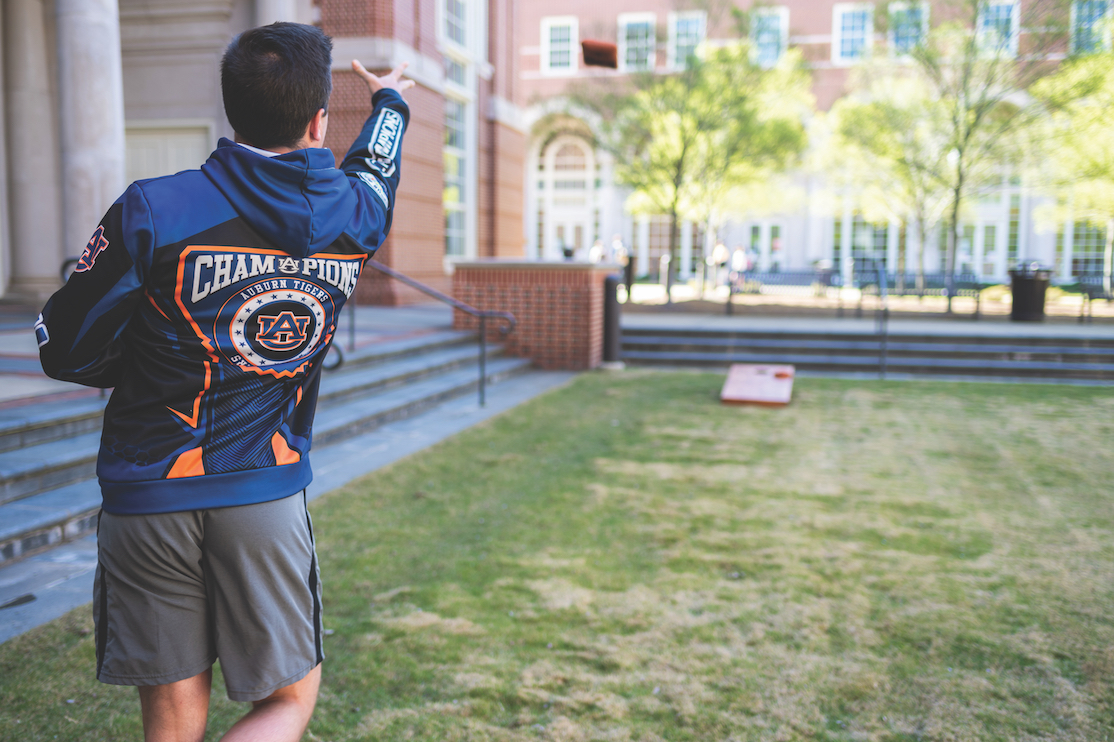 'WE CAN DO THIS'
When he was a senior in high school, he beat a pro in a charity tournament. The guy came up to him afterward, looked him in the eye and said, "Man, you ever thought of really doing this competitively?"
That's when Moore, '21 civil engineering, knew this whole cornhole thing might be with him for a while. That's when he knew he might be pretty good.
So, he got serious about it. Found a partner. Started entering local tournaments.
Then he entered college. Things changed. Priorities shifted. Classes such as thermodynamics and hydrologic analysis just kind of have a way of dominating your calendar.
"We took some trips through the College of Engineering while I was in high school," Moore said. "I was like 'Man, this would be awesome.' I knew how prestigious an Auburn Engineering degree is and I thought, 'Let's do this thing.' But it's definitely been a grind."
Which is why, for his first three years as an Auburn engineer, if he got the boards out, it was for kicks, not cash.
But last summer, Moore started throwing again, doing tournaments again, getting back into fighting shape, and then some. Thanks to the free time from the pandemic, the competitive itch was back.
And when he started scrolling and saw the crazy stuff his old Phenix City buddy, Blaine, was doing while flattening the curve, it turned into full-blown hives.
If he wanted a partner that could help him take things to the next level, he was looking at him. Which was wild. He didn't think he'd ever really played cornhole with Blaine. He couldn't even remember ever talking to him about it. But he sure as heck was about to start. He picked up the phone.
"I told him, 'Man, we can do this.'"
DYNAMIC DUO
Auburn Wildlife Enterprise Management senior Blaine Rosier was bored. He saw a board. One Gen Z thing led to another.
He'd never played cornhole much. But starting a TikTok account to see if he could get more followers than his sister? Posting videos of himself tossing 1-pound bean bags into a hole? Hey, why not?
His first video went up on April 2, 2020, just him doing some simple front yard trick shots back home. Nothing special, not in his mind. He hashtagged it #QuarantineLife. He posted some more.
He started getting fancy: airmails — dropping the bag straight into the hole — over the Cam Newton statue, four baggers into the bed of a moving pickup, having his brother lie down on the board, head just beneath the hole, only to get up four perfect throws later without a scratch.
It didn't take long.
Going by followers, Cornhole Blaine, as he quickly became known online, has the second most popular cornhole account on TikTok. For context, the American Cornhole League (ACL) has 14,000 TikTok followers.
Back when Moore first called to pitch the idea of partnering, joining a league and running the tables, Rosier only had a few thousand followers.
Currently? It's 300,000.
It's barely been a year.
He and Moore just smile and shrug.
"Man, to be honest, I don't know how TikTok works," Rosier said. "One video was just us throwing on the green space. I posted it that night and woke up and it had, like, 2 million views."
Moore laughs.
"Heck, the other day we looked and it was over 18 million," he said. "The caption is 'College Cornhole Is Where It's At.'"
Is it ever.
COVID MEETS CORNHOLE
2020 was the year for competitive cornhole. Partly because nothing else was on, sure, said Trey Ryder, 27, media director and color analyst for the American Cornhole League. But also, he said, because it's just kind of addicting.
"People are like, 'Why the hell is cornhole on ESPN?'" Ryder said. "Then, 20 minutes later, they realize they're sucked in."
The pregame pastime that's dominated tailgates for the past two decades had been growing beyond fall Saturday afternoons for years, inspiring multiple so-called governing bodies that invoke self-proclaimed sanctioning powers with varying degrees of seriousness.
Dick's Sporting Goods offers $150 cornhole kits stamped with the American Cornhole Association's seal of approval.
The American Cornhole Organization cites its 2005 birth as all the bona fides real players weighing allegiance need consider.
But in 2015, a tailgate culture impresario named Stacey Moore, commissioner of the North Carolina-based ACL, turned competitive cornhole — first professional, then college — into a well-oiled, broadcast-ready machine complete with proprietary stat-tracking software, tournament-organizing apps, broadcast rights, pro contracts, and bratwurst and baked bean sponsors. Things were getting big.
Then came COVID. Then, again, came cornhole.
Instead of cancelling its season, the ACL announced a series of regional qualifiers in a bid to turn 2020's lemons into lemonade that could — pandemic protocols in place — quench ESPN's urgent thirst for live competition.
It worked.
TheRinger.com recently wrote an article on the game's ascendance, crediting it not only to a COVID-caused primetime sports vacuum, but to Ryder's uncanny telestrator wielding talent for turning cornhole into high drama. And, dang, Ryder says, the drama doesn't get much higher than what those boys from Auburn did in Myrtle Beach over New Year's live on ESPN. Not on some digital streaming thing. Not on ESPN3 or whatever — the flagship.
ENGINEERING MEETS CORNHOLE
Moore kind of laughs at the question, thinks about it for a second. Well, there's probably plenty that the friction-focused researchers over in the Department of Mechanical Engineering's Tribology lab would find interesting about the game — what causes a bag to slide too much on the board, what makes it slide just right — stuff like that. And maybe the Auburn University Biomechanical Engineering (AUBE) Lab around the corner could use their motion capture technology to help him analyze and improve his technique.
But, no sir, for him personally, there are no engineering principles or experiences he's applied to perfecting his throw, the one that was already perfect enough to win the ACL National College Cornhole Doubles Championship.
Wait, he takes that back.
"Actually, if I were to connect anything with engineering and cornhole it would be being down in that championship, 12-1," he said. "We were getting dominated. And when you're in a physics II class or thermodynamics, and on that first test you get a 30 or 20 something? You have to come back."
Wait, did you really get a 20 on a test?
"Yessir."
Wait, were you and Cornhole Blaine really down 12-1?
"Yessir."
Moore starts grinning.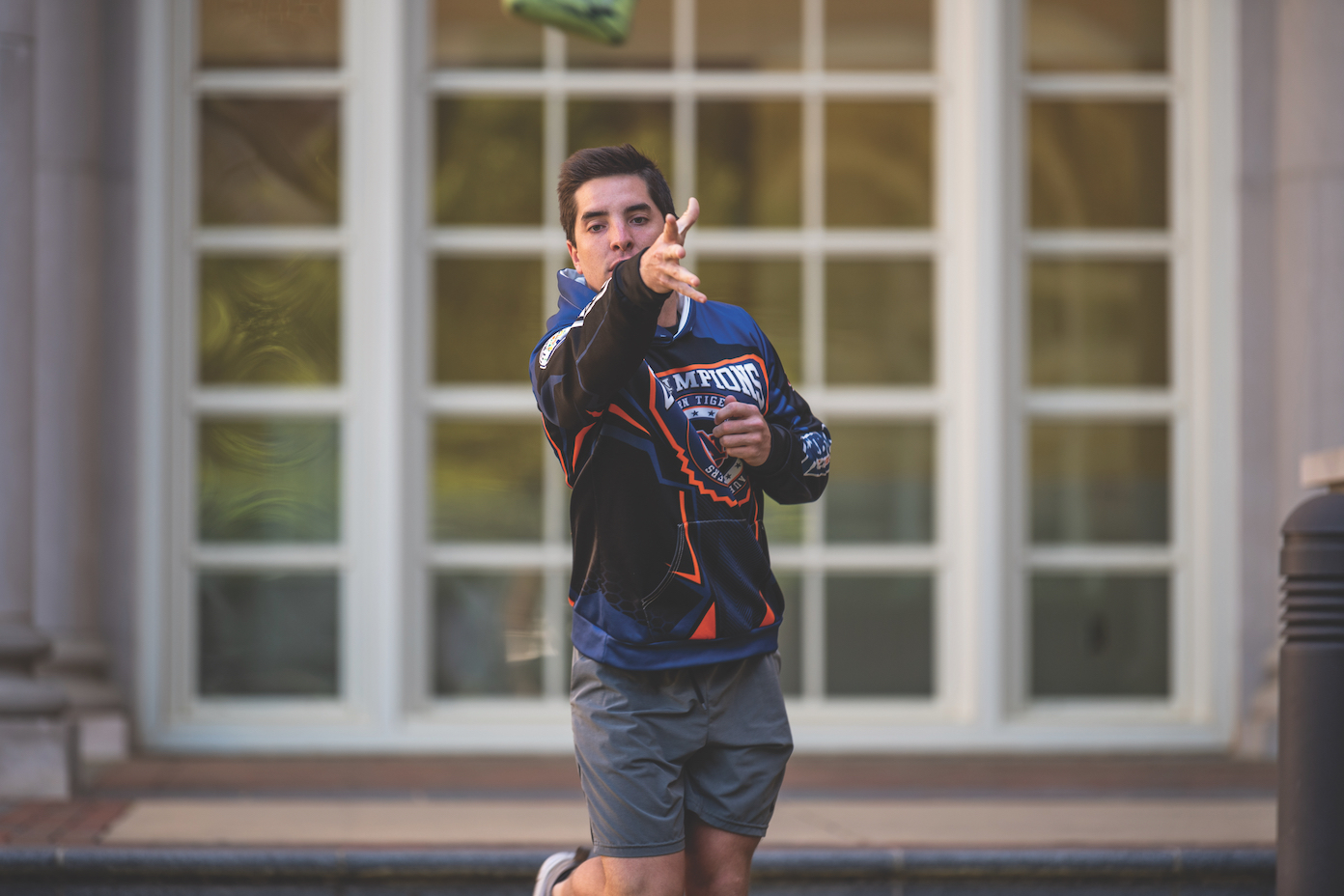 'BOARD IT'
It was Jan. 2 — Travis Moore and Blaine Rosier vs. Alex Lippard and Draven Sneed, Auburn vs. North Carolina State, the only teams left.
The day before, Sneed had won the singles national championship; Moore had tied for 5th. The Wolfpack seemed primed for the sweep — singles and doubles. And maybe they would have pulled it off… had Draven Sneed kept his mouth shut. Moore almost still can't believe it.
"Heck," he said, "he yells down to his partner, 'Board it — let me get it.'"
Now, without getting into cornhole strategy and the fine print of the point system, just know that this was trash talk. The crowd "ooohed." Someone shouted, "I like it."
"Oh, yeah, everyone in that room knew what (Sneed) meant by that," Ryder says. "Of course, most people probably thought it was the wise, safe decision because Draven had been having his way and had won the singles title."
Rosier, throwing against Lippard in the final round, had brought Auburn back and put them in a position to actually win the thing in overtime – if it got there. Lippard had one bag left. He could have gone for gold with an airmail. Risky, but doable.
But the safe bet was just to just get it on the board. Lippard could just send it back to Sneed and let the superstar throw for another crown. Which is what he did. But not before the "Board It" heard 'round the world.
Moore shakes his head.
"When he said that, I was just like I can't let this guy win again," he said. "No way.'"
Moore was first up in overtime. He missed to the right. Sneed missed to the left. Moore slid it in. Sneed slid it in. Moore missed to the right. Sneed, again, missed to the left.
Moore's heart pounded. His ears rang. His bag went in. He pumped his fist and pinched himself. Unless Sneed pulled off some miracle throw to drag in one of his errant bags, it would, at worst, head back to Cornhole Blaine for double overtime. At best? War Damn Eagle.
The singles champ started to sweat. He took his hat off. Now he was the one playing it safe. He decided on the easy slide to send it back to Lippard for double overtime.
The bag dipped halfway into the hole… and just hung there.
"It misses off to the back side," ESPN's Jeff McCarragher shouted. "Auburn with the comeback!"
The Auburn crowd in the stands went wild. Moore nearly bear-hugged Cornhole Blaine to the floor.
Trey Ryder, easily the world's premier cornhole connoisseur, was nearly speechless.
"What… a… finish!"
IN THE ZONE
It's been a few months now. The champs haven't stopped. They're still entering tournaments every weekend. Sometimes two. Maybe three.
During the week, when Moore isn't working up plans for a new raptor center to eventually present to local engineers as part of his senior design project, he's working on his airmails. He's been at it for a couple of hours already.
Rosier brought his boards over around 2 p.m. When it's warm, they're usually out on the green space. On cold days like today, they take over the fitness center half court at Moore's place on South College, crank up the country and go at it until Moore has to go study for Erosion and Sediment Control, or until the lady at the front desk kicks them out… which, this afternoon, might be sooner rather than later. Rosier's roommate came over to watch the show, but opened the wrong door. No one seems knows how to turn off the security alarm siren. It's deafening.
Blaine Rosier — Cornhole Blaine — and Travis Moore — the Travis Moore — just keep throwing. It's like they haven't even noticed. They're in the zone.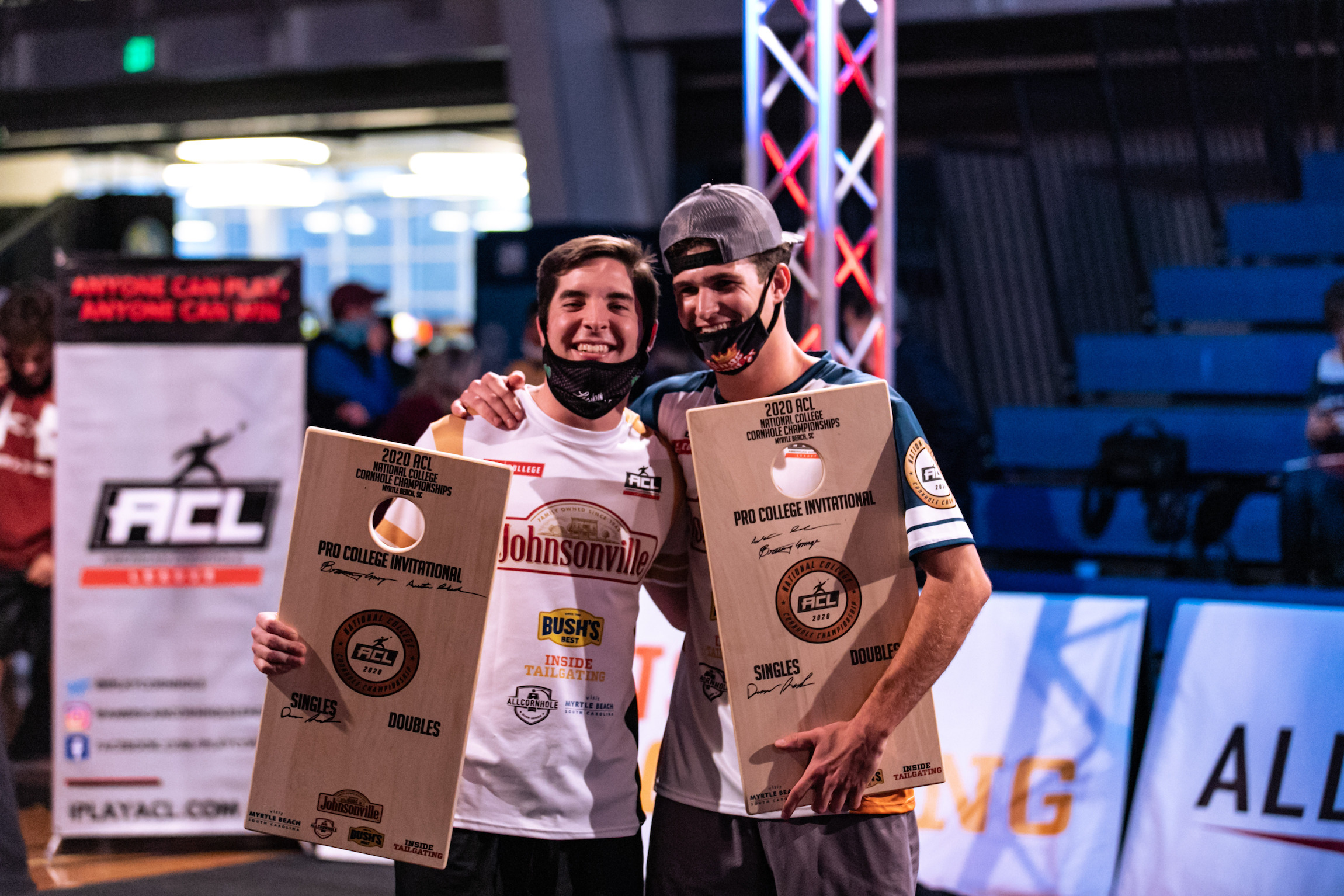 They're both about to graduate. Right now, Rosier plans on going pro in the ACL. Moore is leaning that way, too. There's a job waiting on him at an engineering firm in Columbus, Georgia, which he's definitely excited about. But engineering jobs typically don't get you recognized at El Vaquero. They typically don't get your face on TV.
Testing the waters of professional cornhole on the weekends? That just might.
"Heck, I turned on ESPN this morning and there it was," he said. "They were playing it again."
"Did you watch it?"
"Heck, yeah."