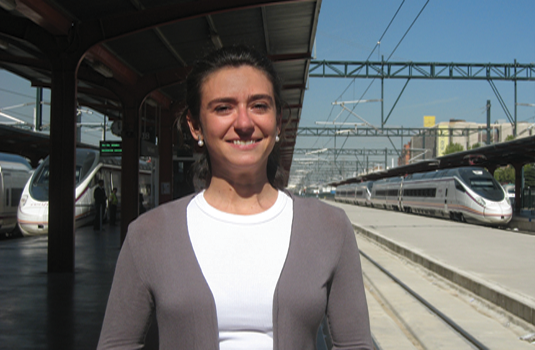 Susana Santamaria, a '98 and '03 civil engineering graduate, optimizes public transportation, working with GPS and travel demand forecasting software to implement intelligent transport systems that help us get from A to Z.
Susana Santamaria
'98, '03 civil engineering
Senior transport consultant and associate
Diadro Consulting
Madrid, Spain
Typical day . . . working with geographic information systems and travel demand forecasting software that models public and private transportation
Current project . . . fieldwork on a road concession project in Brazil, driving roads to get GPS data and check network elements to simulate traffic scenarios from changes in infrastructure, toll tariffs and socioeconomic forecasts
Engineering challenge . . . implementing intelligent transport systems to make individual vehicle travel, mass transit, bicycling and walking as easy and efficient as possible
Early on . . . I came to the U.S. during my senior year in high school and lived with a host family in Newnan, Ga. The father, Stephen Lee, is an Auburn mechanical graduate — I always liked math and science, and visiting Auburn made me realize that engineering was for me, and that I had to go to school there
Geek moment . . . realizing that although people say that things are not black and white, to me, everything always adds up: 2 + 2 = 4, no matter where you are!
My Auburn Engineering . . . prepared me for real work experience, not only the scientific side that I use every day at work, but also a sense of responsibility and ethics
Turning point . . . coming back to Spain after 10 years in the U.S. and adapting to a different work environment; my background is in hydrology and hydraulics — I got a job with a transport company, and a few years later, I started my own transportation consultancy firm with four partners
Sense of pride . . . the changes that my work brings to people's travel behavior; optimizing public transportation such as metro, light rail transit and bus lines to improve quality of life