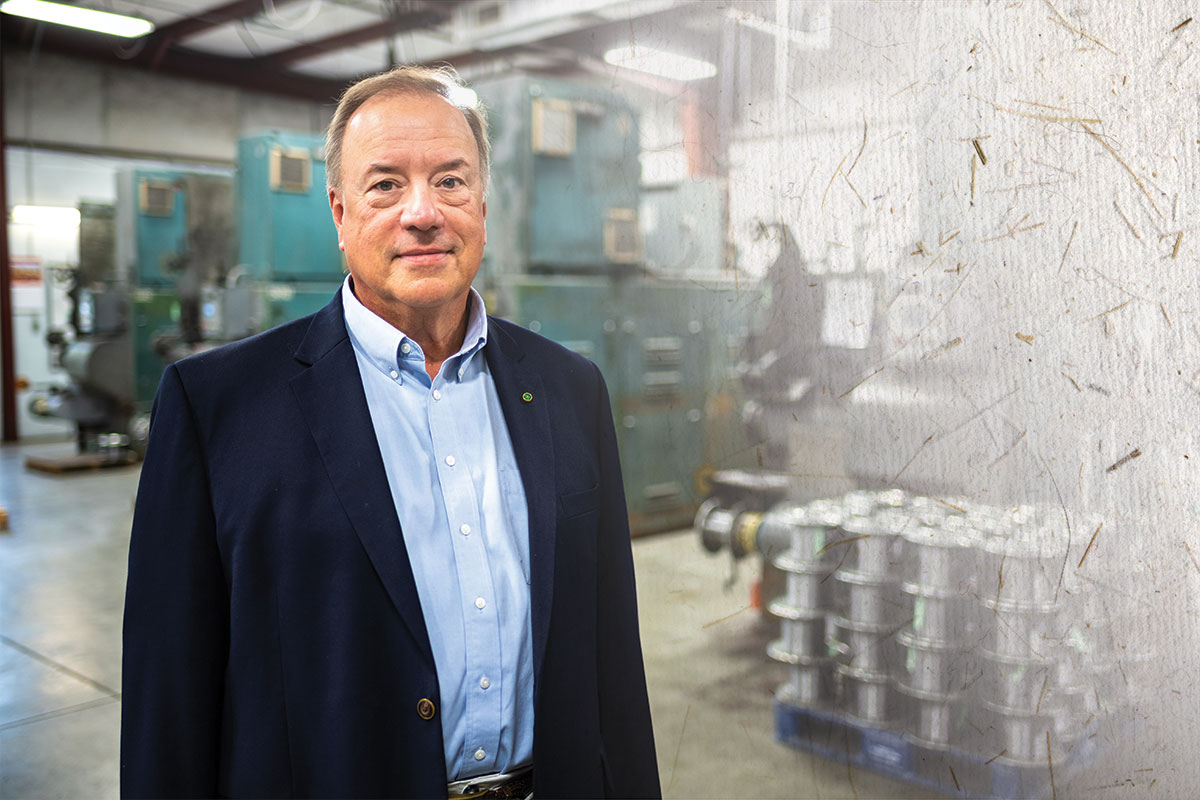 The life of a faculty member mirrors that of an entrepreneur. Always in pursuit of their next idea, faculty spend their time outside of the classroom applying for funding and then putting that funding to work in the lab or in the field. Crossing from one world into the next wasn't that much of a stretch for Bruce Tatarchuk.
"My goal was never to be an entrepreneur. Faculty members have to be entrepreneurs because you're basically pursuing contracts and grants and new government funding channels, but my goal was always to take fundamental research and connect it to societal applications and societal benefits," he said. "I've got to say, even before it was trendy, I wanted to work on not being just a problem-solver; I wanted to be a solution provider."
Tatarchuk spends four days of his workweek as the Charles E. Gavin III Professor of chemical engineering and director of the Microfibrous Materials Manufacturing Center at Auburn University. For the remainder, he is the CEO of IntraMicron, a leading engineering technology manufacturing and development company located in Auburn. Founded in 2001, IntraMicron is one of Auburn University's longest-established licensed startups.
For a 40-year veteran of the Department of Chemical Engineering at Auburn, one might assume he always had a passion for the field. But really, when it came to declaring a major, Tatarchuk happened upon the field by chance.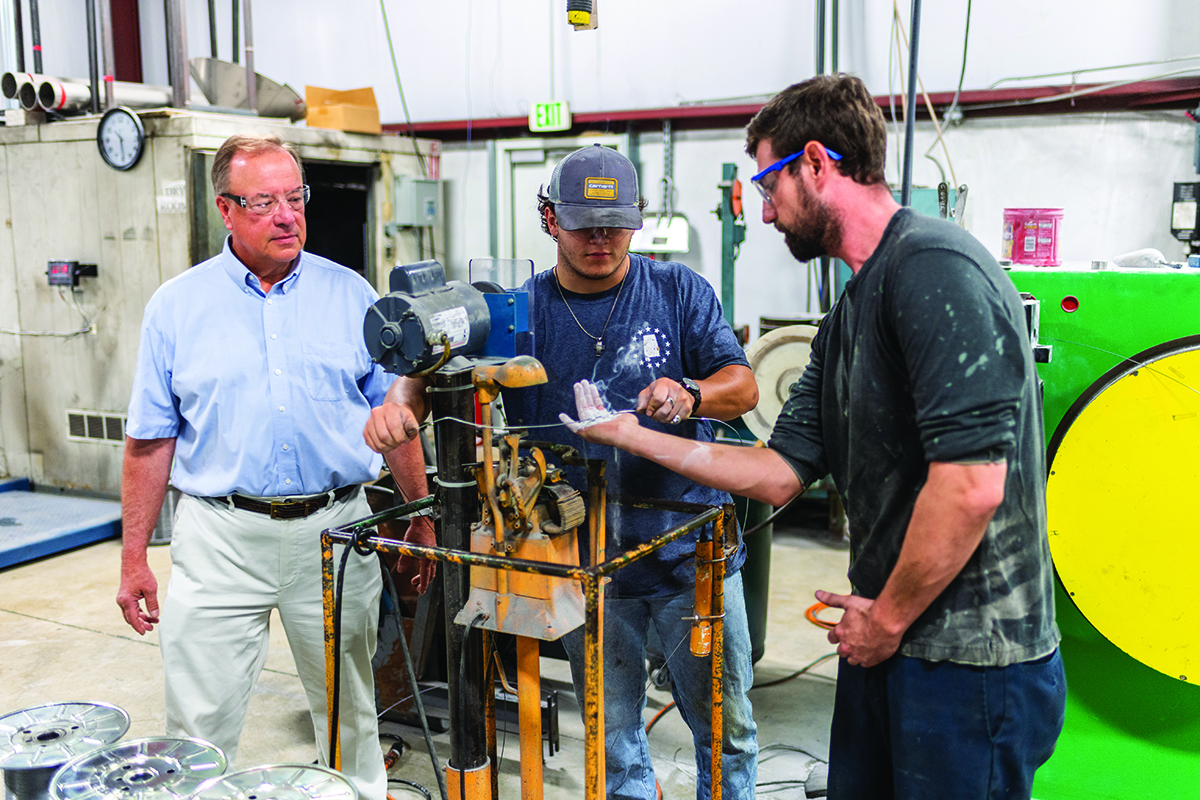 "I had no idea what chemical engineers did. I liked chemistry. I liked math. I liked physics and science in high school and I didn't want to stay at home in the Chicagoland area and take over the family business, so I decided to go to a university," he said. "I saw chemistry and I saw engineering and I thought, 'two majors in one.' So, it was totally random."
After earning a bachelor's degree in chemical engineering from the University of Illinois, Urbana-Champaign, Tatarchuk completed a doctorate in the field from the University of Wisconsin and found his way to the Plains as an assistant professor in 1981.
His excitement for fundamental research first blossomed during his undergraduate studies, expanded throughout graduate school and continued to grow as he made a name for himself at Auburn. With nearly 80 graduate students mentored over the past four decades, his dedication to research hasn't wavered.
"I was very much into research and graduate student recruiting and started the graduate recruiting program inside the chemical engineering department," he explained. "We've now propagated that same program inside the college to bring the best and the brightest to graduate school here. I've been research-focused and centric along with instruction and educating graduate students."
In the lab, Tatarchuk and his students were working on catalysts, sorbents and filtration materials, among other technologies, that were gaining the attention of industry players interested in specialized contracts. Over time, he, his students and his coworkers have generated nearly 100 U.S. and foreign patents for their research findings.
"I wasn't chasing entrepreneurship, but we have licensed things to a host of household names from Fortune 5 companies on down. And, at the end of the day, while there was a little bit of royalty coming back to the university, there wasn't a lot of impact on the local area," he said. "We've got things that are in electric cars, gas masks, batteries, capacitors, satellites, aircraft — lots of users — and Auburn really wasn't the benefactor of that because of the licensing model."
Tatarchuk and his team of researchers realized that if they flipped the model and began practicing their technology locally, they would be able to make a direct impact on the Auburn community. After being approached by a group of prominent Auburn alumni about starting a small business, the group discussed their idea with university administration.
Before Auburn would agree to let them proceed with their startup, they first had to address the potential for a conflict of interest.
Tatarchuk worked with university officials to draft the university's first conflict-of-interest mitigation plan prior to company formation for faculty participating in startups.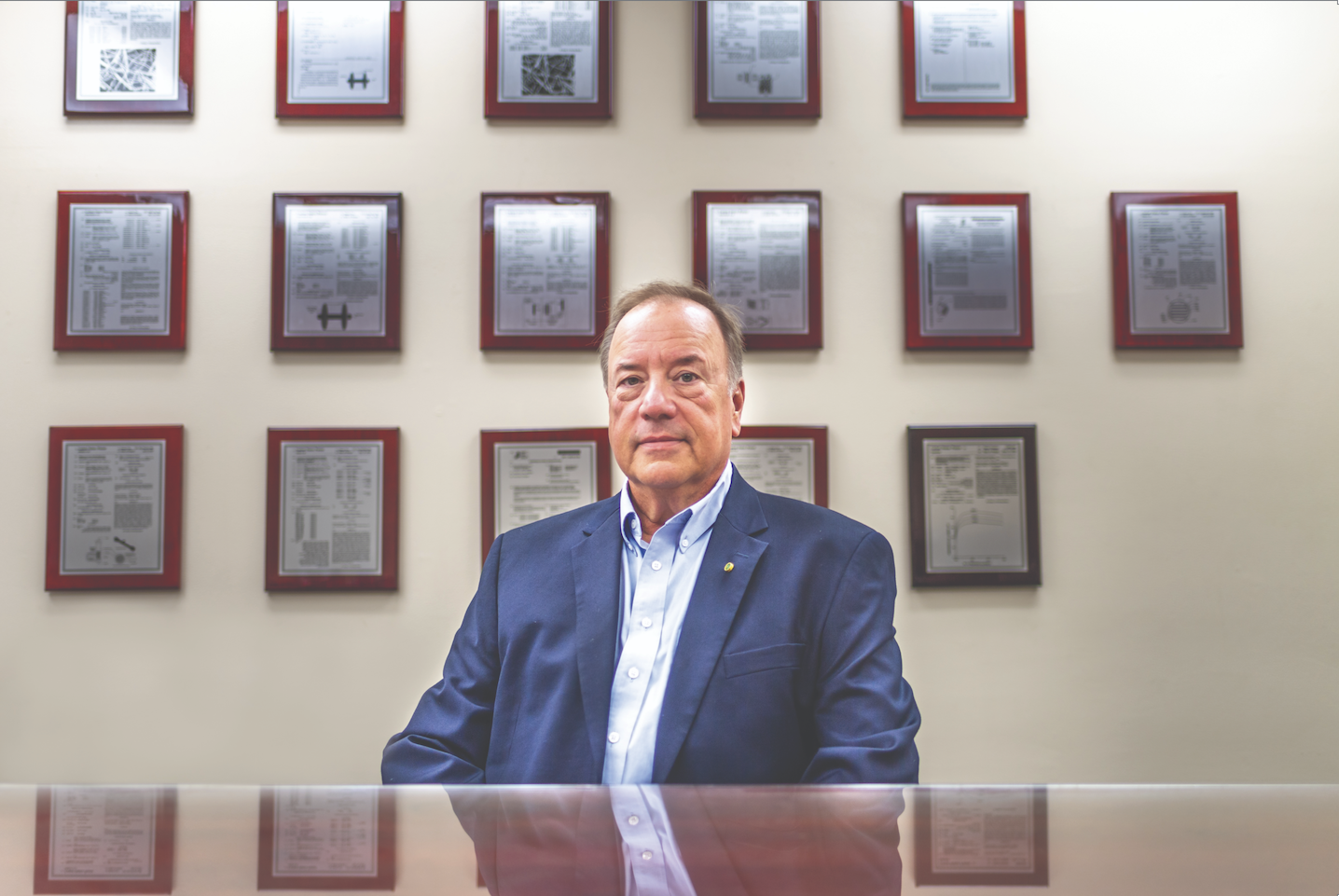 "We have a sacred trust because we're here at Auburn and we're spending taxpayers money and others. We've got to make sure this is done to the highest standards, something we can truly be proud of," he said of the need for a mitigation plan. "So, it's really important that we have the conflict-of-interest mitigation statement out there because the people of Alabama deserve it and they want to see it."
With the potential for conflict of interest addressed, Tatarchuk and his alumni investors — his so-called "Auburn Angels" — formed IntraMicron with a license from the university in 2001 and became a funded entity in 2002. The company's name is derived from the products it is capable of producing.
"We process micron diameter fibers produced in our plant into highly porous microfibrous matrices on specially modified paper machines. Within this matrix, we can also entrap solid catalysts, electrocatalysts, sorbents or filtration media," Tatarchuk said. "The fundamental essence of IntraMicron technology is the ability to manipulate high porosity structured reactive materials in the 1-to-100-micron size range. Intramicron simply means 'within the micron dimension' – this is where we make our magic happen."
Tatarchuk initially assumed the role of chief technology officer so he could "use big technical words and let the business people do their thing." But IntraMicron almost didn't make it off the ground.
"Our initial foray didn't go very well," he said. "We were significantly below water and had some big debts. There was a meeting of the board of IntraMicron and they were trying to figure out how to liquidate, how to sell, how to close the doors and pay off as many of our debts as possible."
The solution, according to Tatarchuk, was to pivot the business model. He recommended qualifying several of their products for commercial sale — "the lower hanging pieces of fruit" — and turning their attention to the Bayh-Dole Act, which would allow IntraMicron to conduct government-funded research and development.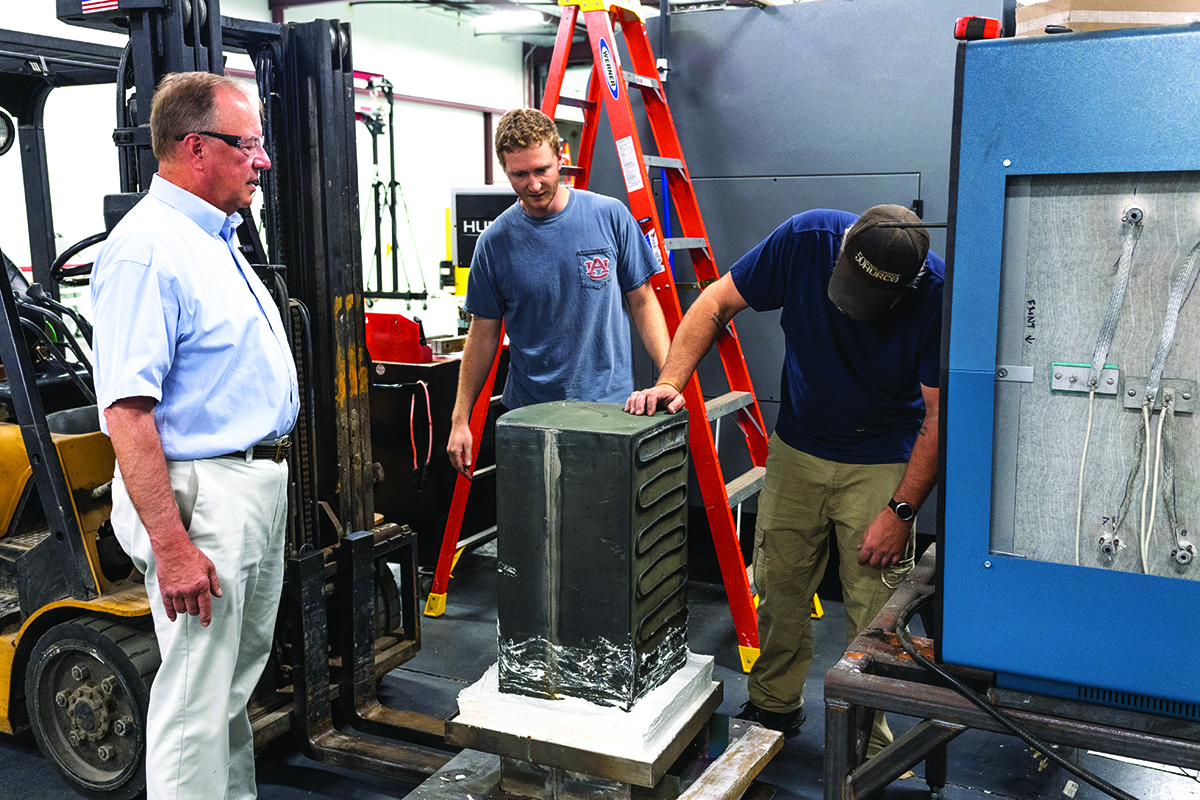 "The Bayh-Dole Act allows small businesses to keep all the intellectual property done under government contracts," he said. "If we could just sustain ourselves, then we could use small business innovative research contracts and other types of funding elements and focus on what we're good at. If we adopt that focus, then we can develop innovative new solutions to vexing problems, create value for the company and create technologies that enhance our patent portfolio and propel ourselves like all the other small businesses and nonprofits were doing with government funding vehicles."
With that suggestion, Tatarchuk found himself thrust into the role of CEO. Since the pivot, the company has seen modest growth over its 20-year history, occupying 50,000 square-feet of manufacturing space in the Auburn Industrial Park. Its product and patent portfolios have also continued to grow, and the company has made a name for itself among prominent manufacturing sectors.
"Every time you get onto a commercial aircraft in the United States or Western Europe, you don't know it because you won't see it, but you're using an IntraMicron product," Tatarchuk said. "We're also developing high-rate lithium-ion battery packs with thermal management for military applications as well as major transportation vehicles such as cruise ships."
Perhaps one of the smallest market sector and more esoteric IntraMicron products is the one aboard NASA's Mars Rover, the "Perseverance."
"On that rover is a microfibrous electrode structure manufactured in our plant that is part of a high temperature solid oxide electrolysis cell that can turn Martian CO2 into O2 for astronauts to breathe or as a fuel oxidizer for returning home," he said. "This same technology is also a candidate to be used for lunar inhabitations, including the ability to produce oxygen, as well as both fuel and oxidizer. I guess you could say that IntraMicron is on Mars."
The company's success has spurred the creation of another spin-off company, of which Tatarchuk is the managing partner. Formed in 2016, Sour Gas LLC desulfurizes natural gas and biogas using novel oxidative sulfur removal technology developed at IntraMicron. Between overseeing the two entities and maintaining his academic workload, Tatarchuk has learned that there's one management style that doesn't work for him.
"I can't micromanage. I had to give that up long ago. No matter how much I get intrigued by stuff, I just don't have time," he said. "The goal is to hire good people and get out of their way. And we have some really good ones!"
IntraMicron employs 15 full-time staff (not counting subcontractors), many of whom have completed technical degrees from Auburn, and takes on Auburn co-op students from the Department of Chemical Engineering, a number of whom have been subsequently hired as full-time engineers. Tatarchuk credits Auburn's high caliber students back to the Auburn Creed.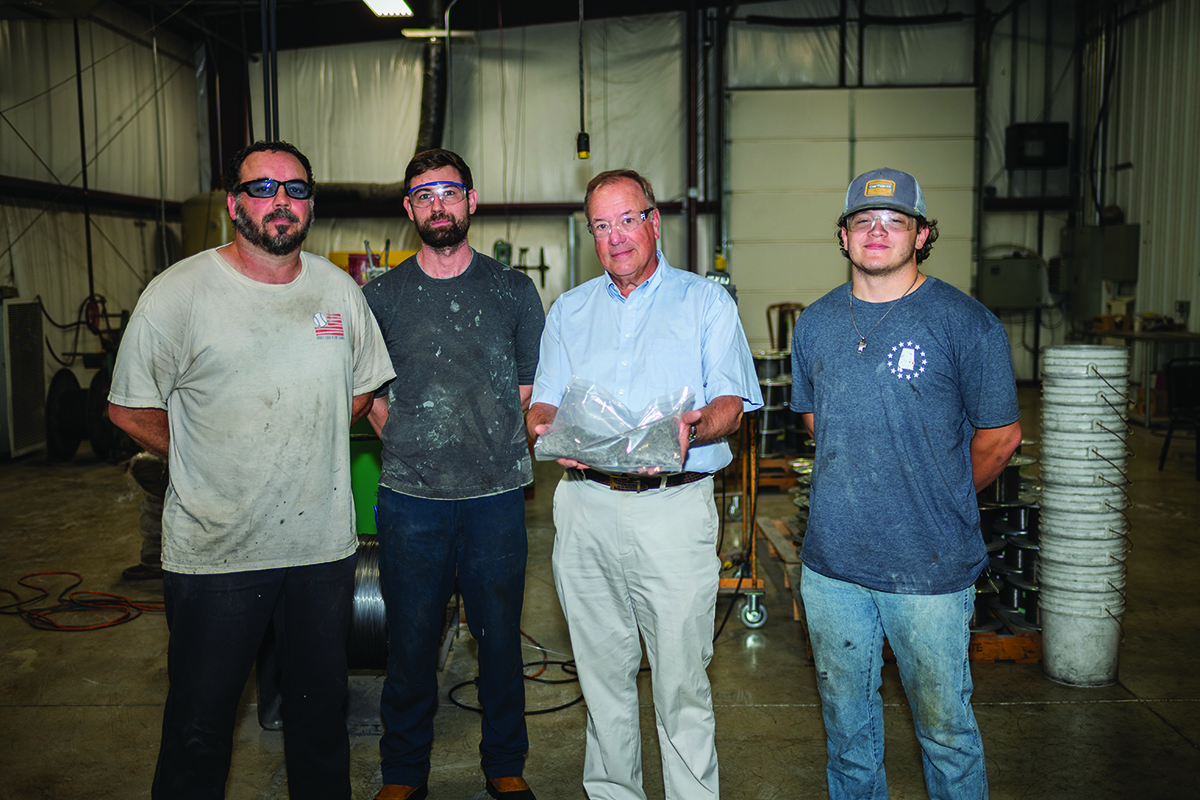 "When I first came to Auburn 40 years ago and heard all these people talking about the Auburn Creed, I read it and thought it sounded nice but it must have been invented by somebody at the Chamber of Commerce. It sounded too good to be true – that was my jaded first opinion not knowing too much about the Auburn experience," he said.
"And then I lived here for a while and I observed the students and I observed what made our alumni and our students so successful. It was family, faith and friends. It was putting a real emphasis on what matters and their dedication, their intensity, their philanthropic connections to the institution," Tatarchuk said. "I was a doubter, but the more I hear it, the more I see it, the more I believe it. I guess you could say I've been drinking the Auburn Kool-Aid."