"When students come and do well academically and go out and talk about their success at Auburn, that is the best student recruiting tool you can have." – Dennis W. Weatherby
It's a simple philosophy — one that has remained true for more than a quarter-century when it comes to recruiting and retaining underrepresented students in the Samuel Ginn College of Engineering. It's reminiscent of the famous phrase, "if you build it, they will come." In this case, however, the "it" represents community and a vital student support network. Those are what the late Dennis W. Weatherby spent his time as the founding director of the Minority Engineering Program (MEP) building. And his hard work has continued to pay off.
In April, Auburn Engineering wrapped up its year-long 25th anniversary campaign celebration of the Engineering Academic Excellence Program (AEP) — formerly known as MEP — with a gala reception and dinner held at the Hotel at Auburn University. In front of more than 150 guests, the program recognized the impact of Weatherby and the three other program directors — Shirley Scott-Harris, Cheryl Seals and the current director, Cordelia Brown — as well as the donors and friends without whose support, the program would not be the success story it is today.
"This program, which started as the Minority Introduction to Engineering Program (MITE), grew into the Minority Engineering Program in 1996 and has evolved into the Academic Excellence Program, is poised to reach new heights and touch even more underrepresented engineering students through your generosity and commitment to its success," said Steve Taylor, interim dean of engineering.
New heights, indeed.
At the outset of the anniversary year, a new giving society — the Weatherby Society — was established to provide programmatic and scholarship support to AEP. A fundraising goal of $2.5 million was set and the plan for the funding, according to AEP Director Brown, was to expand staffing and student support to serve even more students "as we strive to reach our recruitment, retention, impact and graduation goals." Over the course of the year, the program outpaced the original fundraising goal for a total of more than $3.4 million.
"Thank you all for believing in our mission, for recognizing the results we have achieved over the last quarter century and for joining our vision for the future of this meaningful program," Brown said to the audience of supporters.

More than 250 individual donors gave to AEP over the 2021-22 academic year and of that total, 57 were inducted into the Weatherby Society. But throughout the program's history, corporate sponsors have played an important role, especially Alabama Power Company, which has been the program's title sponsor for the past 12 years. Auburn Engineering alumni Zeke Smith, '82 industrial engineering, Auburn University trustee and executive vice president of external affairs at Alabama Power, and Jim Heilbron, '94 and '96 civil engineering and senior vice president and senior production officer also at Alabama Power, paid tribute to the past and current corporate philanthropic supporters to the program over the years starting with the program's original sponsors, BellSouth Corporation and AT&T; AMERICAN Cast Iron Pipe Company; Brasfield and Gorrie; Hoar Program Management; Georgia Power Foundation; Chevron; CGI Group Inc.; Lockheed Martin; Intradiem; Westrock; Trane; Volkert; Amazon Web Services and Robins & Morton. But they didn't stop there.

"It's really a part of our DNA at Alabama Power — that diversity matters and providing opportunities for all is just imperative," Smith said. "We believe in AEP. We believe in our students and we celebrate them tonight. We know that when they leave the program, they are prepared to go out into the world to solve problems and make a difference. 
"Just like we've enjoyed witnessing the success of AEP over the past 25 years, we are excited to announce tonight that we're making a new significant gift on behalf of Alabama Power Company to continue our legacy of giving to this program for the next 25 years," he added.
Heilbron underscored the announcement of Alabama Power's impactful gift by unveiling Auburn's Center for Inclusive Engineering Excellence — the program's name going forward.
"We feel that this new name truly speaks to the important focus of this program, which is ultimately giving opportunities to diverse and underrepresented students coming to this school to pursue an engineering degree. We believe the Center for Inclusive Engineering Excellence is more representative of the broader support and expanded mission and will bring a new level of prominence to the program we all know and love," Heilbron said.

Weatherby, and the impact he left on the Auburn Engineering campus, loomed large throughout the evening. Beverly Banister, '83 chemical engineering and retired EPA Region 4 deputy regional administrator, lauded his professional achievements at Procter & Gamble, where he created a lemon-scented dishwashing detergent, and then his choice to leave the chemical industry and pursue a new career path in academics, eventually joining Auburn University as the MEP director in 1996 as the program was just getting off the ground.
"Though he passed away in 2007, his role in establishing the Minority Engineering Program continues to have a profound impact on generations of Auburn graduates," Banister said.
K-Rob Thomas, '01 civil engineering and vice president of origination and acquisitions at Alabama Power, served as the co-chair of the AEP anniversary planning committee. Thomas reflected on his time as one of Weatherby's earliest students at Auburn, sharing that Weatherby himself invited Thomas to his first Sunday evening study session, a hallmark of the AEP student experience.
"There are few times in life where people or experiences transform the trajectory of your life. Dr. Weatherby changed the trajectory of my life. When I walked in to that first Sunday night study session," Thomas said, "I looked around at a room full of people who looked like me. I had no idea there were so many African American engineers at Auburn."

Members of Weatherby's family joined in the anniversary celebration, reflecting on the legacy he left at Auburn University. Helping others succeed was Weatherby's passion and he aimed to inspire others with his leadership, according to Lissa Weatherby, Weatherby's sister. And his daughter, Elaine Weatherby, shared how it felt seeing her father make an impact in the lives of his students.
"I realized that my dad not only meant a lot to me, he meant a lot to everyone else, too. And it shows in the legacy and the people he touched along the way," she said. "Dr. Dennis Weatherby was not a boastful man, but I know that he would be absolutely honored to see how far the Academic Excellence Program has come and the fruits of those efforts. On behalf of the Weatherby family, we want to thank you so much for continuing those efforts and celebrating his legacy."
---
Dennis W. Weatherby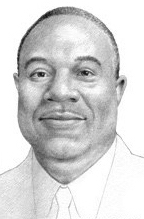 Dennis W. Weatherby was an inventor, scientist, university administrator and proponent of minority college students' success. Weatherby attended Central State University, where he graduated with a bachelor's degree in chemistry in 1982. From there, he moved to the University of Dayton and completed a master's degree in chemical engineering in 1984.
Soon after finishing his studies, Weatherby began working for Procter & Gamble Corp. in Cincinnati, Ohio, as a process engineer. At the age of just 27 he was given a chance to lead a team to create a new consumer product, and the result of that effort was a lemon-scented, liquid dishwashing detergent that became a long-term success. As a chemist, Weatherby will forever be associated with one of the United States' most well-known household cleaning products, the automatic dishwasher detergent known as Cascade.
In 1989, he began working for his alma mater, Central State University, as an academic adviser and recruiter. According to the school, which historically catered to minority students, under Weatherby's leadership, the program experienced a more than 400% growth in student enrollment with a better than 80% retention rate. In 1994, he became an assistant professor of water quality at CSU.
In 1996, Weatherby moved on to the institution where he had completed his doctoral studies, Auburn University, to become director of the new Minority Engineering Program. There he served as a role model and adviser for underrepresented students. As the founding director of Auburn University's Minority Engineering Program, he made Auburn one of the top universities for graduating African Americans in the field of engineering.
After leaving Auburn in 2004, Weatherby became associate dean of the graduate school at the University of Notre Dame, and in 2006 Weatherby became the associate provost for Student Success at Northern Kentucky University, where he served until his premature death in September 2007.