In 1872, Auburn got a new name. And a new purpose. The world hasn't been the same since.
This year marks the 150th anniversary of Auburn's reorganization under the Morrill Act from East Alabama Male College into the Agricultural and Mechanical College of Alabama, which established the Colleges of Agriculture and Engineering.
On a late Friday afternoon in September, in the shadow of the building where Auburn's cornerstone instructional programs were born, the year-long celebration began.
More than 450 College of Agriculture and Samuel Ginn College of Engineering alumni donors gathered on Samford Lawn to mark the historic occasion at an event featuring student and alumni speakers, as well as addresses from college and university administrators including former Dean of Engineering and current Auburn University President Chris Roberts.
"When choosing a location for this milestone event, we decided this was the perfect place to celebrate the two colleges that have meant so much to this university, our state and even our nation," Roberts told attendees.
"Under the Morrill Act in 1872, Auburn University was reorganized as the South's first land-grant institution. While we say that term a lot, it is an important one, and its purpose speaks to the mission of everything we do," he added.
And Auburn's Colleges of Agriculture and Engineering have done a lot.
"If we look back 150 years to this very place where we are standing, we would see a completely different landscape," Interim Dean of Engineering Steve Taylor said. "The vast contrast in the standard of living between 1872 and today is a testament to the combined power of agriculture and engineering. One hundred fifty years ago, Alabama was just beginning to industrialize, but our ability to produce and distribute food and fiber for this industrial growth was not ready to meet the demands of a growing state. Auburn University played a monumental role in the way our region developed, and many of the technologies developed through the Colleges of Agriculture and Engineering changed the landscape of the nation — literally."
An early, major example of that role was an initiative by the Department of Biosystems Engineering, which is jointly administered by both colleges, that made national news in the mid 1920s, an era in which using electricity to boost farm production was still purely theoretical in every state… but one.
The headline that ran in papers across the state:
"API JOINS POWER COMPANY IN PLAN TO ELECTRIFY FARMS, WILL PUT ALABAMA IN FRONT."
Auburn Engineering's partnership with Alabama Power was the first cooperative electrification development agreement between an agricultural engineering department and an electric power company.
That chapter in the story of Auburn Engineering is one of many vividly told in "They Came from Auburn: A History of Engineering in the New South" written by Art Slotkin, a 1968 aerospace engineering graduate who has penned 10 books on Auburn during the past 12 years.
"What repeatedly struck me while researching and writing this book was the core conviction that defined the growth of engineering at Auburn, which was that engineering education was absolutely essential for the growth of the region and the nation," Slotkin said. "Early engineering faculty knew that the hard work that went into the engineering discipline — the hard work that it would take young men and women to earn an Auburn Engineering degree — was the hard work necessary for the state and the country to reach its potential."
Published by the Samuel Ginn College of Engineering, Slotkin's book will be available in May 2023.
"The college overcame many, many struggles to get to where it is today," Slotkin said. "There were financial struggles, cultural struggles, a Great Depression, two world wars, an unexpected accreditation crisis. But learning about how the college didn't just survive, but thrived, in the face of adversity has made me even prouder to be an Auburn engineer."
It's made Taylor even prouder to lead Auburn engineers.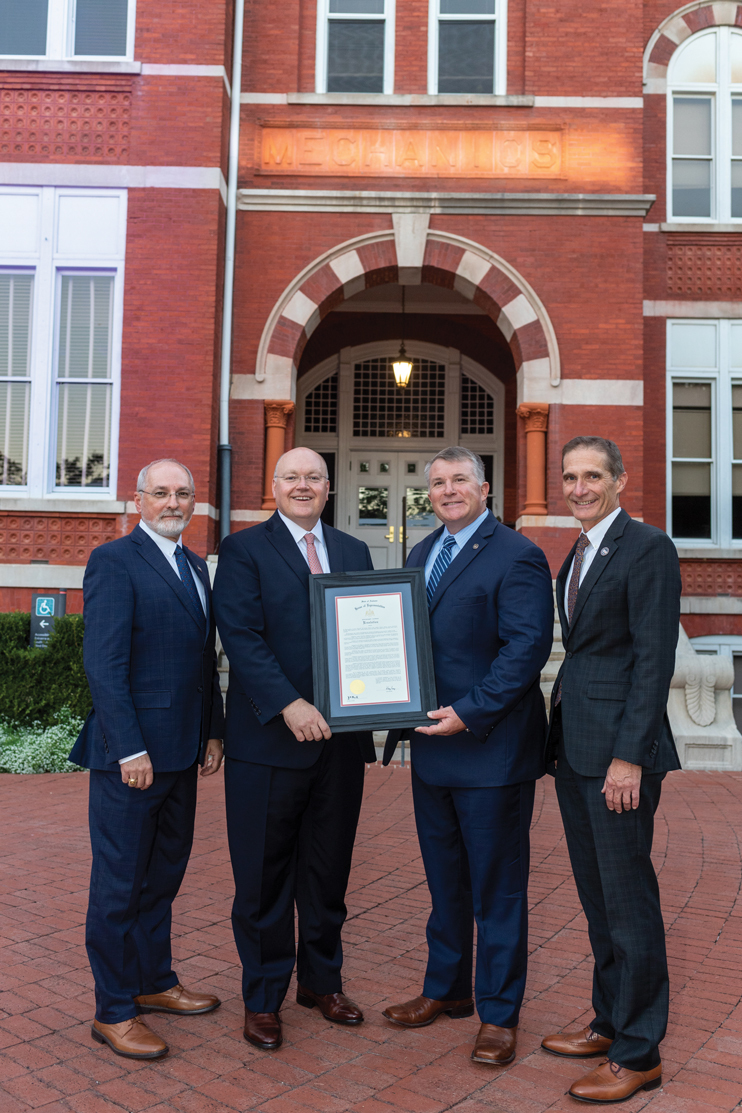 "The people whose names are on some of our historic buildings would be proud of what has been done inside them," Taylor said. "Dean Wilmore laid the foundation for the Department of Aerospace Engineering in 1930 when it was just focused on aeronautics and aviation. A few decades later, what did you see? Auburn Engineering graduates in space, Auburn Engineering graduates putting man on the moon. And now this college is helping the country return to the moon. It's leading the charge to Mars."
And, of course, there's that 1982 industrial engineering graduate from Robertsdale.
"Exactly," Taylor said. "Tim Cook, an Auburn engineer, leads the largest company in the world. I think that tells you something about the quality of education we provide, about the impact the Samuel Ginn College of Engineering continues to have across the country and across the world." 
Paul Patterson, dean of the College of Agriculture and director of the Alabama Agricultural Experiment Station, agrees.
"As we like to say in the College of Agriculture, 'this is the work that makes the world work,' and I know the same can be said for engineering," Patterson said. "For the past 150 years, and even now, the Colleges of Agriculture and Engineering have not worked in silos. We have worked together on infrastructure, environmental sustainability, food, water, energy and the natural resources that keep the world moving. Our two colleges work in tandem to ensure that Auburn University is a source of knowledge and action for our communities, region and state."
Though the theme of the sesquicentennial festivities celebrated past accomplishments, much of the night focused on both colleges' present and future research thrusts, from combating biological threats to the state's farms, to combating cyber threats to the nation's infrastructure.
The College of Agriculture remains an international leader in animal nutrition and welfare. In addition to creating stronger plant varieties and animal breeds, agriculture faculty are developing new technologies and practices to make foods safer, enhancing strategies to advance environmental conservation on farms and throughout communities, and providing farmers with innovations that will secure higher yields with fewer resources. The Samuel Ginn College of Engineering, meanwhile, continues to deliver technologies for safer and more efficient transportation systems, develop commercial space applications, defend the nation against foreign and domestic threats, bolster American cybersecurity and speed the growth of American industrial and manufacturing sectors. The college has also taken the lead in advancing the pulp and paper and chemical refining industries; provided affordable and reliable electrical power; revolutionized wireless communications; and provided safe and abundant drinking water and effective sanitation systems.
"We have a great vision for the next 150 years for Auburn University," Roberts said in his closing remarks. "The colleges of agriculture and engineering are fundamental to that vision. As history has shown us, Auburn Agriculture and Engineering graduates are change-makers. And our future is only brighter."
A Brief Timeline of the Samuel Ginn College of Engineering:
1872 — Awarded first undergraduate bachelor's degree of engineering to B.H. Johnson
1908 — Named the College of Engineering with the inclusion of civil, electrical, mechanical and mining departments
1913 — Formed the Department of Chemical Engineering
1923 — Maria Rogan Whitson becomes first female graduate, earning a degree in electrical engineering
1930-1932 — The first courses in aeronautical engineering were offered and taught in the Department of Mechanical Engineering; name changed to the Department of Mechanical and Aeronautical Engineering
1945 — Now a school, Auburn Engineering is reorganized into five departments: aeronautical, civil, electrical, industrial and mechanical, and two management programs: aviation and industrial
1965 — Materials engineering becomes an official degree program
1984 — The Department of Computer Science and Software Engineering is established
1998 — Department of Agricultural Engineering, formed in 1919, changes name to Department of Biosystems Engineering to reflect its mission and scope
1999 — College offers the Southeast's first bachelor's and master's degrees in software engineering
2001 — College is renamed as the Samuel Ginn College of Engineering in honor of his vision and philanthropy
2002 — College offers the nation's first wireless engineering degree
2005-2011 —  The Shelby Center for Engineering Technology is constructed, housing the Department of Industrial and Systems Engineering, the Department of Computer Science and Software Engineering, labs, classrooms and administrative areas
 2019 — The $44-million dollar Brown-Kopel Engineering Student Achievement Center opens, featuring flexible classrooms, computer laboratories, study rooms, project incubators, a massive makerspace and more.
SCENES OF ENGINEERING EDUCATION AT AUBURN OVER THE PAST 150 YEARS