It was late September 2020. They'd ordered 300 coloring books, just in case.
It would probably be too many — they were hoping it might get 100 people to register — but Sydney Riley, outreach administrator for the Samuel Ginn College of Engineering's Office of Recruitment, K-12 Outreach and Scholarships since 2017, figured she could take the leftovers to local classrooms now that schools were returning to in-person attendance. Teachers would probably like that. 
Promotion was minimal. Just a simple video for Facebook showing some of the stuff inside — pictures of microscopes and gears to color, graph paper to design with and some engineering-related word searches.
Jessica Taylor, the office's manager and director of recruiting and scholarships, volunteered her daughter, Ally, to star. Ally was 4, right around the target age. They had her run to open a mailbox, then jump for joy over getting her own mail — getting something fun. It was short. It was cute. And it was viewed 60,000 times.
It's still hard for Riley to believe.
"At first, I thought there might be something wrong with the software," she said.
Three hundred signups. Six hundred signups. One thousand.
"It was crazy," she said. "I kept texting Jessica with updates. Within hours I was asking her 'should we shut this thing down?'"
Finally, after two days, they did. They had to. Three hundred people hadn't requested a book for their kids — 3,000 people had. And, in the process, signed up for the idea Riley had been brainstorming since joining the office in 2017, the idea that probably illustrates the unique, innovative lengths the office is using to recruit Auburn engineers better than anything else: the Future Engineer Club.
"We thought that parents would probably be eager for something like this, especially during the early days of COVID. We just didn't know they would be this eager."
There are members of the Future Engineer Club in Japan. There are members in Puerto Rico. There are members in middle school. There are members in kindergarten. There are members in diapers.
Seriously?
Riley smiles. 
"Seriously," she said. "We actually have several 6-month-olds in our system right now."
Taylor couldn't be prouder.
"We're now at a point where we're basically building our own recruiting pipeline, and that pipeline now starts with the Future Engineer Club," she said. "Our office is just four people, but we've really scaled up our recruiting, outreach and scholarship efforts over the past few years."
By that she means more than the Future Engineer Club. There are more campus tours than ever, a bigger presence at college fairs and wherever else Andrew McGill, the office's student recruiting administrator, thinks he can find prospective students. And more events — way more.
Thanks in large part to Riley, offerings have broadened. Opportunities have expanded. The office now hosts more than 25 recruiting outreach events, all tailored for specific demographics. There are summer programs, such as the Auburn Engineering Expo for high-schoolers and the Senior Tigers Camp for rising 12th-graders. There's the egg drop contest for K-8th-graders in the spring, plus InspiHER, designed to encourage middle school girls to explore engineering through hands-on activities. There's the GRAND Engineering Showcase geared to show K-6th-graders how engineering can help solve the world's problems. The list goes on.
So do the scholarships. Ten years ago, the office awarded 928 scholarships to incoming students totaling $2.08 million. Today, those numbers have more than doubled.
"We facilitated the awarding of 1,774 scholarships and $4.75 million in scholarship dollars this year," Taylor said. "Our office works with thousands of prospective students each year. We want them to have the opportunity to pursue their dream of becoming an Auburn engineer. These scholarships are impactful. Students are able to attend and remain at Auburn because of our generous alumni and friends, and we work closely with the academic departments and the Office of Advancement to make this happen."
Taylor's also quick to point out the college's new virtual campaign. In early 2020, her office launched a robust virtual tour of the engineering campus that, due to COVID, couldn't have come at a better time.
"We were the first unit on campus to do that," Taylor said. "It's been such a valuable tool. It's amazing to see how many people from across the world have taken a virtual tour of the college. It's opened up opportunities we couldn't have even planned for, like the outreach opportunity with the school in Knoxville." 
Late last year, a second-grade class at Emerald Academy, a charter prep school in Knoxville, Tennessee, emphasizing STEM initiatives, adopted the Samuel Ginn College of Engineering as a sort of sister school, thanks to the wealth of resources teacher Kevin Ickles found on the office's website. Ickles connected with Taylor and Riley in hopes of also setting up a Zoom call for his students to ask questions about Auburn Engineering. Riley had a better idea. 
"It just sounded like a great opportunity that could be even more than just a Zoom call," Riley said. "I mean, we did the Zoom thing, too, at first, and they did the virtual tour. But we were so honored that they would want to get to know more about Auburn Engineering, we also asked if we could actually come and see his class."
Ickles said absolutely and Riley hit the road, coloring books, other K-12 outreach materials, shakers and jugs of Toomer's Lemonade in tow.
"It was such a great trip," she said. "I was able to perform some engineering demonstrations for them in their class like the catapult and the slingshot car.
I also got to teach them all how to say 'War Eagle' and how to cheer when the eagle flies around the stadium."
She recently returned from her second visit to Ickles' class.
"I think that's such a great example of our office's work ethic," Taylor said. "I don't mean to brag, but at the same time, I kind of do. We are doing something that universities in these students' own state and even their own city aren't. The vision of tying our outreach efforts to recruiting has really transformed our ability to educate the next generation of Auburn engineers. That idea has really broken new ground. I don't know another engineering school in the country doing what we're doing on this scale," Taylor said.
And it all started with a coloring book.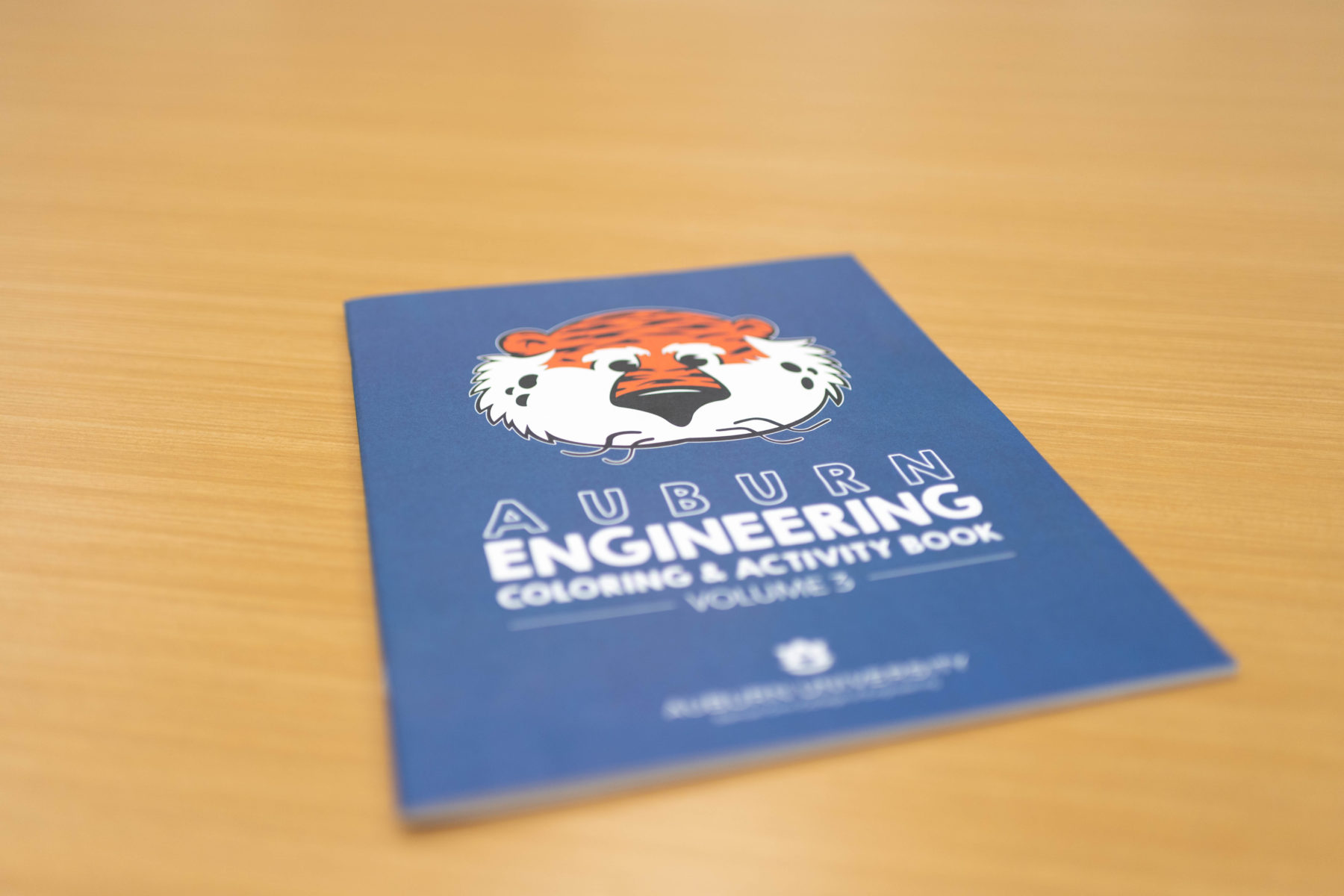 "We were using the book as a way to launch the club, but parents were also signing up for regular, do-it-yourself engineering activities for their students to receive throughout the year," Riley said. "There's the coloring book, there's college readiness pamphlets, do-it-yourself engineering activity postcards and more. We want to engage with them as much as we can. Once they reach 9th grade, they receive a Future Engineer graduation certificate and a letter introducing them to our recruiter, Andrew McGill."
Even though its impact on applications and enrollment obviously won't be felt for several years, Riley said the new initiative is already paying tangible dividends, specifically with event registration.
"We held InspiHER in April and I know that plenty of attendees learned about it directly through the Future Engineer Club," she said. "That's a great feeling because part of my job is introducing students to the idea of engineering in general, but, obviously, we're trying to get them to Auburn. Tracking a kindergartner, or a 3-year-old or 4-year-old is difficult. But that's one thing that makes our office unique. We're actually doing it, we're putting in those efforts. We currently have 5,000 students from around the world — or I guess I should say kids, because some aren't actually students yet — registered in our Future Engineer Club."
"And I'm looking forward to meeting them one day," McGill said. 
McGill doesn't credit his success as the office's recruiter — "I'm kind of like the closer," he said — to the energy he brings to the job. He doesn't credit it to the long hours pounding the pavement and shaking hands at college fairs and receptions all over the country, or at the Cookies and Cupolas events where admitted students can mingle and network with Auburn Engineering student ambassadors, or during "Life as an enGINNeer" days that allow prospective underrepresented students to experience a personalized day in the life of a current Auburn Engineering student. He credits it to the product he has to sell.
"What I really try to hit home for choosing Auburn University in general is the Auburn Family, and how real it is, but that also applies to engineering," he said. "We're always talking about Auburn providing the best student-centered engineering experience in the country. That's not just some slogan. We have invested in the resources to actually provide that, to provide a collaborative experience instead of four years of competition with your classmates, which seems to be the norm at other schools. That really resonates with a lot of students."
It definitely resonated in Indianapolis in October 2021.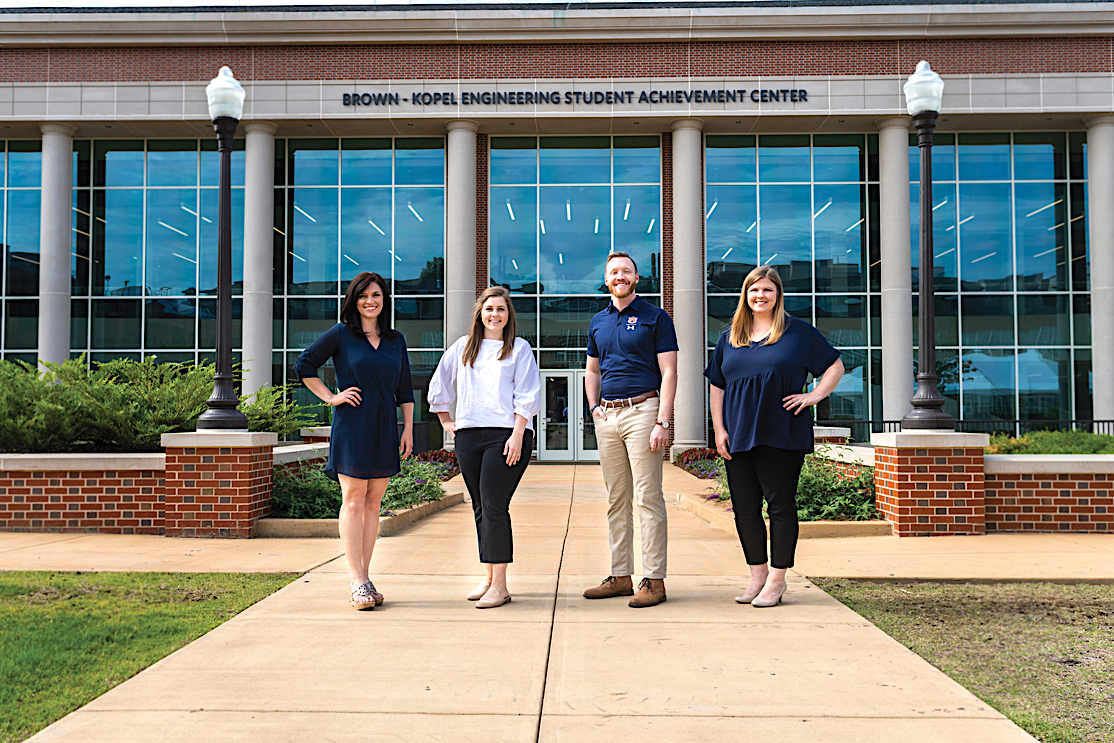 Auburn's Autonomous Tiger Racing team was competing in the first ever Indy Autonomous Challenge at the Indianapolis Motor Speedway. Thinking that enough engineering-minded high-schoolers would be in attendance to make it worth his while, McGill made the trip. He set up shop outside the Auburn garage. Students stopped by to check out the team's car. McGill introduced himself, handed out some of the slickest information packets around, and did his thing.
The gamble paid off.
"Two of the students I met there are freshmen right now," McGill said. "One of them is from New Orleans. When she came for her tour, she brought us a King Cake."
Another testament to McGill's tactics is the roll of the freshman-level class he teaches, Engineering Success Strategies.
"There are 17 students in that class right now, and I met personally with 13 of them as recruits last year," he said. "That's rewarding. And it's so great to already have that relationship when they get here."
For the past two years, a lot of those relationships have started with Brooke Chandler, the office's administrator for academic programs, and the first face people see when they walk through the doors of the Student Services office suite in the Brown-Kopel Center.
"I love sitting there right where people first come in because I'm a huge family person, and that's what I want people to feel when they come here — to feel part of our family, the Auburn Engineering family. That's what makes me feel good. That's what I take pride in," Chandler said. "I talked with one family for an hour and a half one time. Their student had come to E-Day but they still just wanted to know more. They actually lived just down the road from Auburn and probably could have come back whenever they wanted, but I wanted them to feel that we cared enough about them to personalize the experience for them as much as we would have had they flown in from California."
Another aspect of the job she takes pride in?
The mail — the massive, massive amounts of mail — and the well-oiled team of student workers she's cultivated since joining the office in 2021 to help get it out the door.
"I mean, we recently sent out 50,000 pieces of recruiting material, and we really try to get every little detail perfect," she said. "Pieces of mail can wind up meaning the most to people, whether it's a postcard to a kindergartner or a list of resources available to transfer students."
"Or," Riley chimed in, "a coloring book."
"Exactly!" Taylor shouted. "Please just order more next time."