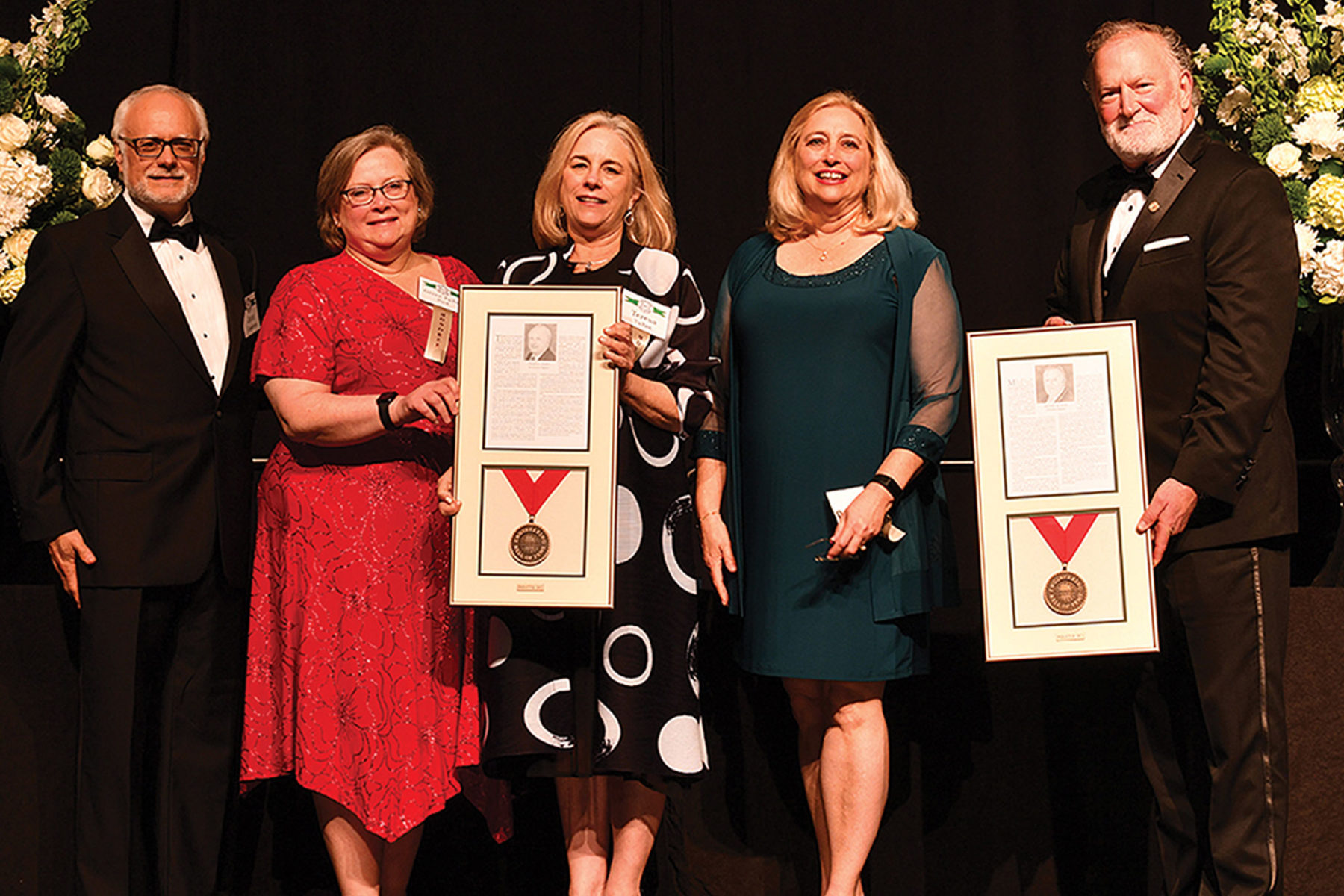 The State of Alabama Engineering Hall of Fame inducted five individuals — including two Auburn University alumni — and a corporation during a ceremony in February at the Renaissance Montgomery Hotel and Spa at the Convention Center.
This year's inductees from the university included Tom Talbot, '52 mechanical engineering, and Mike Wicks, '87 mechanical engineering. Dynetics Inc. of Huntsville was inducted into the corporation category.
Tim McCartney, '80 civil engineering, was also selected for the Class of 2023, but will be inducted at next year's ceremony due to a scheduling conflict.
Tom Talbot, '52 / Mechanical Engineering
Tom Talbot graduated from Auburn University in 1952 with a bachelor's degree in mechanical engineering. He then went on to earn a master's degree from the California Institute of Technology in 1953 and a doctorate from the Georgia Institute of Technology in 1964, both in mechanical engineering. After earning his degrees, he embarked on a successful engineering career that spanned more than six decades in which he served his country, helped shape future engineers through academia and applied his knowledge in service to the greater mechanical engineering field through private industry and professional consulting. He served in the U.S. Air Force from 1953-56 at Arnold Engineering Development Center in Tullahoma, Tennessee, where he applied his expertise as a project engineer for mechanical areas of ram jet addition to the engine test facility. He would remain a member of the Air Force Active Reserve from 1956-85, retiring at the rank of Brigadier General. For his service, Talbot was awarded the Legion of Merit and the Meritorious Service Medals.
His distinguished career included experience with U.S. Steel prior to founding three Alabama-based businesses in Thomas Talbot Consulting, American Alloy Products and Vista Engineering Accident Reconstruction. As a professional engineer, Talbot served for more than 30 years on the Alabama Board of Licensure for Professional Engineers and Land Surveyors, with leadership roles including chairman, vice chairman and secretary. He also made an impact on generations of engineers inside the classroom. He served as assistant professor of mechanical engineering at Georgia Tech, associate professor of materials science and mechanical design at Vanderbilt University and finally as associate professor, professor, director of continuing engineering education and chair of the Department of Mechanical Engineering at UAB.
Talbot was a dedicated supporter of Auburn University's Department of Mechanical Engineering, giving generously and serving on its advisory board. For his support, the college named the Thomas F. and Donna K. Talbot Measurements and Instrumentation Laboratory in the Department of Mechanical Engineering's Wiggins Hall in his honor. He was a member of the university's Foy Society and the college's Ginn and Eagle Societies.
Mike Wicks, '87  / Mechanical Engineering
Mike Wicks earned a bachelor's degree in mechanical engineering from Auburn University in 1987. That same year, Wicks began work as a mechanical engineer with the U.S. Army Aviation and Missile Research, Development and Engineering Center at Redstone Arsenal. During his career, he contributed significantly to advancing the state of the art in tactical missile design. Key accomplishments include his leading-edge work on the advanced kinetic energy missile system in the 1990s. This Army science and technology development effort focused on cutting edge enhancements for anti-tank weapons through the use of kinetic energy projectiles. His efforts demonstrated the advantages of kinetic energy projectiles over current state-of-the-art systems employing energetic or shape charge warheads against threat systems with advanced reactive armor.
His significant engineering contributions extended into technology development for self-contained missile launch systems. As the technical lead for the container launched weapon system (CLAW) Program, he matured technology related to efficient packaging of missile subcomponents, characterization of plume launch effects, missile control authority during unique physical parameters such as low speed tip over and first ever self-locating networked communications. The technologies developed under his guidance transitioned into a formal Army program of record entitled non-line of sight (NLOS) missile system.
In 2001, he co-founded Summit Research Corporation. While serving as its president and CEO, the company grew to more than 100 employees in four years. The business was acquired by Digital Fusion Solutions Inc. in 2005, and he went on to serve as executive vice president of research and engineering, COO and, ultimately, as president in 2008. Digital Fusion Solutions was subsequently acquired by Kratos Defense and Security Solutions in 2008, and he was appointed as vice president and general manager of the Division, successfully expanding the customer base and market penetration of the organization. In 2009, he transitioned to serve as CEO of newly founded i3, a company specializing in advanced hypersonic weapon system design; development and manufacturing; virtual training application development; and implementation of cyber and systems engineering. Under his leadership, i3 grew to nearly 800 employees with an annual revenue of more than $220 million. In 2020, he transitioned to the vice president of Hypersonics Engineering and Accelerated Technologies at Lockheed Martin.
Wicks and his wife, Christine, are recognized in the Huntsville community for their active participation and significant contributions to a wide variety of charitable organizations.
Their personal contributions have been instrumental in establishing the HudsonAlpha Institute for Biotechnology as the premier research institute in the state of Alabama.
Their efforts have also significantly expanded the missions and sphere of influence for notable local charitable organizations to include the National Children's Advocacy Center, Health Establishments at Local Schools, Hunter-Stephenson Animal Rescue and the Village of Promise.
The State of Alabama Engineering Hall of Fame was chartered by the governor in 1987 to honor those individuals, corporations and projects associated with the state that have brought credit to the engineering profession. Only 200 engineers, 50 projects and 35 firms have been recognized by the hall. These inductees span from border to border, across all industries, and personify the impact engineering has played on the economy, quality of life and standard of living for the people of Alabama. The Hall of Fame is overseen by engineering colleges and schools at Auburn University, Alabama A&M University, the University of Alabama at Tuscaloosa, Tuskegee University, the University of Alabama at Birmingham, the University of Alabama in Huntsville and the University of South Alabama.