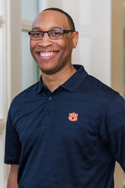 What brought you to Auburn and to your major?
I've loved big machines like rockets and airplanes for as long as I can remember. And I've known that I wanted to be an Aerospace Engineer since I was in the 6th grade. In high school, I found out that a NASA Astronaut from my hometown went to Auburn. That got me hooked!
Tell me your story about your path since graduation regarding your career?
After graduation, I went to grad school at Purdue University to receive a Master's degree in Aeronautical and Astronautical Engineering with a focus on combustion. During graduate school, I started an internship at GE Aviation and that really changed the trajectory of my career. Up until that point, I was destined to become an astronaut. During my 2nd internship, I discovered the world of manufacturing and I immediately knew that I wanted to make these big machines instead of fly them! After graduation, I started full time in GE's Operations Management Leadership Program which provided me with four six-month rotations across the country in various manufacturing roles. At the end of that two year period, I helped to launch the 787 and 747-8 as a field engineer. Then I helped GE launched one of the world's first high volume, metal Additive Manufacturing sites and led a production line back in Auburn. In my current role, I lead all the process improvement activities for our global additive manufacturing teams. I've also had the opportunity to serve on numerous advisory boards for Auburn and with non-profits. And I am the lead recruiter for GE Aviation at AU. Fun Fact: I refereed my first basketball game in intramurals during my senior year. I had no idea that it would spark a passion that has led to over 10 years as a basketball referee. I've since had the opportunity to referee college basketball and three high school regional finals.
How did your Auburn engineering education prepare you for what you are doing now?
Auburn gave me my first engineering work experience through the co-op program, the engineering foundation to get a graduate degree and the interactive skills through the Cupola Engineering Society.  This combination of skills set me on the right path to get an advanced degree, then work in roles where I'm required to merge my strong technical background with effective networking building and team communication.
What advice would you give students at Auburn?
I'd encourage Aerospace Engineering students to embrace the uniqueness of an Aero degree while understanding that your career path can be much broader than technical roles at Aerospace companies.  Engineers are problem solvers at heart.  There's not a company, industry nor organization that would not benefit from having your skills.  Obtaining an Aerospace degree from Auburn will be the start of an amazing career journey that can take you almost anywhere.
What is your favorite Auburn memory or War Eagle moment?
During Camp War Eagle, I was introduced to the Alabama Power Academic Excellence Program (then Bell South Minority Engineering Program).  On the first day of fall classes, I met a group of students in the AEP offices.  Over the next 5 years, we spent 100's of hours together receiving and leading mentoring and collaborative tutoring sessions.  They've all gone on to successful careers – both inside and outside engineering – and many of us have been able to stay connected.  I was scared out my mind on my first day as an Auburn Engineering student.  Having that group to learn and laugh with from Day 1 was a blessing and it made my transition through college much more manageable.