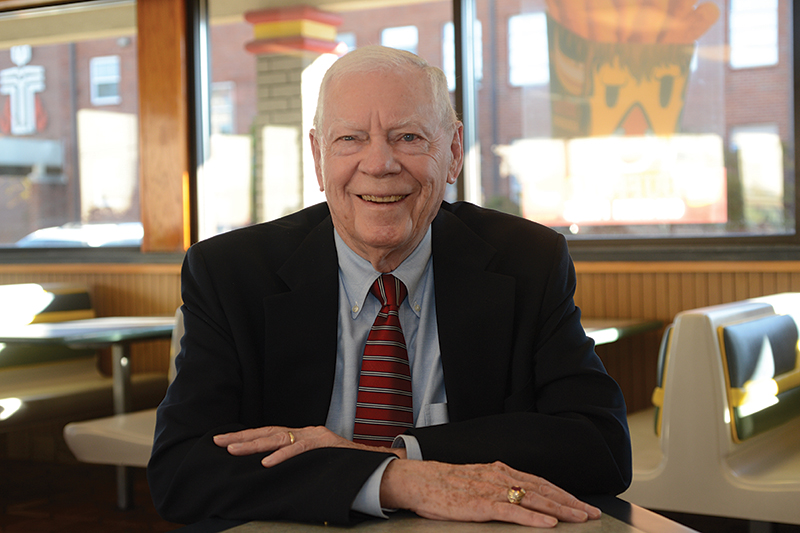 Grady Cox served successful terms as dean of the School of Engineering from 1969-72, and again from 1979-80, when the college began to evolve into what it is today. He also spent several years in Auburn's central administration as executive vice president. Cox reflects on his time at the university, and shares what life is like now as he continues to live in Auburn, the town he loves.
JK: You were born in North Carolina and grew up there as well. What brought you to Auburn?
GC: I was stationed in the hospital corps at Sampson Naval Station in New York in 1945 when I tested and was accepted for officer training . . . there was no room for the program at NC State, so I chose API. The only thing I knew about Auburn was that they had beaten Georgia's powerhouse football team at some point – and that it was a co-ed school. I arrived by train and soon found myself living in Graves Center. It had been repurposed by the Navy ROTC unit, and I went to classes in full uniform. The second day there I was in a long registration line, and I asked to go into pre-med, which is what I was in at UNC Chapel Hill before I joined the Navy. They told me I had to pick a different major, one that was suitable for a line officer or an engineering officer. I didn't have much time in that line – I quickly told the officer in charge that I liked chemistry and I liked math . . . so he checked the box for chemical engineering, and said, "next!"
I ended up enjoying it, and after graduation and my Navy discharge from NAS New Orleans, I worked at a couple of jobs, including stints at Vitro Corporation and Southeast Sand and Gravel. In March of 1949 I reentered Auburn in grad school, first in chemical engineering but ultimately in mathematics, where I was also given an instructorship. I received my master of science in mathematics in 1950, and then taught another year before accepting a job at the Air Proving Grounds at Eglin Air Force Base.
JK: Did you think that experience would represent your Auburn connection from that point out, or did you plan to return?
GC: My supervisor at Eglin encouraged me to get a doctorate, so in 1953 I moved back to Chapel Hill to get a Ph.D. in math. I finished the coursework there, passed the preliminary exams and co-authored a paper with my major professor, but failed to satisfy him in terms of my dissertation. That was disappointing, and I returned to my job at Eglin with mixed emotions. Then I got a call from Floyd Smith in Auburn's Department of Mechanical Engineering, and got hired on as an associate professor there in 1958. Another turning point came when Fred Pumphrey was named as dean of engineering. My wife Jean and I came to know him well, and in fact, played bridge with him frequently. He encouraged me to go to Purdue on an NSF fellowship, where I studied for a Ph.D. in industrial engineering, and I was successful there, graduating in 1964. I returned to Auburn as head of the Department of Industrial Management, which was located in the School of Engineering.
JK: Tell us how that worked out.
GC: Dean Pumphrey was one of the members of a committee charged with bringing the School of Engineering back on course when several programs lost accreditation in 1957. Working with the Engineers' Council for Professional Development [now ABET – Ed.] we developed a sound program in math, chemistry and physics along with a humanities core. In terms of the industrial management curriculum, we bulked up the math component and made some other changes that strengthened its base in engineering, and it became industrial engineering. We had to build a new faculty as well, and over time we did just that. I followed Pumphrey as dean in 1969 and stayed in that position until 1972; Vince Haneman came in after I did, serving six years, and then I returned as dean from 1979 through 1980.
JK: Then you went to the central administration during Hanley Funderburk's term as president . . .
GC: Yes, I served in the early '80s as the university's executive vice president, during a period that was really tumultuous as far as the feeling on campus. Many faculty members were unhappy with the administration at the time. You may recall that I left that position, along with Taylor Littleton, who was then the vice president for academic affairs – it was a tough decision. I took a year's leave of absence before I returned to Auburn in 1985, and taught until 1992. After I retired I continued a relationship with UAB until I was in my early 70s, also consulting with industrial firms. Although I still drive today, I finished up in Birmingham because I didn't feel the need to get up at 4 a.m. on weekdays, drive two hours, and get back to the house late at night.
JK: What is the largest change that you have seen in the college over the years?
GC: I think it's important to look at the road we have traveled to becoming a major research institution. When I came to Auburn, there simply was no research. Dean Pumphrey changed that – he went to Huntsville and formed relationships with NASA and the Army Missile Command, and developed funded projects that for the first time allowed some of our faculty release time from teaching to do research. These were mission-oriented projects that didn't result in publishing papers – but they were the baby steps that preceded just that, to the point where we now have an immensely successful research program with nationally recognized papers published by our faculty.
I think it is also important that we worked hard to bring salaries up – early in my career at Auburn I remember Dean Pumphrey on more than one occasion combining two positions to pay for one engineering faculty member. When I joined the faculty, I only made half of what I was earning in industry, but I felt okay about it because we were building something from the ground up. Eventually, and thankfully, the raises came or I could not have stayed. There were many successes over these years, such as formally moving chemical engineering into the School of Engineering as a department.
JK: What has pleased you during your time at Auburn?
GC: Well, as you know, I moved in and out of administration over the years, from the department level to the university level. My journey in upper administration was both rewarding, and to be honest, trying at times, but nothing has ever thrilled me more than teaching as a full professor. I have always enjoyed teaching, I have always enjoyed the students and I have always enjoyed the classroom. When you open the door to a student's perception, when you see the light come on in their eyes – nothing beats it. It's just the best job.
JK: You have impacted hundreds, even thousands of students. What is left for you now?
GC: I'm enjoying myself as I approach my 89th birthday. My wife Jean and I stay active socially – we still play bridge every week in a group of six tables – and we still get some travelling done. I have a son in the Atlanta area, and a daughter in Birmingham, so we visit them. If there is one thing that I really don't do much of now, it's getting out at night too much, so that's a concession to the times. I have always enjoyed living in Auburn because of its location and weather, and have resisted moving elsewhere. I have had a couple of knee surgeries, and my back always reminds me that it's there – so I have made the kinds of adjustments that need to be made. I feel grateful to have had the kinds of opportunities that I have had, and to work with students on a regular basis – nothing is more energizing.