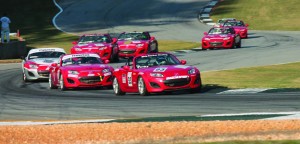 Robby Foley, a sophomore in mechanical engineering, can make a claim that few college students can: winning not just a car race, but a race series – the 2015 Battery Tender MX-5 Cup Skip Barber Mazdaspeed Pro Challenge. The series, which competes on tracks throughout North America, came with a Mazda development driver contract for the 2016 series in the newly developed MX-5 cup car, and $100,000 which, sadly, is not Foley's to spend – it goes back into racing development.
Foley has also been named as a development driver in the Mazda Road to 24 competition, which is a ladder system that gives drivers the goal of competing in the Mazda SKYACTIV prototype. The Randolph, New Jersey, native began his racing career at an early age in carts, driving competitively at 8 years old, and never left the track. At Auburn he belongs to the Formula SAE team, where his specialty is driver development.
He was leading by a point going into the last race of the season at Road Atlanta, but knew he had to finish ahead of the second-place driver to win the series. That driver was leading Foley going into the last lap . . . but he passed him with three corners to go.
"I felt that I was in a good place," Foley said of the series-winning race. "The 11 corner is just a bend in the straightaway, so I was looking ahead to 10 and 12, and felt I could catch him there. And I did – that's racing!"