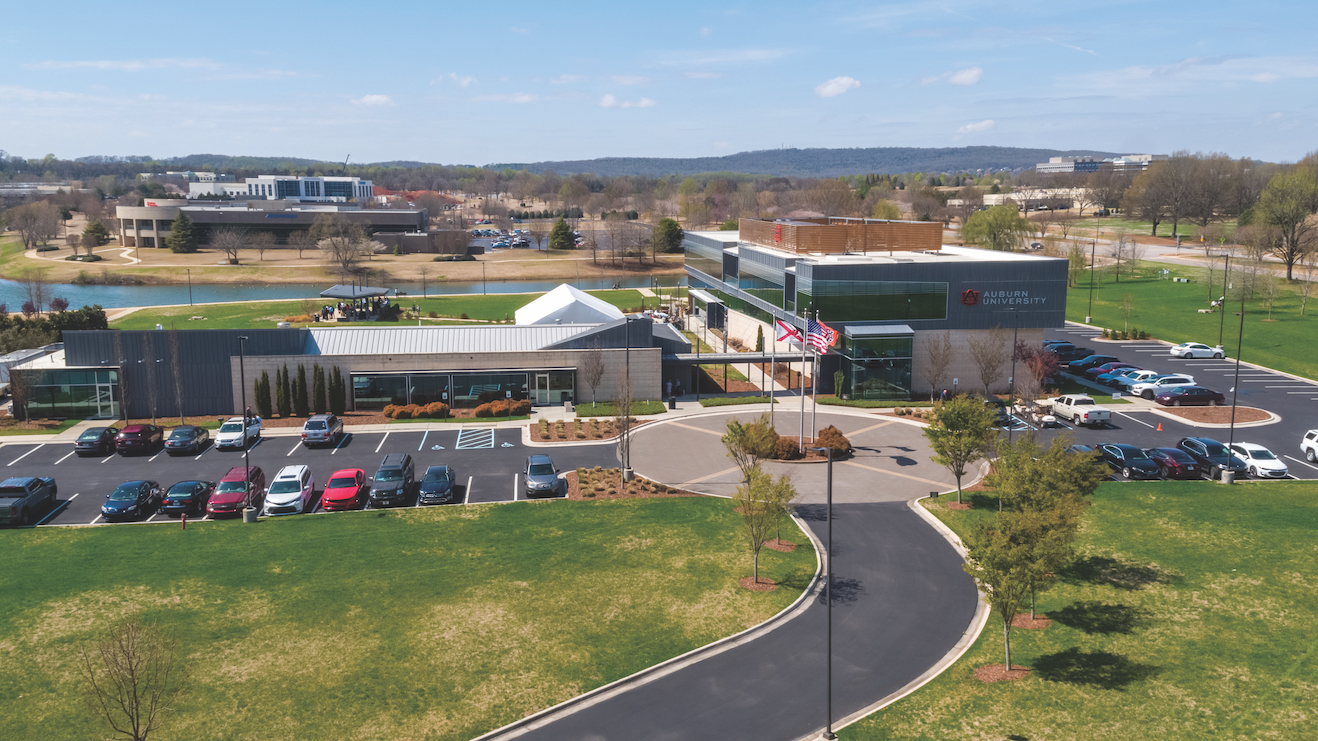 Google "Huntsville" and "Tech Hub" and you get 21,300 results. Some are on sites you've never heard of. Plenty are on those you have. CNBC. Business Insider. The Atlantic.
The CBS article — a Top 10 list — is titled "America's fastest-growing tech cities aren't on the coasts." Baltimore's at No. 10, Jackson's No. 9, Nashville's No. 8. And it goes on like that all the way down the line — Salt Lake City, Orlando, Kansas City. And then there's No. 1 — Huntsville.
That story was published six years ago. And Huntsville's status as a major staging ground for the science and engineering solutions that will help America stay America, the world's principal player in aerospace, in defense, in cyber, even in biotech, has only grown.
In other words, in the U.S., Huntsville is where the action is. Which is why, now, it's where Auburn is, like never before.
"Huntsville is trying to meet the needs of the country," said Steve Taylor, former interim dean of engineering. "And Auburn is going to help meet the needs of Huntsville. That's the idea behind the Auburn University Applied Research Institute (AUARI)."
That idea was conceived in early 2021 during talks on expanding Auburn's long-term Rocket City research strategy and cemented with the purchase and October 2022 grand-opening of the 9-acre, Auburn University Research and Innovation Campus located within minutes of Redstone Arsenal's Gate 9 entrance. The Institute would serve as a state-of-the-art, multi-million-dollar collaboration engine, conference center and 40,000 square foot research space leveraging the entire Auburn University enterprise, not just the Samuel Ginn College of Engineering.
"In 2010, our college launched the Huntsville Research Center (HRC) which really championed the Auburn Engineering brand in Huntsville, just on a slightly smaller scale," Taylor said. "That was an incredible investment that paid off with some really powerful, really impactful partnerships. But over the past few years, it became obvious that we needed to scale up. So, we're using the dividends from the HRC to double-down on our commitment to extend Auburn's next-generation resources to the defense, space, biotech and law enforcement agencies and companies in Huntsville, and at Redstone, that are trying to solve serious problems. We think our approach to applied research can help them do that."
Brock Birdsong, AUARI's director of research, agreed.
"Applied research is where the rubber meets the road," Birdsong said. "You're taking new knowledge generated from research and applying it not to theoretical problems — you're taking on pressing problems in need of real, immediate solutions. You're getting your hands dirty. That's how real innovation is born."
In his new role, Birdsong, a principal research engineer for the Samuel Ginn College of Engineering since 2017, is using his 30 years' experience as an Army engineer — plus his well-respected defense industry acumen — to mobilize the institute's Military Robotics/AI Laboratory. The lab will use an applied focus on integrating robotic capabilities in support of Army modernization and serve as a testbed for integration of multiple robotic platforms in multiple environments.
Other labs include the Space Manufacturing Laboratory, with focus areas including on-demand fabrication, structural printing, equipment repair, and recycling and reuse, as well as the Applied Cybernetics Laboratory focused on critical infrastructure, cybersecurity, food and agriculture industries, and public transportation.
Last, but if its most recent acquisition is any indication, no way near the least, there's the Design for Additive Manufacturing (DfAM) Lab allowing for investigations into the unique properties and constraints of additive manufacturing while aiming to optimize production designs. To those ends, it will house one of only 14 Big Area Additive Manufacturing (BAAM) machines in the country, and the first in Alabama. Donated by manufacturer Cincinnati Inc., the massive BAAM can literally 3D print a car.
"I told you — when we say we're thinking big up here, we're thinking big," Birdsong said with a smile. "That's what our students deserve, and that's what our country needs — big ideas and the brains to turn them into reality. Providing the next generation of Auburn Engineers everything we can to ensure that they have the necessary skills and resources to tackle the technological challenges our Huntsville partners are working on 24 hours a day. We're going to be able to produce great students that can address some serious American workforce gaps because we're investing in the tools to do it. There will be incredible research conducted in the institute. But it isn't going to be done in a vacuum. It's going to be integrated into the college's mission of providing the best student-centered engineering experience in America."
The BAAM printer, Taylor said, is a perfect example.
"Our students are going to be able to use and experiment and learn great things from that platform. And there will be industry experts teaching them," he said.
Donovan Johnson, previously a mechanical engineer for Raytheon Missiles & Defense, one of the world's largest aerospace and defense manufacturers, was recently hired to head the DfAM Lab.
"That's a huge machine and it's going to have a huge payoff," Taylor said. "It's an educational experience that other people don't offer. Providing our students the opportunities and access to conduct applied research that can immediately solve problems and actually matters, while also offering companies and agencies access to our students, is just going to grow that already wide pipeline between our engineering graduates and Huntsville employers.
"It's just like that sign over there says."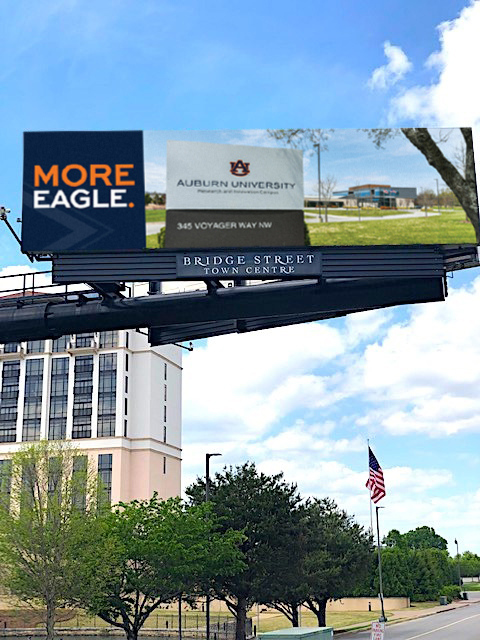 Taylor points in the direction of a digital billboard not far from the campus that, for several years, has advertised several of the Samuel Ginn College of Engineering's marquee initiatives. But an ad appearing at the start of each semester reads:
"Thousands of Auburn Engineers started class today — how many will you need?"
"That's a fun slogan that we use," he said. "But at the same time, we're being serious. Auburn engineers are in high demand. In Huntsville, that demand is getting higher every year. The AUARI is already facilitating collaborations and contracts between our faculty and Huntsville government and industry leaders in our strategic research areas because Huntsville wants our expertise. But they don't just want our research — they want our graduates."
Birdsong agreed.
"We want more of Huntsville and Huntsville wants more Auburn," Birdsong said. "The next time you see a story or something in the news about all of the reasons why Huntsville is the Silicon Valley of the South, we want the Auburn University Applied Research Institute to get a line or two."
But Birdsong says the billboard advertisement announcing the AUARI may have put it best.
"I was driving to the Arsenal last year and I looked up and saw two words," Birdsong said. "'More Eagle.' I thought 'Exactly.'"