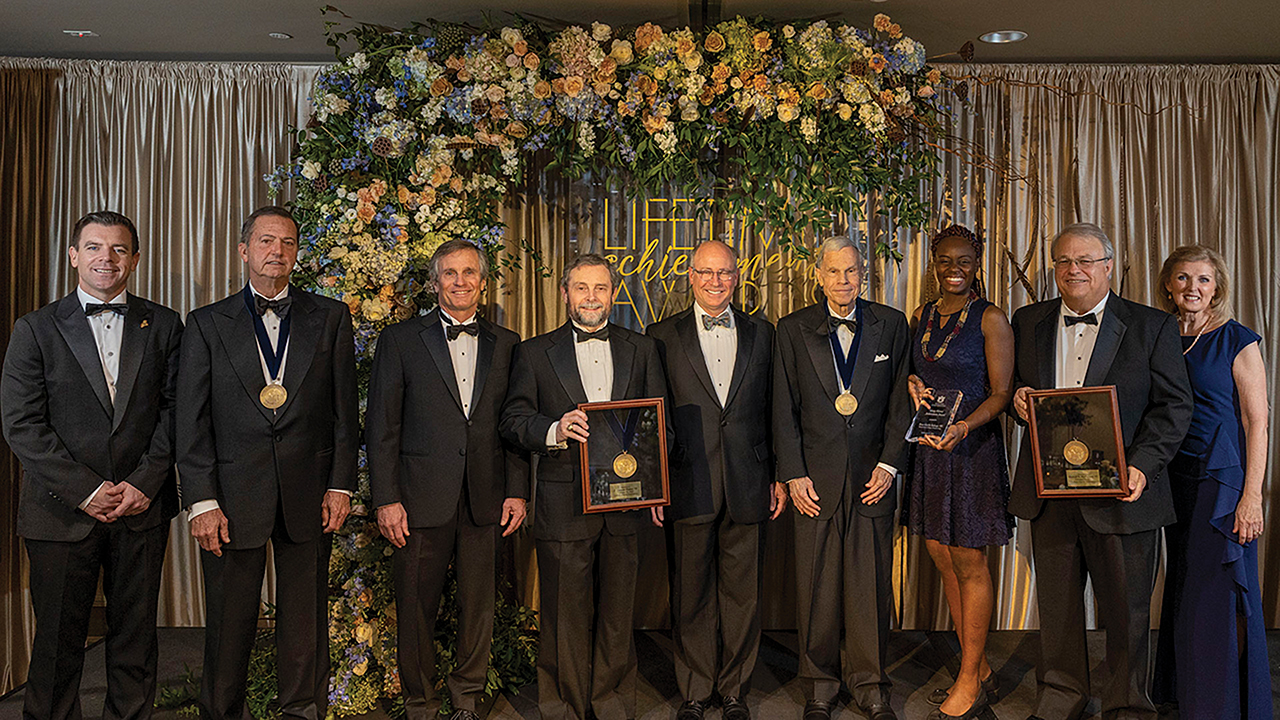 Lifetime Achievement Award recipients for 2023 from the College of Engineering included Charles McCrary, '73 mechanical engineering; Tom Walter, '55 engineering physics; and Mike McCartney, '57 civil engineering. The Young Alumni Award recipient was Rose-Gaëlle Belinga, '09 software engineering.
Charles McCrary, '73 / Mechanical Engineering
Charles McCrary graduated with a degree in mechanical engineering in 1973 before earning his juris doctor from the Birmingham School of Law in 1978. Following his freshman year at Auburn in 1970, he joined the Alabama Power Company and, following graduation, worked for the company in various positions in engineering, system planning, fuels and environmental affairs. In 2001, McCrary was named president and CEO of Alabama Power, where he brought his culture of consistently applied best practices to a company responsible for providing electricity to 1.4 million customers in the state of Alabama. Under his leadership, Southern Company Generation became the largest electric producer in the Southeast and the leader in environmental awareness. He retired from Alabama Power in 2014 but continues to serve as independent chair of the Board of Directors for Regions Financial Corporation and as a director of Great Southern Woods Holding.
McCrary has served his hometown of Birmingham, as well as Auburn University, in innumerable ways. While a student at Auburn, he was a member of Lambda Chi fraternity. He served Auburn as a member of the Board of Trustees from 2004-22 and serves on the Auburn Alumni Engineering Council, the Engineering Strategic Leadership Team, the Engineering Keystone Society and the Engineering Ginn Society. In Birmingham, he serves on the Auburn University President's Advisory Council Birmingham, or ACBHM, and has served as chairman of the Economic Development Partnership of Alabama and chairman of the Birmingham Urban Revitalization Partnership. He served on the boards of AmSouth Bancorporation, Children First Foundation, Business Council of Alabama, Children's Hospital, the Birmingham Museum of Art, Mercedes-Benz U.S. International Inc., Metropolitan Development Board and the State of Alabama Archives and History Foundation.
McCrary was inducted into the State of Alabama Engineering Hall of Fame in 2003 and the Alabama Business Hall of Fame in 2018. In 2014, he was awarded the first Lifetime Achievement Award by the United Negro College Fund Birmingham for his contribution to educational advancement, minority advocacy and community development. In 2015, the Alabama Power Foundation honored McCrary by founding the McCrary Institute for Cyber and Critical Infrastructure Security at Auburn University to advance the research and development of new energy system technologies to improve the reliability and security of the power grid and related civil and industrial infrastructure critical to our nation's operations. McCrary and his wife, Phyllis, are members of the 1856 Society, the Petrie Society, the Foy Society and are life members of the Auburn Alumni Association.
Tom Walter, '55 / Engineering Physics
Tom Walter attended Auburn on a U.S. Navy ROTC scholarship and graduated with a bachelor's degree in engineering physics. Following graduation, he served in the Navy, initially aboard an Atlantic fleet destroyer and later with the Armed Forces Special Weapons Project. After separating from the military in 1959, Walter worked as a circuit design engineer at Texas Instruments and later as a systems engineer at IBM. In 1962, he was licensed as a professional engineer and joined Electronic Data Systems, or EDS, a startup information service company founded by Ross Perot. During his tenure at EDS, Walter served in numerous managerial capacities, including senior vice president, chief financial officer and as a member of the board of directors.
In 1989, Perot honored Walter with a gift to Auburn to establish the Thomas Walter Center for Technology Management, which also funds an eminent scholar chair in technology management. The Walter Center unites business people, engineers and faculty seeking the best balance of technological and managerial know-how to win in the global marketplace. A milestone in this area was reached with the inauguration of a joint program between the Samuel Ginn College of Engineering and the Harbert College of Business, leading to a minor in business-engineering-technology. Most recently, Walter made a gift to the college to expand capabilities of the university's MRI Center. For his commitment and dedication, the college renamed the center as the Thomas Walter MRI Center in his honor.
Walter served on the Auburn University Foundation Board of Directors for 18 years. He was inducted into the State of Alabama Engineering Hall of Fame in 2003.
Mike McCartney, '57 / Civil Engineering
Mike McCartney earned his degree in civil engineering from Alabama Polytechnic Institute (Auburn University), where he was a member of Sigma Alpha Epsilon fraternity. Following graduation, he worked with the Florida State Road Department before joining Cone Brothers Contracting Company of Tampa, Florida. In 1962, he returned to Gadsden to join his father, M.H. McCartney, and to operate the family-owned McCartney Construction Company Inc. and Calhoun Asphalt Company Inc. that was in business from 1945-2018.
In 1986, McCartney was instrumental in bringing the National Center for Asphalt Technology, or NCAT, to the Auburn campus and served as a founding board member. McCartney served as a member of the Auburn University Board of Trustees from 1979-93, serving as president pro tem for five years.
He received many honors from Auburn, including an honorary membership in Chi Epsilon Engineering Society, Auburn Engineering Alumni Council's Distinguished Auburn Engineer Award and Auburn's highest honor, a Doctor of Science degree (Honoris Causa) in 1994. He was inducted into the Alabama Engineering Hall of Fame in 1998 and the Alabama Roadbuilders Hall of Fame in 2008.
Rose-Gaëlle Belinga, '09 / Software Engineering
Rose-Gaëlle Belinga earned her bachelor's degree in software engineering in 2009 and her master's in computer science and computer engineering in 2012. Her fascination with technology started at an early age in the library of her hometown of Yaounde, the capital of Cameroon. As a young girl, Belinga spent hours reading books about inventors and their creations, which led to her focus on mathematics and physics in high school and inspired her passion to implement technology-based solutions to benefit the wider community.
She moved to the United States to attend Auburn, where she also was a graduate research assistant in the Samuel Ginn College of Engineering Intelligent and Interactive Systems Laboratory, as well as an information technology assistant in the College of Forestry and Wildlife Sciences, which today is the College of Forestry, Wildlife and Environment. After completing a summer internship in Morgan Stanley's Prime Brokerage Technology department, Belinga joined the firm's technology analyst program, TAP, in 2012. She is the vice president in enterprise and technology services, where she focuses on implementing and maintaining the firmwide web and mobile engineering infrastructure for institution users. She also co-chairs the Spatial Computing (AR/VR/MR) group as part of the Global Technology Innovation Program, which connects business leaders and innovators to solve the firm's business challenges.
Belinga volunteers as a technology educator through the Girls Who Code summer immersion program, a teaching assistant at underserved high schools throughout New York and an interviewer, scholarship reviewer and tech proposal coach for AnitaB.org, an organization that supports women in technology.
Presented by the Auburn Alumni Association, the Lifetime Achievement Award recognizes recipients for outstanding achievements in their professional lives, personal integrity and stature and service to the university. It was established in 2001 to honor extraordinary accomplishments by members of the Auburn Family. Recipients of Lifetime Achievement Awards are selected by a committee of Auburn administrators, trustees, faculty and alumni.